Explore St John's Cruz Bay during this full day trip from St Thomas. Discover the natural beauty of the island's national park during a guided tour in an open-top vehicle, then swim and snorkel along the underwater trail at Trunk Bay. All snorkeling equipment, a picnic lunch, ferry tickets and round-trip transportation from St Thomas hotels are included.
Highlights
Tour the national park in St. John by safari bus
Visit the historic Danish sugar plantation at Annaberg
Swim and snorkel at Trunk Bay at a world famous underwater trail
Complimentary pickup and drop off from most St. Thomas hotels
Recent Photos of This Tour
St John Day Trip from St Thomas: Island Sightseeing and Snorkeling at Trunk Bay
What You Can Expect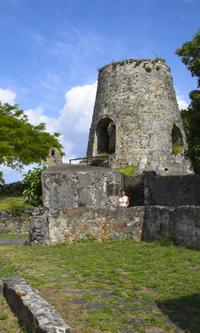 After an early-morning pickup at your hotel, enjoy a scenic drive to the East End of St Thomas to catch the ferry.
Feel the pleasant island breeze and view the tropical surroundings during the short ferry ride to Cruz Bay, St John's capital.
Upon arrival, meet your open air safari bus and guide for a tour that includes the national park and a visit to Annaberg's historic sugar plantation. Stop for an included picnic lunch after a drive to explore the East End of the island.
After lunch, head to Trunk Bay for an afternoon of snorkeling and swimming. Following a safety briefing, get fitted for your provided snorkeling equipment and dive in. Make your way along the world-famous underwater trail among the schools of tropical fish and impressive natural coral formations.
Feel free to use the facilities to shower and change on the beach before departing for the last stop of the day,
Mongoose Junction, to shop for souvenirs. Then, board the ferry for your return trip to St John's, after which you will enjoy drop-off at your hotel.
Please Note: This tour is not recommended for cruise ship passengers. US Customs and Immigration clearances can delay disembarkation and make early pickup times problematic.

May 2016
My party of nine people all had a fabulous time on this trip! Our tour guide Charlie was fun and informative, and he went above and beyond to show us native plants and fruits of St. John all while giving us a fascinating description of the history of the island. Our entire party would recommend this excursion to anyone!
April 2016
This trip included a tour of all the outstanding attractions on St. John, including the guide pointing out many of the native plants and their uses.
February 2016
We had a wonderful day. Our tour guide Charlie was fantastic! A real character who was very knowledgable, helpful and friendly.
February 2016
Our day trip to St. John was wonderful. We usually don't do tours and like to explore on our own. However since our car rental did not allow the car on the ferry, we decided to take the tour. Make sure you ask for Charlie through Tropic Tours. He was such a fun character and shared lots of history about the island. Lunch on a beautiful beach is provided and the snorkeling was great. The scenery is breathtaking. We highly recommend this tour.
January 2016
Our tour guide, Charles, was by far the best tour guide we and #39;ve had in our trip here to USVI. He showed us everything on the island, even pulling over to pull plants/spices/flowers off trees so we could truly learn the culture. And he gave us two full hours of snorkeling at the Trunk Bay! Best trip!
December 2015
The Trunk Bay snorkel and swim was amazing. Everyone in our group 14 enjoyed the beach and the beautiful water. Our tour guide was very informative and was very into the flora of the island. We enjoyed the open air ride to our different destinations and the easy-going banter of our guide. Extremely satisfying day!! My rating would be a five.
November 2015
The guides were full of life and lots of good laughs. This trip was a great way to see a lot of St.John and not feel rushed or over whelmed with information. The truck ride through the twisted roads was an adventure and the guides hand plenty of places for us to stop at. I feel we had plenty of time at Trunk Bay which was absolutely beautiful. If given the opportunity again this would be at the top of my list.
October 2015
Excellent! From the time we started on the chartered boat, to the time we left was outstanding! Our guide on St John, Jupiter was knowledgeable, interesting, and engaging. The group of folks on our tour was eclectic, and fit well together although this was by chance. You can locate many of the historic points on a map, to go there. Much of the local lore and who's who isn't available without someone who lives there. What you certainly won't get on your own unless you're a botanist or horticulturist is trying a bay leaf, sugar apple, and morenga plucked right from the bush.
Snorkeling in Trunk Bay, or just hanging out, is fantastic! There's a trail, if you prefer that, or plenty to see on your own. Even if you don't snorkel bring a mask and an underwater camera if possible. There are several types of fish that will come around you when in just 3 feet of water. In spite of the unbelievably clear water they can be hard to see from the surface. We had what appeared to be a species of wrasse resting on our feet, when we were able to hold still. Plenty of angelfish and other shelf dwellers right offshore.
The timing of stops at each point were perfect. Not so fast that you had to rush, and not so long you got bored. Highly suggested tour!
August 2015
The tour started once we were picked up from our hotel, if you require pick up, make sure you call 24 hrs ahead of time to request. You then will be handed over to another person at Red Hook, unfortunately can't remember his name he is very funny and he will take your lunch order. Once this is done, you board the ferry into St. John. Once at St. John you will be handed to another guide, we had Jupiter, he was super hilarious, very knowledgeable. He made a few stops around like a small bakery Try the Apple Fritter, AWESOMENESS, remember that most of St. John is national park, the scenery is beautiful so be sure to have your camara handy. I would definitely recommend doing this tour.
June 2015
Loved the trip and everything about it. Guide was energetic and took very good care of us.
Advertisement
Advertisement