Kayak and snorkel in St Thomas' Mangrove Lagoon on a 2.5-hour shore excursion. The region's serpentine channels of clear, calm water are perfect for swimming, boating and spotting local wildlife like stingrays and brown pelicans. Learn about the region's natural resources from your local adventure guide, and opt to extend your tour with a hike on Cas Cay, a deserted island.
Highlights
Kayak through the unique surroundings of St. Thomas' Mangrove Lagoon

Marvel at the beautiful flora and fauna

Snorkel in the crystal-clear waters and learn about the diverse mangrove ecosystem

Recent Photos of This Tour
St Thomas Mangrove Lagoon Kayak and Snorkel Tour
What You Can Expect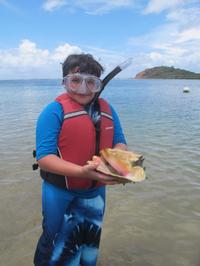 Make your way to the southern coast of St Thomas, home to the protected Mangrove Lagoon Wildlife Sanctuary and Marine Preserve. Meet your local adventure guide to embark on one of St Thomas' most rewarding snorkeling and kayaking tours in the preserve's rich ecosystem.

Travel through the protected area to Patricia Cay and Long Point, where you'll board your kayak to glide through the may small islands in the mangrove lagoon. While paddling, look out for spotted rays and stingrays as they glide beneath your boat.

Put on your provided snorkel gear and explore the underwater world. Follow your guide's lead and feel free to ask any questions or directions, especially if it's your first time snorkeling. Peer through your mask at the coral-fringed mangrove roots and listen as your guide points out the vibrant surrounding marine life. Hop back in your kayak for the short paddle back to the marina.
June 2016
Great tour, great guide! Highly recommended.

June 2016
Very pleased with the whole tour! My sister and I were a little late but they slipped us in anyway.Gear was in great condition. The kayaking wasn't challenging-a beginner would do fine-but it was enjoyable and a decent length of time to the little beach where we stopped for a little hike. There were so many hermit crabs! The kayaking was fantastic! The water wonderfully clear and held many different fish. Both guides were friendly, engaging and knowledgeable. Kendall was especially helpful and offered many good local lunch options for vegetarians. Cuzzins was perfect! I would recommend this tour, and say don't go through your cruise ship excursions-not necessary. This was one of my favorites!
January 2016
If you take this tour, add the hike portion, You will not regret it.
January 2016
This was a great experience and well worth the cost. We were even offered and accepted the optional 30 minute nature hike when we called to check-in the previous day. That said, and although it might have been an unusually hectic day, we our group of 6 were shuffled around for over an hour and a half while the busloads of cruise ship passengers were being sorted out and set off with their guides. Since we were staying at a resort on the island I suppose they assumed we could wait - not having to get back to a ship. Even after the cruise ship passengers boarded their kayaks and set out with their guides we were still asked to wait for another group that was supposedly tied up in traffic. In the end it all turned out for the best as the late group never showed up thus affording us a private tour for our group of six. Our guide, John, was very informative and attended to all our needs. He led us out to a great snorkeling spot and identified many of the tropical fish for us. John even extended our kayak trek back to the landing after our snorkel stop. The only advice I would give to others is to book your tour on a day when there are no or few cruise ships in port.

January 2016
Guide was wonderful. Was awesome!! Can't wait to do it again. Beautiful.
fike28 United States of ...
December 2015
Very professional and informative. Laid back and easy to do. Excellent gear, great for the entire family. Parking is tight so try and car pool.
December 2015
This was the highlight of our cruise! The staff are so welcoming, helpful, and patient! My husband and I had never Kayaked before and it was fun. Snorkeling was a wonderful experience and very easy. The optional hike was easy and quite informational. We would highly recommend this adventure.
August 2015
Amazing experience!! We saw an octopus, sting rays, barracudas, and beautiful fish while getting a great nature lesson! Highly recommended!

Cara T United States of ...
July 2015
The whole tour was excellent--the locations gave us a private and natural experience and the locations for kayaking and then snorkeling were picturesque. The guides were awesome especially Jai who was so upbeat, welcoming hello my beautiful people! and so proud of his island and it's beauty. He spent extra time with the kids in the water and on the crab island where an area of the ground and even trees were covered in red-claw hermit crabs, explaining the creatures we were seeing. We really appreciated his hospitality, do this tour!
July 2015
We had a great time with Brenda!! The tour was fun and we actually enjoyed learning. Brenda was friendly, efficient and VERY knowledgable! Thank you so much for a great Kayaking / Snorkel trip!!
Advertisement
Advertisement