Spend the day on a yacht in Stockholm's scenic archipelago during this full-day excursion from Vaxholm. All hands are on deck as you help steer and crew the ship yourself under the direction of an expert skipper. Disembark on a picturesque island to explore its rocky shores and swim in the bracing ocean. Enjoy a traditional Swedish lunch on board the boat. No sailing experience is necessary to enjoy this day on the water, and all equipment is provided.
Highlights
8-hour sailing adventure around stunning Stockholm Archipelago
Absorb the views as your yacht explores beautiful straits, bays and uninhabited islands
Try sailing the yacht guided by the crew, and help them handle the vessel
Learn the basics of navigation, charts and compass reading
Savor a delicious included lunch and drinks on board
Stop at a picturesque island to go ashore or swim
Get everything provided, with a lifejacket and sailing gear all supplied
Recent Photos of This Tour
What You Can Expect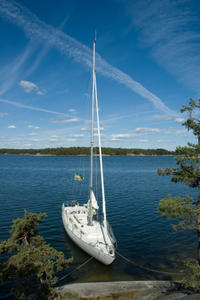 Find your way by bus or ferry from central Stockholm to Vaxholm, a coastal town on the edge of the Stockholm archipelago. At the ferry port, meet your skipper at approximately 10 am and transfer to your yacht for the day.
Climb on board to meet the crew and receive a short safety briefing and introduction to the sailboat. Then, set sail into Europe's largest archipelago, a collection of 24,000 islands, part of which has been nominated for UNESCO World Heritage status. As you sail, hear the legends about the elves and fairies that live on these islands.
Some of the islands have homes and residents, but many are uninhabited. Take a turn at the ship's helm, then pause for a traditional Swedish fika, or coffee and pastry break. Learn the basics of navigation, the natural history of the area and its flora and fauna from your knowledgeable skipper as you sail.
Stop at a small island for some exploration on foot and a dip in the refreshing water. Enjoy a traditional Swedish lunch on board the boat.
Spend the afternoon sailing and exploring some of the more remote islands, or checking out some of the small fishing villages that inhabit some of the larger islands. Return to Vaxholm around 6 pm and make your own way back to Stockholm.
June 2016
Amazing day out in Stockholm. Our hosts were great, food was fantastic! Highly recommended
August 2015
It was a great day out on the boat. The boat was equipped with rain gear so that we were able to enjoy the trip even when it was raining. When the sun came out we had lunch on the boat. All of us were busy helping with the sailing. Great experience.

August 2014
Amazing- Martin was a superb host/yachtsman- so accommodating, kind-hearted and knowledgeable. We loved being able to participate in sailing and in the scenic beauty of the archipelagos.
July 2014
Great day out on the boat and friendly captain. Enjoyed it immensely and my kids and hubby were crazy enough to go for a swim. Only problem was with the meet up. we received conflicting information from Viator as the captain had left the marina and had to come back especially for us. It wasn't very clear where to get the ferry from in stockholm either and then my phone decided not to have any service so it is a miracle we actually got to enjoy this wonderful day.

June 2014
I absolutely loved this tour! Häkon and Lisa were fantastic hosts. The lunch was great and the small group numbers meant that we could decide what we wanted to do and share all the food easily. We ended up going from Vaxholm to Sandhamn so ask if that's what you want to do. A fantastic day!
August 2013
Ralph and his wife were absolutely fantastic. Could not more-highly recommend this trip.
July 2013
We went in late June so it was warm. This is highly recommended. It was a very lazy day, just sailing around the islands. Our skipper was very pleasant, a good sailor and lunch was excellent.
If you like the outdoors then do this. Swimming optional as too cold for us.
July 2013
We spent a wonderful day on the sailing boat with Erik and Susan. Erik is a great skipper and Susan a great cook. We were able to sail ourselves under Eriks supervision and for lunch we stopped in a nice area in the middle of the "Schären-islands" for eating and swimming. This was one of the best days I had during my one week sweden holiday! I recommend this trip to all! Thanks a lot!

July 2012
This was my first trip to Stockholm so my expectations were very high, given all I'd heard. This tour totally over exceeded my expectations, and the couple that owned and operated the sail boat were extremely passionate, and flexible throughout the day. We loved their hospitability, and of course the typical Swedish meal we shared with them on the boat. A great sight of a major portion of the Archipelego, where they show you on the map and you can choose where to go. We were lucky the wind worked in our favor and were able to sail most of the journey. We loved that we helped with the sailing as well, so we did not only see amazing scenery, we were able to learn sailing at the same time. They are also happy to stop at any island you may want to visit, we stopped at one and took a beautiful walk, then continued our journey. I would definitely do this again on my next trip!
September 2015
Amiable captain, lovely weather. Quite an enjoyable time that was like my previous experience in Stockholm staying with Swedish friends and visiting in the Archipelago. A little pricey but worth it as my daughter had a blast steering the boat as we tacked in the gentle breezes.
Advertisement
Advertisement