Paddle through Stockholm's canals and around its fourteen main islands on this 3-hour kayaking tour. Follow your professional kayaking guide through the waterways, past the 5 city beaches and important city landmarks like Stadshuset (City Hall) on the island of Kungsholmen. Cut through the water of Lake Mälaren, one of Sweden's largest, stopping for great photo ops of the city from your aquatic vantage point. Listen to intriguing commentary about Stockholm's culture, history and traditions as you travel. Use of all kayaking equipment is included.
Highlights
Paddle your own kayak on this water-based tour of Stockholm
Enjoy Stockholm's fantastic scenery from the water
Take on Lake Mälaren, the third largest lake in Sweden, and cruise around the beautiful island of Kungsholmen
See Stockholm's City Hall and one of five inner-city beaches
Listen to your professional guide to hear more about Stockholm's history and the country's culture

Use of all kayaking equipment is provided
What You Can Expect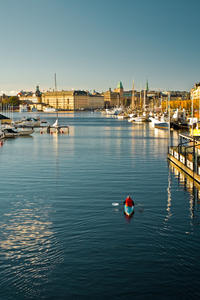 Are you interested in seeing Stockholm's best sights from the best viewpoints the city has to offer? Then this tour will be a perfect experience as you can see Sweden's capital from your kayak in the water.

Stockholm is made up by one-third green area, providing beautiful parks and scenic places, one-third development and history - resulting in charming districts and stunning buildings - and one-third water. Of the two waters surrounding the city, your group and your professional kayak guide will take on Lake Mälaren, the third largest lake in Sweden, and circle the island of Kungsholmen. That particular island is one of the local favorites and home to the City Hall. It also has one of the five inner-city beaches and is known for being the youngest part of the town.

Row under the bridges that connect the neighbor islands with Kungsholmen and see most of Stockholm's 14 islands from your viewpoint - that is Lake Mälaren. Soak up the stunning sceneries and skylines the city has to offer because if you really want to experience Stockholm in all its glory then in the water is where you need to be!
Advertisement
Advertisement