Explore Sweden's forests and view the native wildlife on this 4-hour sunset safari. Departing from Stockholm with a local guide, travel by comfortable minivan from the city out into the more rural landscapes surrounding the Swedish capital. Delve into the dense forest to track wild boar, hares, deer and elk. Take a short forest hike and pause to check out some ancient Viking runes. Embarking on the safari at sunset ups the chances of coming upon these creatures, who are most active during the beginning and end of the day.
Highlights
4-hour evening minivan safari from central Stockholm
Explore the stunning, wildlife-rich forests and landscapes around Sweden's capital
Watch for the elk, deer, wild boar, hares and colorful bird species that roam the area
Learn about Sweden's native wild animals and natural habitats from your expert guide
Enjoy a 15-minute hike through a forest to gain close-up views of the wildlife
Relish the views over Sweden's countryside, meadows and woodlands as you travel
Recent Photos of This Tour
Sunset Wildlife Safari from Stockholm
What You Can Expect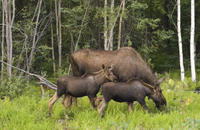 Just before sunset, meet your nature guide in central Stockholm at Kungsbro strand 21. Climb into the comfortable minivan drive out of the city center to begin your safari.
The dense forests and lush meadows of Sweden's countryside are just a short drive from the capital. E
njoy the beautiful setting as you ride through landscapes dotted with red-roofed cottages and head deep into the forest.
Wildlife, including birds, hares, elk, deer and wild boar are abundant here. Before setting out on your search for these creatures, enjoy a traditional Swedish 'fika', or coffee break, as your guide gives a short intro to the area and its native flora and fauna. Keep a special lookout for elk, who are known to emerge during this twilight time for food and water.
Take a 15-minute hike through the tranquil forest with your guide. Stop to see some ancient Viking rune stones and hear about their history.
At the conclusion of your 4-hour safari experience, return to central Stockholm for drop-off.

June 2016
This was one of the best tours I've been on, even in the rain! We had a traditional Swedish picnic and tried some new foods. The guide was very knowledgeable and made sure that we saw all the wildlife possible on a rainy evening.
August 2014
Very fantastic n true nature excursion. Tour operator is very co -operating n creative, saw real forest n wild life of Sweden. Feel of countryside n ride in Sweden historic places was also fine. Definitely a must for every nature lover
June 2014
It's was the epic tour. We saw every thing: Moose, Rain dears, Wild pigs and even a small little Bamby.
My advice, get a good Camara with zoom and have your allergy bills ready since :)
July 2012
Nice change of pace. Our guide, Hannah, was great. Saw deer, boar, moose, a rune, and the beautiful countryside.
Jeffrey K USA
July 2011
We were lucky and saw a good bit of wildlife on our tour. Our guide, Hanna, was very knowledgeable about the areas we visited and and the animals that we saw. It was surprising how much wildlife is close to the city of Stockholm.
June 2016
Was quite fun to go out to the woods and see all the animals including moose and boar. The dinner wasn and #39;t good if you and #39;re not a meat eater. It started and ended later than necessary. The tour guides were interactive and full of information. Unfortunately there are no opportunities for toilettes.
August 2015
We had a great time on the tour. We stopped for Fika coffee and sweets at a small picnic area. Our tour guide was very knowledgeable and did her best to make sure we saw animals. Highlight of the trip was seeing a moose and being able to get out and get some photos of it in the field. Great experience!
August 2013
I enjoyed it. Unfortunately it was difficult to take good pictures with a normal camera since most of the animals came out after twilight. We did see wildlife though.
August 2014
Disappointed in the limited wildlife, which I know you can't control or guarantee. Would start a half hour earlier at 8:00 instead of 8:30. By the last hour or so of the tour it was not light enough to be worth being out there. Guide brough coffee and snacks, which was a very nice touch. But the snacks were the huge muffins like we have in the US. I wanted some authentic Swedish pastries and/or cookies, not US stuff!
July 2014
This is a good tour if you want to see everything in a day.. if not I find this tour abit too rush.. There was no time for photographs at all.. they just go thru every site in a flash and explain to you as you walk through.. so basically if you want to take some photos for yourselves, it would be difficult. Good for those who only want to see and hear :)
Advertisement
Advertisement