11 Reviews
Location:

Stockholm, Sweden

Duration:

4 hours

(approx.)
Discover Sweden's rich wildlife and forests on this 4-hour sunset safari from Stockholm! Travel by air-conditioned minivan through the rural landscapes around the city and drive into dense forests in search of everything from elks, deer, wild boar and hares to a fascinating array of birdlife. Exploring at sunset heightens the chances of spotting elk in particular, as the animals emerge to feed and find water. Along the way, stop to view some Viking rune stones and enjoy a short forest hike in a bid to observe animals close up!
Highlights
4-hour evening minivan safari from central Stockholm
Explore the stunning, wildlife-rich forests and landscapes around Sweden's capital
Watch for the elk, deer, wild boar, hares and colorful bird species that roam the area
Learn about Sweden's native wild animals and natural habitats from your expert guide
Enjoy a 15-minute hike through a forest to gain close-up views of the wildlife
Relish the views over Sweden's countryside, meadows and woodlands as you travel
Recent Photos of This Tour
Sunset Wildlife Safari from Stockholm
What You Can Expect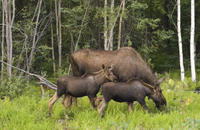 Meet your expert guide at Sergels Torg in central Stockholm just before sunset. Then, hop aboard your air-conditioned minivan and travel out of the city for your safari.
Just a short distance from Stockholm lies wonderful countryside with untouched meadows and dense forests inhabited by a rich array of animals and birdlife. Here, elk, deer, wild boar, hare and colorful birds roam undisturbed, all just a whisper from Stockholm's city limits!
Before taking your safari proper, enjoy a traditional Swedish fika – a break for coffee and snacks – on board as your guide explains more about your destination and the animals you might see.
Then, enjoy the beautiful setting as you ride through landscapes dotted with red-roofed cottages and mansion houses, and head deep into the wildlife-rich forests. Watch for elk, deer, boar and the other animals hiding in the greenery. Look out especially for elk, known as the 'kings of the forest,' as these magnificent creatures often emerge at dusk to graze and search for water.
After a while, leave your minivan for a 15-minute hike. Led by your guide who knows the forests well, wander through the trees to seek out and watch more wildlife and birds in their natural habitat.
During your safari, stop to see some intriguing Viking rune stones. Listen as your guide tells you more about the ancient stones and Sweden's ancient Viking past.
Your safari experience finishes with a drop-off in at Brunkebergs Torg in central Stockholm.
August 2014
Very fantastic n true nature excursion. Tour operator is very co -operating n creative, saw real forest n wild life of Sweden. Feel of countryside n ride in Sweden historic places was also fine. Definitely a must for every nature lover
June 2014
It's was the epic tour. We saw every thing: Moose, Rain dears, Wild pigs and even a small little Bamby.
My advice, get a good Camara with zoom and have your allergy bills ready since :)
July 2012
Nice change of pace. Our guide, Hannah, was great. Saw deer, boar, moose, a rune, and the beautiful countryside.
July 2011
We were lucky and saw a good bit of wildlife on our tour. Our guide, Hanna, was very knowledgeable about the areas we visited and and the animals that we saw. It was surprising how much wildlife is close to the city of Stockholm.
August 2015
We had a great time on the tour. We stopped for Fika coffee and sweets at a small picnic area. Our tour guide was very knowledgeable and did her best to make sure we saw animals. Highlight of the trip was seeing a moose and being able to get out and get some photos of it in the field. Great experience!
August 2013
I enjoyed it. Unfortunately it was difficult to take good pictures with a normal camera since most of the animals came out after twilight. We did see wildlife though.
August 2014
Disappointed in the limited wildlife, which I know you can't control or guarantee. Would start a half hour earlier at 8:00 instead of 8:30. By the last hour or so of the tour it was not light enough to be worth being out there. Guide brough coffee and snacks, which was a very nice touch. But the snacks were the huge muffins like we have in the US. I wanted some authentic Swedish pastries and/or cookies, not US stuff!
July 2014
This is a good tour if you want to see everything in a day.. if not I find this tour abit too rush.. There was no time for photographs at all.. they just go thru every site in a flash and explain to you as you walk through.. so basically if you want to take some photos for yourselves, it would be difficult. Good for those who only want to see and hear :)
July 2013
Trip was focused on seeing target megafauna - in that respect it was very successful. Elk - about ten, some within 100 meters. Feral pigs - a mom and 3 young quite close, plus others. A fox. Various roe deer, a life species for us.
The first stop muffins were a nice touch, but having only coffee w at least 3 tea drinkers out of 7 participants was not.
The small group size (7) was ideal - the minivan w tinted windows made it difficult to see - this was, after all, a tour from 8:30 pm to midnight.
The tour guide was sweet, and knew where to find the animals - but she really didn't know all that much about them or their habitat/characteristics/etc. e.g., are these elk same species as those found in North America?
All in all, it was pleasant, and I expect those interested primarily in seeing the afore-mentioned animals would rate it higher. We're spoiled from many tours led by professional naturalists, so read this review w that caveat.
August 2014
This was a nice trip but did only saw 4 animals. The guide was very knowledgable.
Advertisement
Advertisement