You've got Sydney covered on a four-day city stay that includes lots of free time so you can explore the city at your leisure. See the Sydney Opera House, Bondi Beach and other iconic sights of Sydney on a comprehensive city tour, take a cruise on world-famous Sydney Harbour, and travel into the hills to experience the beauty of the Blue Mountains. Accommodation, airport transfers and breakfasts are included on this hassle-free four-day Sydney city stay.
Highlights
4-day Sydney city stay tour with the Blue Mountains and Sydney Harbour cruise
Dip your toes in the water at the famed Bondi Beach

Enjoy a lunch cruise on Sydney Harbour

See Sydney's iconic landmarks such as Sydney Opera House, Sydney Harbour Bridge and Mrs Macquarie's Chair

Travel to the Blue Mountains and experience the beauty of the national park

Pet koalas at award-winning Featherdale Wildlife Park

What You Can Expect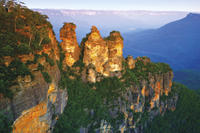 Day 1: Sydney
After making your own flight arrangements to arrive at Sydney Airport, be picked up by airport transfer and taken to your hotel. Spend the rest of the day in Sydney at your leisure, strolling through the historic Rocks area beside Circular Quay or enjoying a glass of wine on the Opera House concourse.

Overnight: Vibe Hotel (standard hotel) or Four Points by Sheraton Hotel (first-class hotel), Sydney

Day 2: Sydney (B, L)
After breakfast at your Sydney hotel, discover the beautiful sights of this harbor city. The morning sightseeing tour takes you across the Sydney Harbour Bridge, stopping to photograph harbor views from Milsons Point and the Manly headland from Arabanoo lookout. Travel along the coast to see Sydney's spectacular northern beaches and take a walk along Manly Beach. Return to Sydney to enjoy a buffet luncheon cruise on Sydney Harbour, then take an afternoon tour of central Sydney's highlights. See the Sydney Opera House, Royal Botanic Gardens and Mrs Macquarie's Chair, and dip your toes in the water at Bondi Beach. In the late afternoon, be returned to your hotel and have the remainder of the day and evening to spend at your leisure.

Overnight: your choice of accommodation, Sydney

Day 3: Sydney -- Blue Mountains -- Featherdale Wildlife Park -- Sydney (B)
Following breakfast at your hotel, explore the beautiful bushland on Sydney's doorstep by taking a full-day nature and wildlife day trip to the World Heritage-listed Blue Mountains. Visit quaint mountain villages and pat a koala at Featherdale Wildlife Park on your scenic drive from Sydney. See the Three Sisters rock formation at Katoomba, take a boardwalk stroll through the Blue Mountains rainforest and visit charming antique shops in the mountain town of Leura. Follow the scenic Cliff Drive and enjoy breathtaking views of the Megalong Valley, then visit Scenic World to ride the world's steepest railway (own expense) over the rainforest of the Jamison Valley. Relax on the drive back to your Sydney hotel, where you have the late afternoon and evening to enjoy at your leisure.

Overnight: your choice of accommodation, Sydney

Day 4: Sydney (B)
After breakfast at your hotel, be transferred to Sydney Airport to connect with your onward flight.
Itinerary
Accommodation:

Vibe Hotel
A unique hotel offering chic accommodation in the heart of Sydney, perfectly positioned to easily discover Sydney's vibrant CBD-fringe villages of Surry Hills, Darlinghurst, Chinatown and the Sydney entertainment precinct, which offers live theater and music. Relax in the sauna, take a dip in the heated rooftop swimming pool or adjourn to the Curve Bar for quiet drinks and a bite to eat.

Four Points by Sheraton Hotel
Australia's largest hotel, located in Sydney's central business district and overlooking Darling Harbour, we're just a short walk from the major entertainment and shopping districts including Pitt Street Mall, Queen Victoria Building, and Chinatown. Take a stroll and explore!
May 2014
The tour was great though Viator should have well coordinated the vendors on field. They did not know what we were talking about.
February 2014
Plus: The Vibe hotel and staff were amazing and EXTREMELY helpful!!. I would strongly recommend them to ANYONE!! The AAT Kings tours were well run with great tour operators. Our itinerary was waiting at the hotel desk with directions for every day. We were picked up and dropped off at hotel. The harbor cruise was beautiful and the food was good. Manly beach was lovely, city sights were interesting. The trip to the Blue Mountains was amazing and so was the wildlife park. Great experience!
Minus: Only three small items 1) The airport shuttle was confusing--where do you meet the driver? We had printed our Viator voucher but it had no directions. We called AATKings and they told us where to go. But then the airport shuttle driver wanted our voucher and we just had one copy. He agreed to take us to hotel and make a copy.
2) We were headed on a cruise. So we just lost the last transfer back to airport. A cruise line drop off option would be nice especially since both terminals are so close. MUCH closer than the airport.
3) Some of the Bondi beach tour was repetitive as we are not beach people. AAT Kings offers lots of tour options--so we wished we could have picked something else to do after the WONDERFUL harbour cruise. Aquarium visit? Opera House tour? We had an amazing time!!
February 2015
The tours were very nice but always involved transferring busses at AATKings terminal sometimes with a wait. Loved the harbor cruise and lunch. We felt we had ample time at all the stops on the tours and the bus drivers did a fine job narrating. Transportation to the airport was included and again we had no details when or where to meet the shuttle. This tour lacks details and should not be so disorganized.
December 2014
this is a good one, if you are uncomfortable booking things individually after arrival. we didn't know which way was up, so it worked for us.
when we booked it said 'vibe' or similar hotel for the stay. vibe is a boutique hotel in their description. we ended up at the 4 points Sheraton, the biggest hotel in Sydney, and exactly like other Sheratons around the world. NOT a boutique hotel by any stretch of the imagination. that said, the hotel was fine.
October 2014
It was a good tour the only disappointment was at the Hotel we had asked for a double/queen bed and we got 2 singles which didn't make me happy and they wanted to charge to change it. The tours were good. Comunication was terrible trying to find out about the tour and were we meet but once we were on the tour it was good.
January 2015
Horrible coordination from tour company. No one looking for me at airport- I had to find the ride to the hotel. Hotel was nice (Vibe) but not great - splurge for better hotel. The city tour was neat, though much was in suburbs getting from site to site. Suggest you do day tours on own, not this one
April 2014
I found the drivers/guides for your local affiliate to be quite informative, knowledgeable and hospitable. The tours itself were fun but I wished we had more time at Katoomba Scenic World and at Featherdale Wildlife Park. I understand it's a group tour and it's under certain time constraints to meet everyone's need; especially dodging the Sydney traffic to get everyone back to their hotels.
I could have easily spent an entire day at Katoomba Scenic World. BTW, why was it not mentioned it would cost $35 per person to enter Scenic world on your itinerary?
This is probably my biggest frustration and disappointment with your company; when the little details are left out, it leaves the customer at a lost.
This has already been documented: We arrived at Sydney International airport expecting someone to meet us to direct us to our transportation to our hotel. There was no one there and it was extremely frustrating; especially after a 15hr flight from Los Angeles. After clearing customs and immigration; it took us well over 2hrs to arrive at our hotel; we missed our complimentary breakfast but was later awarded with lunch on a later tour.
Somehow, there seems to be a big communication problem with your company and the vendors. The itinerary are not the same, the contact information are not the same. If you have my contact number and email address, I would think your vendor also should have that same information.
Anyhow, I could go on but I get more frustrated as I try to recall what should have been a smooth operation gone awry. I would be very hard pressed to go through your company again or have a positive recommendation.
Advertisement
Advertisement