Enjoy a memorable day hike immersed in the natural beauty of Australia on this guided walking tour that explores the Blue Mountains. Leave busy Sydney behind and go off the beaten track to discover the natural wonders of the World Heritage-listed national park with an experienced guide. Walk on trails through lush rainforest and over craggy valleys to enjoy unparalleled views of the countryside, traveling with a small group limited to 15 people. Choose from two hike options suitable for different levels of fitness.
Highlights
Full-day hiking tour in the Blue Mountains from Sydney

Get away from the crowds and discover the beauty of the Blue Mountains on foot

Choose from options to suit varying levels of fitness
Explore with confidence in the company of the professional guide
Includes morning tea and gourmet picnic lunch
Small-group tour with a maximum of 15 people ensures a more intimate nature hike

Recent Photos of This Tour
Blue Mountain Small-Group Day Hikes from Sydney
What You Can Expect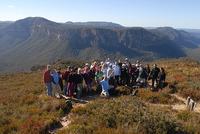 Your day in the UNESCO World Heritage-listed Blue Mountains starts with morning pickup at select Sydney hotels. Then travel in a comfortable climate-controlled minivan for approximately two hours to reach the starting point for your hike.

You have two hiking options suitable for different levels fitness and challenge (see details under Itinerary below). Your guide sets a comfortable pace for the hikes, and you can stop often for photo ops and water breaks. Both hike options include morning tea and a gourmet picnic lunch.

Instead of only viewing the great outdoors from the window of a bus, you'll immerse yourself in the natural beauty of the Blue Mountains while enjoying the knowledge and expertise of your local guide. Small group numbers are capped at 15 participants to provide a more customized experience.

Valley of the Waterfalls hike:
Discover a hidden gem, a valley studded with lush fern-filled grottoes and hills with tumbling cascades, including gorgeous Empress Falls. Have lunch at the base of a waterfall while birds serenade you, and enjoy a spectacular day out in a landscape of rainforest and rocky escarpments.

Grade: Medium level hike that follows designated walking trails with moderate inclines and more than 100 steps up and down, suitable for those with average level of fitness. This is a 4- to 6-mile (7-to 10-kilometer) walk that takes approximately 3.5 hours to hike.

Ruined Castle and Scenic Railway hike:
Descend to the starting point for your hike by taking the Scenic Railway at Scenic World. The 1,361-foot (415-meter) descent makes this the world's steepest railway. Travel down through a cliff-side tunnel that leads you into an ancient rainforest. From there, hike across the Jamison Valley and climb the Ruined Castle, a large outcrop of rocky boulders that jut out above the surrounding wildernes, offering amazing 360-degree views of the scenic region.

Grade: Hard hike requiring a good level of fitness. Follow walking trails that veer off designated paths, thereby crossing rougher terrain, with steep inclines and some climbing over boulder formations. This is an 8-mile (13-kilometer) walk that takes approximately 6.5 hours to hike.

What to bring:
• Small backpack to carry personal items
• Sunscreen and a hat
• Water bottle (at least two liters)
• Swimsuit and towel if visiting waterfalls

What to wear:
• Comfortable clothes that will maintain body temperature; jeans are not recommended
• Enclosed walking shoes or boots
wessley.bellaiche France
April 2016
It was 5 of us visiting the guide Lola, it was fantastic. Worth the money on a sunny day especially when around Sydney for only a few days. Lola was super knowlegeable, considerate and fun.

March 2016
This was one of our favorite excursions in Australia. Our guide was fantastic and very knowledgeable. It was only 3 of us plus the guide so we received the attention we need as we hiked. Would do this again!
February 2016
This is perhaps the No 1 thing you should do when you visit Sydney. The blue mountains, it and #39;s canyons, waterfalls and trails are something that you have got to see. You get to understand the flora and fauna a little too. Great views. Our guide, Lolla and #39;s knowledge made the experience even better.
February 2016
The day was a great day and our guide, Lola, did a terrific job. I would highly recommend this tour and would suggest asking for Lola as the accompanying guide.
January 2016
Took the hike with my two adult sons. Lola was a great guide. There were 6 of us in the group and we had a wonderful time. The scenery was beautiful and the waterfalls impressive. I highly recommend!
January 2016
Fantastic tour!! I would highly recommend booking with these guys for your Blue Mountains adventure. The guide was awesome and very informative, and we walked through a beautiful part of the mountains.
Lunch at a waterfall was the highlight of this tour.

December 2015
This is a great trip.
Highly recommended.
Incredible views, and breathtaking nature. Scenic waterfall.
This was a small group, which was great. Guide was fantastic and made this a great experience.
I will definitely return to the Blue Mountains again.
December 2015
Experienced and pleasant tour guide. Very familiar with the route as well as the plants and birds along the trail. Really in a very small group such that tour guide can take a very good care of us. Nice lunch pack from a nearby resort. An alternative to see the beauty of blue mountain.
Thank you, Lola, our best tour guide.
August 2015
Wow! What a wonderful way to see the Blue Mountains! I will say it was challenging - hiking for hours and finishing up by climbing 1000 stairs to the top of the valley again. However, it was so worth it! We spotted wild birds and a lizard, and the rain forest was so beautiful! We saw other people only at the start near the railway and we saw 1 small group at the Ruined Castle rock formation. Otherwise - we did not run across another person the entire time while hiking! It was the perfect day!
August 2015
This was Amazing tour ... small group and our Guide was very actgive ad knowledgeable... Gynes was his name. I loved it... and would recommend this to anyone who loves nature hike. and ask for Gynes.
Nitin
Advertisement
Advertisement