Be sure to put a performance by Opera Australia at the iconic Sydney Opera House on your Sydney itinerary. The upcoming 2016-17 season features classic operas by Mozart, Rossini and Bizet, and a special 60th anniversary production of the popular Broadway musical 'My Fair Lady.' Take in stunning views of Sydney Harbour while enjoying drinks or a meal (own expense) at one of the Opera House's fine dining venues before or after the performance to top off this unforgettable experience.
Highlights
See a world-class opera performance at the iconic Sydney Opera House

Select from classic operas like Great Opera Hits, The Pearlfishers and La Bohéme

Choose from four seating options to suit your budget

Both matinee and evening performances are available

Why Our Insiders Chose This Tour
Seeing an opera at this world-class venue is an absolute must-do. A variety of seating and price options makes it easy to cross this off your bucket list!
Recent Photos of This Tour
What You Can Expect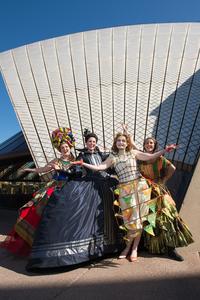 Once you have selected your choice of performance at the UNESCO World Heritage-listed Sydney Opera House, simply make your own way to the legendary performing arts venue for a quintessential Sydney experience.

Emerging stars join longtime favorites for Opera Australia's 2016 and 2017 opera season performances, which take place in the Joan Sutherland Theatre (formerly the Opera Theatre), the second largest concert hall in the Sydney Opera House at 1,507 seats. Operas are performed in their original languages (mostly Italian), with subtitles in English projected on a screen above the stage.

To celebrate the 60th anniversary of Opera Australia and the original Broadway performance of My Fair Lady, Dame Julie Andrews directs a special production of My Fair Lady with performances from September to November 2016. If your plans take you to Sydney then, snap up a ticket for this exclusive event.

Bars inside the Sydney Opera House open one hour prior to performance time — arrive early to enjoy a pre-theater drink (own expense) and admire sweeping views of Sydney Harbour and the Harbour Bridge.

See the Itinerary section below for details about the 2016 and 2017 season.
Itinerary
2016 Performances dates at the Sydney Opera House:

Carmen
The ultimate femme fatale is here to stamp her feet, toss her hair and dance. Will she love Don José? Maybe. Will you fall for her sultry Habanera? Definitely. This new take on Bizet's famous opera hones in on the relationships at its heart, on the wild love that promises freedom while binding the lovers in an unbreakable web of fate.

7:30pm
June 2016: 16, 18, 21, 23, 25, 29
July 2016: 1, 5, 9, 13, 15, 21, 23, 29
August 2016, 3, 9, 12

1pm:
August 2016: 6

The Love for Three Oranges
Take a melancholy prince, a cantankerous witch and the curse of a love strange and strong: an unquenchable passion of unusual fashion for not just one orange, but three! Add an infectious march, some fantastical farce and a kingdom of curious characters, and you have Prokofiev's surreal fairy-tale for adults. Eye-popping costumes, physical comedy and sets of acid color combined with the composer's bright melodies in an opera that never takes itself too seriously.

7:30pm
June 2016: 22, 24, 28, 30
July 2016: 2, 4, 6, 9

Cosi Fan Tutte
Mozart's opera about testing fidelity is a mad story set to music of impossible beauty. Two men disguise themselves as Albanians and attempt to seduce each others lover in an elaborate ruse to win a bet. Ridiculous? Yes, but Mozart's luminous music takes the ridiculous and makes it sublime. Come along for a merry ride and you'll see that under that veil of farce is a poignant drama about love, faith, death and sex.

12:30pm
July 2016: 30

7pm
July 2016: 19, 22, 25, 27
August 2016: 5, 11, 13,

Simon Boccanegra
A powerful man. A past tragedy. A very present enemy. Personal sacrifice meets political thriller in this vast opera by a master of the genre. The opera's extraordinary musical demands and sprawling story make it a rarity on the opera stage.

7:30pm
July 2016: 26, 28, 30
August 2016: 2, 4, 6, 8, 10, 13

My Fair Lady
On 15 March 1956 at the Mark Hellinger Theater on Broadway something extraordinary happened that would change the course of music theater history forever: it was called My Fair Lady. Playing the role of Eliza Doolittle in New York and London was a young Julie Andrews, in only her second role on Broadway, and in the role that would define her career and help catapult her to international stardom. Now, in the 60th anniversary year of the Broadway premiere, and in the 60th birthday year of Opera Australia, they have teamed again with John Frost to recreate that sensational 1956 production with none other than Dame Julie Andrews at the helm as director. A stellar cast of Australian theater royalty will be especially assembled for My Fair Lady.

1pm:
September 2016: 7, 10, 13, 14, 17, 20, 21, 24, 27, 28
October 2016: 1, 4, 5, 8, 11, 12, 15, 18, 19, 22, 25, 26, 29
November 2016: 1, 2, 5

3pm
September 2016: 11, 18, 25
October 2016: 2, 9, 16, 23, 30

7:30pm
September 2016: 6, 8, 9, 10, 14, 15, 16, 17, 21, 22, 23, 24, 28, 29, 30
October 2016: 1, 5, 6, 7, 8, 12, 13, 14, 15, 19, 20, 21, 22, 26, 27, 28, 29
November 2016: 2, 3, 4, 5

La Boheme
A painter, a musician, a philosopher and a poet are having a night on the town. Café Momus is too pricey for them — they've nothing to weigh down those moth-eaten pockets. But why worry? The landlord is sorted, the bar tab can wait. They're young and their lofty ideals will keep body and soul together. And then there's love. Ah, love. That tingle of electricity as two hands meet. The fire in the eyes of the girl you want so badly. Love will keep us warm, won't it? Gale Edwards' glittering production is about sacrifice and never giving up, even if it means parting with your lover — or your favorite coat. It provides a perfect setting for these utterly human emotions: in the bohemian streets of 1930s Berlin, in the color and chaos of street fairs and burlesque bars, fairy-lights and fishnet stockings.

7:30pm
January 2017: 4, 5, 6, 7, 17, 19, 21, 23

12:30pm
January 2017: 14

Great Opera Hits
Stroll down to the Sydney Opera House and join the stars of Opera Australia for a concert of the greatest hits of opera. These relaxed concerts take place on summer afternoons as the sun sets across Sydney Harbour, and last around 90 minutes. Listen to famous arias from Bizet, Puccini, Rossini and Verdi performed by some of Opera Australia's finest opera singers, accompanied by piano.

5pm
January 2017: 1, 15, 22, 29,
February 2017: 12, 22, 26
March 2017: 5, 12, 19, 26

June 2016
A memorable experience. Booking was very easy and efficient.
June 2016
April 2016
I went there 2 hours upon arrival to Sydney. I thought I was going to sleep and even tole the guy next to me to kick me if I snored. But it was just so very good and I love music, I almost cried although I didn't understand a word they sang!
April 2016
We had a very pleasant experience at the Opera House. Great seats and a fun time.
April 2016
Fantastic evening. Very funny production and beautiful singing. Well worth the visit.
March 2016
The Opera was wonderful We arrived early and had dinner at the Opera house a beautiful waterfront setting. Seating in the Opera House was very comfortable. I don't believe there is a bad seat for hearing and seeing. The English subtitles were very visible so the opera was easy to understand and follow
March 2016
We saw La Boheme. The performance was great and we had wonderful seats. The Opera House is a beautiful venue and the acoustics were excellent. It couldn and #39;t have been a better evening.
March 2016
I loved the inside of the Opera House, and the various extracts from the different operas where sung beautifully. Loved it immensely.

Birute T Lithuania
March 2016
Everything was simple, reliable and easy to deal
March 2016
We had booked the Opera House for our first night in Sydney. Our tickets were waiting for us at the Box Office and we had very good seats. We saw La bohème and although not great opera fans we enjoyed watching the excellent production in such an iconic setting.
Advertisement
Advertisement