124 Reviews
Location:

Sydney, Australia

Duration:

Varies
Be sure to put a performance by Opera Australia at the iconic Sydney Opera House on your Sydney itinerary. The upcoming 2015-16 season features classic operas by Mozart, Rossini and Bizet, and a special 60th anniversary production of the popular Broadway musical 'My Fair Lady.' Take in stunning views of Sydney Harbour while enjoying drinks or a meal (own expense) at one of the Opera House's fine dining venues before or after the performance to top off this unforgettable experience.

Highlights
See a world-class opera performance at the iconic Sydney Opera House

Select from classic operas like Great Opera Hits, The Pearlfishers and La Bohéme

Choose from four seating options to suit your budget

Both matinee and evening performances are available

Why Our Insiders Chose This Tour
Seeing an opera at this world-class venue is an absolute must-do. A variety of seating and price options makes it easy to cross this off your bucket list!
Recent Photos of This Tour
What You Can Expect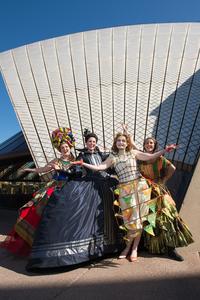 Once you have selected your choice of performance at the UNESCO World Heritage-listed Sydney Opera House, simply make your own way to the legendary performing arts venue for a quintessential Sydney experience.

Emerging stars join longtime favorites for Opera Australia's 2015 and 2016 opera season performances, which take place in the Joan Sutherland Theatre (formerly the Opera Theatre), the second largest concert hall in the Sydney Opera House at 1,507 seats. Operas are performed in their original languages (mostly Italian), with subtitles in English projected on a screen above the stage.

To celebrate the 60th anniversary of Opera Australia and the original Broadway performance of My Fair Lady, Dame Julie Andrews directs a special production of My Fair Lady with performances from September to November 2016. If your plans take you to Sydney then, snap up a ticket for this exclusive event.

Bars inside the Sydney Opera House open one hour prior to performance time — arrive early to enjoy a pre-theater drink (own expense) and admire sweeping views of Sydney Harbour and the Harbour Bridge.

See the Itinerary section below for details about the 2015 and 2016 season.
Itinerary
2015 and 2016 Performances dates at the Sydney Opera House:

The Magic Flute:
Mozart's imagination runs wild in a playground on the path to enlightenment, brought to life with spellbinding costumes and effects.

7:30pm:
December 2015: 30
January 2016: 7, 9, 12, 14

1pm:
January 2016: 2, 9, 16

La Bohème:
La Bohème is an opera in four acts and based on Scènes de la vie de bohème by Henri Murger.

1pm:
January 2016: 30

7:30pm
January 2016: 2, 6, 8, 13, 16, 22, 25,
March 2016: 7, 9, 11, 15, 17, 19, 21, 23

Great Opera Hits: 5pm
Great Opera Hits is a production based on opera singers including; Bizet, Rossini and Verdi and played by some of Australia's finest opera singers.
December 2015: 26, 27
January 2016: 1, 10, 24,
February 2016: 7, 14, 21, 28
March 2016: 6, 13, 20

The Pearlfishers:
The Pearlfishers is a work of beauty: a soul-stirring duet and music that can take your breath away. In the hands of master storyteller Michael Gow, Bizet's exotic picture of a romantic Ceylon has a new, sharp edge.

7:30pm
January 2016: 21, 23, 27, 29
February 2016: 5, 9, 12, 15, 18, 23
March 2016: 3, 5, 8,

1pm
February 2016: 20, 27
March 2016: 12

The Barber of Seville
A cast of great voices and high spirits play among a marvelous set of cartoonish proportions – a world inspired by 1920s silent films. Join Opera Australia's best comic talents in this side-splitting romp through Seville.

1pm
February 2016: 13
March 2016: 5

7:30pm
January 2016: 28, 30
February 2016: 4, 6, 10, 17, 20, 26
March 2016: 10, 12, 14, 16, 18, 22

Luisa Miller
Who is Luisa Miller? A woman in love, a woman in anguish – trapped by a man she does not love and a father who loves her too much. And to play her, a woman finding international stardom: Australian soprano Nicole Car, making another role debut after her successes at Covent Garden and in Europe.

7pm:
February 2016: 11, 13, 16, 19, 22, 24, 27, 29

Carmen
The ultimate femme fatale is here to stamp her feet, toss her hair and dance. Will she love Don José? Maybe. Will you fall for her sultry Habanera? Definitely. This new take on Bizet's famous opera hones in on the relationships at its heart, on the wild love that promises freedom while binding the lovers in an unbreakable web of fate.

7:30pm
June 2016: 16, 18, 21, 23, 25, 29
July 2016: 1, 5, 9, 13, 15, 21, 23, 29
August 2016, 3, 9, 12

1pm:
August 2016: 6

The Love for Three Oranges
Take a melancholy prince, a cantankerous witch and the curse of a love strange and strong: an unquenchable passion of unusual fashion for not just one orange, but three! Add an infectious march, some fantastical farce and a kingdom of curious characters, and you have Prokofiev's surreal fairy-tale for adults. Eye-popping costumes, physical comedy and sets of acid color combined with the composer's bright melodies in an opera that never takes itself too seriously.

7:30pm
June 2016: 22, 24, 28, 30
July 2016: 2, 4, 6, 9

Cosi Fan Tutte
Mozart's opera about testing fidelity is a mad story set to music of impossible beauty. Two men disguise themselves as Albanians and attempt to seduce each others lover in an elaborate ruse to win a bet. Ridiculous? Yes, but Mozart's luminous music takes the ridiculous and makes it sublime. Come along for a merry ride and you'll see that under that veil of farce is a poignant drama about love, faith, death and sex.

12:30pm
July 2016: 30

7pm
July 2016: 19, 22, 25, 27
August 2016: 5, 11, 13,

Simon Boccanegra
A powerful man. A past tragedy. A very present enemy. Personal sacrifice meets political thriller in this vast opera by a master of the genre. The opera's extraordinary musical demands and sprawling story make it a rarity on the opera stage.

7:30pm
July 2016: 26, 28, 30
August 2016: 2, 4, 6, 8, 10, 13

My Fair Lady
On 15 March 1956 at the Mark Hellinger Theater on Broadway something extraordinary happened that would change the course of music theater history forever: it was called My Fair Lady. Playing the role of Eliza Doolittle in New York and London was a young Julie Andrews, in only her second role on Broadway, and in the role that would define her career and help catapult her to international stardom. Now, in the 60th anniversary year of the Broadway premiere, and in the 60th birthday year of Opera Australia, they have teamed again with John Frost to recreate that sensational 1956 production with none other than Dame Julie Andrews at the helm as director. A stellar cast of Australian theater royalty will be especially assembled for My Fair Lady.

1pm:
September 2016: 7, 10, 13, 14, 17, 20, 21, 24, 27, 28
October 2016: 1, 4, 5, 8, 11, 12, 15, 18, 19, 22, 25, 26, 29
November 2016: 1, 2, 5

3pm
September 2016: 11, 18, 25
October 2016: 2, 9, 16, 23, 30

7:30pm
September 2016: 6, 8, 9, 10, 14, 15, 16, 17, 21, 22, 23, 24, 28, 29, 30
October 2016: 1, 5, 6, 7, 8, 12, 13, 14, 15, 19, 20, 21, 22, 26, 27, 28, 29
November 2016: 2, 3, 4, 5

January 2016
December 2015
Excellent, everything went smoothly
November 2015
One of the best evenings of our trip, play was outstanding, good seats, all very smooth
November 2015
Excellent tour if the city and surrounding area. Tour guide was knowledgeable and friendly. Van was nice and comfortable!
November 2015
The musical was really entertaining. The lead actress was amazing in the Cole Porter musical Anything Goes. We really enjoyed the evening and all went smoothly. The opera house wasn't as elaborate as we had anticipated , but seats were comfortable and staff were friendly and helpful.
November 2015
Great! A person in party has mobility issues and House staff was very accommodating! Must do in Sydney
Suzanne S USA
October 2015
Our tickets were the best seats and the play was fabulous so glad we took the time to see Opera house is the best theater to enjoy a play!
Suzanne S USA
October 2015
Our tickets were the best seats and the play was fabulous so glad we took the time to see Opera house is the best theater to enjoy a play!
October 2015
We saw Anything goes. Great atmosphere, great show. Highly recommended!
September 2015
our first opera and it was amazing. seats were automatically upgraded and we were only 5 rows from the front, almost in the center!
Advertisement
Advertisement