34 Reviews
Location:

Sydney, Australia

Duration:

2 hours 30 minutes

(approx.)
Come face-to-face with giant sharks, stingrays, turtles and much more on your dive with the sharks at Manly SEA LIFE Sanctuary! Immerse yourself and enjoy the thrilling excitement of diving with some of the most feared and often misunderstood creatures of the deep blue sea.
Highlights
Get up close to Grey Nurse Sharks, stingrays and turtles

Once in a lifetime opportunity

Includes 30-minutes in the Manly SEA LIFE Sanctuary tank and a shark awareness course

Choice between first-time dive option or the certified shark dive option

All equipment included

Recent Photos of This Tour
Shark Diving Xtreme in Sydney
What You Can Expect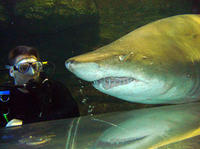 Introductory Shark Dive:
Suitable for those who have never dived before and/or certified divers. This is a unique first time diver experience. Begin the day with an introductory dive course, Manly SEA LIFE Sanctuary expert instructors will teach you all the skills needed to complete your first Shark dive! Next, take the plunge!
SCUBA Tune Up Program:
Suitable for certified divers only. Scuba tune up is for divers who would like to refresh their skills. Great if you haven't dived recently, to ensure you can relax and enjoy the dive. Essential for divers who have logged less than 15 dives and haven't dived in the last 6 months. The dive includes a re-introduction to scuba and pool skills and the 30 minute shark dive.
Certified Shark Dive:
Suitable for certified divers only. More than just a dive with sharks - join Sydney's first Shark Awareness Program, educating divers on topics ranging from the plight of the endangered grey nurse sharks and the identification of the various species to facts surrounding the most dangerous shark species. Next, take the plunge!
Night Dives:
From December to February additional night dives sessions are available. The 2.5 hour experience includes 30 minutes underwater in the 4 million liter Shark Harbor tank, with huge Grey Nurse Sharks, stingrays, turtles and loads of fish. Even thought it's a night dive, the lights will stay on for the entire experience. Valid for two people per booking, so grab a friend and book now.

All Dives Include:
Guaranteed perfect conditions every time. Great visibility within the 4 million liter Oceanarium.
Guaranteed to get up close and personal with 4 different species of sharks, 7 adult Grey Nurse sharks, 1 juvenile Grey Nurse shark (born at Manly SEA LIFE Sanctuary in 2001),4 different species of stingrays, giant turtles and a vast array of marine life.
Itinerary
1. Shark Dive Xtreme Introductory Program (suitable for first time divers); this includes:
Introduction to scuba diving briefing and pool skills session
30 minute Oceanarium tank dive
All equipment supplied including full length wetsuit
Debrief and certificate
2. Shark Dive Extreme Scuba Tune Up (qualified divers who have had logged less than 15 dives or haven't dived in the last 6 months):
Refresher training and pool skills session
30 minute Oceanarium dive
All equipment supplied (can bring own mask and full length wetsuit)
Debrief and certificate
3. Shark Dive Xtreme Certified Program (qualified divers); this includes:
Shark awareness brief (origins of sharks, reproduction, identification etc)
30 minute Oceanarium tank dive
All equipment supplied (can bring own mask and full length wetsuit)
Debrief and certificate
After your breathtaking dive you can re-live your encounters with the creatures of the deep whilst enjoying refreshments and admiring the magnificent view of Sydney Harbour in Manly SEA LIFE Sanctuary beach front cafe.
Your Shark Dive Xtreme experience entitles you to free admission to Manly SEA LIFE Sanctuary, including interactive daily guided shows and guided tours and any special activities or feeds.
Frequently Asked Questions:
What are the general requirements?
All dives are available for anyone over the age of 14 years. 14 to 16 year olds must be accompanied by a parent or guardian.
You must be able to swim. You must have satisfactory health.
Is it Safe?
Safe environment, expert fully-qualified instructors.
Can I bring my own equipment?
All equipment is supplied, but can bring own full length wetsuit and mask
Can I take photos in the tank?
No. An underwater picture of you diving is available for purchase.
Can I fly after I dive?
You cannot fly within 12 hours of the dive
How do I get there?
Manly SEA LIFE Sanctuary is located 200 meters from Manly Wharf so is easily accessible by Ferry from the downtown Sydney.
Medical Questionnaire:
All divers on this course must complete a dive medical questionnaire. This questionnaire will be sent out to you upon processing a booking or upon your request. It is important to note that people with a history of asthma, including childhood asthma will require a medical certificate. If a diver has a history of any medical condition, they need to consult their doctor and provide a medical certificate before they can participate in the Shark Dive Xtreme program.
Asthma
Heart Disease
Epilepsy
Diabetes
Chronic chest condition
Chronic sinus condition
Ear problems
High blood pressure or obesity
Are you pregnant? (Pregnant woman are not permitted to dive regardless)
Do you have any other medical conditions, including injuries or psychological issues that may prevent you from participating in the dive?
All passenger weights MUST be advised at time of booking. If you do not indicate this, you will be required to advise weights directly to Manly SEA LIFE Sanctuary. In some cases, obese clients may be required to check-in 48 hours before dive, to be measured for equipment - and may be asked to gain a medical clearance if deemed necessary by instructors.
IF YOU ANSWERED YES TO ANY OF THESE MEDICAL QUESTIONS THEN A MEDICAL CLEARANCE IS REQUIRED BY YOUR DOCTOR.
Children aged 13 years and under are not permitted on this tour
Child prices are not available. Adult prices apply to all travelers
September 2015
This was without a doubt one of the best experiences of my life! I dove about two weeks ago with dive instructor Laurie, and everything was flawless! I felt completely educated, safe, and like a total daredevil, all at the same time. I would wholeheartedly recommend this experience to anyone with a sense of adventure!!! Worth every penny!
July 2015
January 2015
Unable to have this experience because of a medical condition. However, Viator gave us a full refund! The Sea Life Sanctuary is a great facility, so we still enjoyed viewing the sea animals. And the staff was great--friendly and lots of energy.
January 2015
Manly was great. Thia was our first dive. They gave exvellent instruction, top quality equipment and safery came firat! The experience to be so close to many sharks, rays and turtlea was mind blowing! This is a MUST for anyone visiting Australia.
October 2014
Staff very friendly,and clearly cared about the animals. Son 19 doing the dive was confident in the water,and was the only one doing the dive at the early time. A lot of time spent underwater with the sharks extremely close. Much better than the Melbourne Aquarium.
January 2014
Staff great and a terrific experience all round
December 2013
Super fun! Would highly recommend if you are even possibly thinking about it!
August 2013
It really is something, swimming underwater as one of these incredible creatures glides by. Everything I hoped it would be, and then some
July 2013
Can't recommend this trip enough! Everything about it was brilliant... quite simply the best thing I did in Sydney!
January 2013
My hubby said this was worth every cent. He thought the staff were great and the whole tour well organised. His experience with the sharks and other marine life was amazing. The photos and movie were wonderful too.
Advertisement
Advertisement