Experience the wonders of the Taronga Zoo from the perspective of Australia's original inhabitants during a 2-hour tour with an Aboriginal guide. Your guide introduces you to the animals and shares native Dreamtime stories, which reveal the deep connection that indigenous Australians have with nature. Tour the zoo with your guide and a small group maximum of eight people, ensuring a more personalized encounter with your guide and the animals you visit, including koalas! Includes morning tea and time to explore the zoo on your own after your tour.
Highlights
Explore Taronga Zoo and Australia's wildlife from an indigenous perspective

Hear traditional Dreamtime stories told by an Aboriginal guide
Interact with koalas and kangaroos
Take the Sky Safari Gondola ride

Small-Group tour (maximum 8) provides a unique and interesting experience
What You Can Expect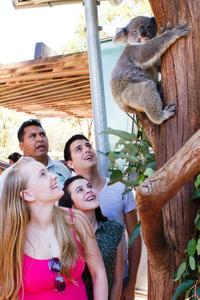 The Taronga Zoo's Nura Diya (country or camp) tour looks at Australia's wildlife and land from an indigenous perspective.

Begin your tour on the Sky Safari gondola. Ride in a fully enclosed cabin that floats over the animal enclosures on a hill that overlooks Sydney Harbour. Along with an aerial view of the zoo, you'll enjoy great photo ops of the Sydney skyline, and waterfront landmarks including Sydney Harbour Bridge.

Your Aboriginal guide introduces your small group to the history of the Cammeraigal people, who are the traditional owners of the land where the zoo is located. Hear ancient legends about the earth's creation, also known as Dreamtime stories. Your guide explains traditional uses of plants for medicine and food, shares insights about how Australia's Aboriginal people relate to the natural world, and points out the critters that make regular appearances in indigenous arts.

Throughout the tour, enjoy close encounters with Australian animals such as kangaroos, wallabies, echidnas, emus and birds. You may even get to cuddle a koala!

Wrap up your tour by chatting with your guide over morning tea at the zoo's cafe, a perfect chance to ask any remaining questions. Afterward, have the rest of the day free to explore the zoo at your leisure.
March 2015
This tour was a highlight of our visit to Australia.
April 2014
I loved this tour! It was exactly what I wanted- a nice overview of the plants and animals in terms of biology and folklore. Australia is such a rich land and heritage and this was a perfect way to learn a bit about it all. I would absolutely recommend this one. My guide (I think her name was Shayna) was personable, professional, very knowledgable, and a lot of fun!
February 2014
We, a 'mature' couple, wished to combine our Taronga visit with an introductory experience of the Aboriginal relationship with Nature.
We were very lucky that the tour 'group' was made up of just us two, and that we even got two guides! We were surprised that our lady guide didn't look the least Aboriginal to us, with green eyes and blond hair, but she told us that she did have some Aboriginal blood through a grandparent and thus regarded herself as such - interesting information already at the greetings stage!
Our two guides did a very good job at keeping our ears and eyes wide open during the tour. In fact, the most rewarding part was actually ourlong and adlibbed conversation during the concluding coffee brake, which lasted a good half hour over the tour schedule.
So, a most rewarding visit in spite of the drizzling weather and an excellent enticement for seeking more knowledge about Australia's original inhabitants and their close relationship with Nature.
January 2014
The zoo is terrific ,not only for the animals but also for the location, up high and overlooking the harbor. Our tour guide , Leon ,was just terrific. He is a wonderful asset to the zoo. Very intelligent and friendly . He actually spent more time with us than was expected. This was on our second day there so it was a great start to our trip.
January 2013
Really enjoyed this behind-the-scenes tour. Guide shared Aboriginal stories about native animals and plants. The highlight of the tour was the opportunity to go into the koala enclosure and take pictures with them!
December 2012
Friendly and informative guide. Interesting information about the animals and plants. Close encounters with some animals. Small group (5 of us) was definitely a plus. Morning tea and a chat at the end of the tour were also great.
October 2014
Brilliant, learnt way more than I would just going round the zoo myself. The guide really knew her stuff, it was cool to learn the dream time stories relating to the different animals. Would definitely recommend this tour!
March 2013
There was only two of us on this tour which made it personalize. I wanted to learn more about the Aboringinies. The guide and two others did talk about the connection between nature and the beliefs of their people. I did as much talking to them as all three did to me and I did not get what I wanted out of this tour. It was also a behind the scene tour of the zoo and we got to go into the Koala area and touch and/or take photos of all the koalas which made the tour alone worthwhile.
January 2013
It was very interesting even if we missed some of the informaition because we are not so good at english.
March 2015
I was the only person booked for this so It was great
Advertisement
Advertisement