17 Reviews
Location:

Sydney, Australia

Duration:

8 hours

(approx.)
Want to learn how to surf? Where could be better than Sydney, the heart of Australia's surfing culture. For a great, fun-filled introduction to surfing, take this full-day tour to a beach just 45 minutes south of Sydney, where you'll learn all the basics of board surfing from your fully qualified surf instructor.
Highlights
Learn to surf at an uncrowded Sydney beach with a fully qualified surf instructor
Two x two-hour surfing lessons
Travel along the dunes and beach by 4WD
Tour departs from centrally located meeting point
Surfboard and wetsuit supplied
Includes buffet lunch and refreshments
Recent Photos of This Tour
Surfing Lessons in Sydney
What You Can Expect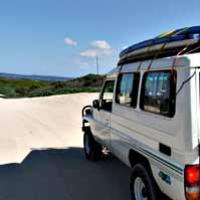 Your surfing tour includes four hours of surfing lessons, divided into two-hour sets, and your surfboard and wetsuit are supplied. You'll travel by four-wheel drive over the sand dunes and along vast stretches of empty beach to find perfect waves for learners, away from other surfers.

Surf for the whole day with progressive surf lessons in an unhurried environment. With a little help from your qualified surf instructor, it's guaranteed you will be able to stand up on your board by the end of the day. It's a scenic day out in Sydney, so bring your camera, swimsuit, towel and sunscreen. There's free time in the day to rest and take in the scenery, and lunch and refreshments are included.


April 2015
Great day out even though I am 53 and was with 20 year old Back Packers - Deano was a great bloke
December 2011
awesome.friendly,down to earth,relaxed,good teaching and success,thoroughly recommend this!!!
March 2011
it wasn't Bondi beach but we were happy to have the beach to ourselves.
small group and uber friendly instructor.
all in all it was wonderful!
May 2010
I highly recommended this school because they took us to a very secluded beach where we could surf all day without running into other people, this is very important when you first learned to surf. I went to Bondi the day after this lesson and found people everywhere in the water, I cannot avoid running my board into them. The lesson was good and plenty of surf time. We surfed so much, we were completely worn out and still had 2 hrs left to surf. The instructor kept encouraging us to continue surfing but none us had the strength anymore. By the way, your knees will get scratched up pretty bad, so wear a knee pad until you get good. The sand will scratch up your knees and the salt will attach your wound, that's what wears you out and can't surf anymore but no worries about injuries.
February 2010
Fantastic experience - they even managed to get me up and surfing so there is hope for everyone else and they must be good!!
February 2010
What a great day out. Sun ,surf, sand and fun.
February 2010
What a fantastic day. Our tutor was great. The weather was great. I got up on my surfboard 2nd time round. Lunch was yummy.
August 2008
Yay! I learned to surf. I got a bit scraped up, but rode in some waves and had a good time. Overall it was a great tour -- the beach was lovely, the guys who instructed us were fun and professional, and lunch was good. I did wish we got to stay about an hour more -- we got there at 10.30ish and left at 3, with a break for lunch and instruction time. It didn't feel like I got to surf as much as I would've liked.
August 2008
Excellent day! The lessons were great and managed to stand up at the end of the day. The lunch was a good selection of stuff excellently prepared. With anything like this what you put in is what you get out of it.
March 2015
The Instructor, Nathan, was awesome! I liked that we went to a private beach so there wasn't the crowd while learning. I also loved that we were in the water for awhile so I was actually able to stand up briefly. Finishing up with a picnic on the beach was a great end to the day. I didn't like the long drive, but the private beach was worth it. We didn't do the additional stuff from the itinerary but I wanted to spend more time surfing.
Advertisement
Advertisement