Experience the thrill of a 30-minute aerobatics flight with an expert pilot who provides a once-in-a-lifetime adventure over Sydney. After an introduction to basic tricks, your pilot takes your small plane through a sequence of aerobatic maneuvers used in modern-day competition. These daredevil moves were perfected by fighter pilots during World War I in order to avoid being shot down during attacks. Your pilot explains each move via headsets that allow for two-way communications throughout your adrenaline-filled flight.
Highlights
30-minute aerobatic flight from Sydney

Fly with an expert pilot who performs tricks in a state-of-the-art stunt plane
Hold on as the plane performs acrobatic tricks such as loops, rolls and turns

Experience the thrill of flying a competition-worthy sequence
Choose a daredevil experience that showcases dogfight maneuvers

Enjoy seeing Sydney from the air
What You Can Expect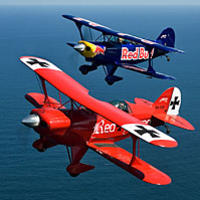 Your aerobatics flight experience gives you a taste of competitive flying. The sport evolved from flight patterns perfected for combat situations by master pilots such as the Red Baron (Manfred von Richthofen) during World War II.

Your pilot begins with the basics: tricks such as barrel rolls, loops, wingovers and hammerhead turns. You might also go upside down, do a four-point roll or a hesitation roll. Your pilot will explain each maneuver as you go through it.

Next up, your pilot introduces combination maneuvers that consist of loops, rolls and figure eights. The tricks have names such as Roll Off The Top, Split S and Cuban Eights. You'll feel the push and pull of g-forces (gravitiational force) that press you into your seat and harness.

Feel your adrenaline surge during the grand finale of your flight when your pilot brings together all of the elements that you have experienced into a final sequence similar to one that would be performed in an aeronautics competition.

Expect to fly as high as 4,000 feet (1,220 meters), leaving from Bankstown Airport and flying towards the Great Dividing Range. Before take-off, your experienced pilot provides you with a safety orientation, flight suit and radio headset that allow for two-way communications during your flight.

You'll also be able to take in the sights of Sydney and the coast at the beginning and end of your flight.
February 2011
Absolutely fantastic experience!!!
RICHARD S United Kingdom
July 2010
It's the most fun you can have, outside of the bedroom! Adrenalin junkie or not, by the time you get off this airpane, you'll have a cheesey grin a mile wide. It's awesome.
January 2011
Very friendly people, but they cancelled at the last minute due to other commitments. Very disappointing.
Advertisement
Advertisement