Explore Sydney's top attractions on your own schedule with the Sydney Attraction Pass. The pass includes single admission to SEA LIFE Sydney Aquarium, WILD LIFE Sydney, Sydney Tower Eye and 4D Experience, Madame Tussauds, and the hop-on hop-off Captain Cook Cruise. Celebrate your time in Sydney with a lunch or dinner at Nick's Bar and Grill Restaurant, which is also included in the Sydney Attraction Pass. Your pass is valid for one month from date of first use, allowing you to sightsee around Sydney at your leisure.
Highlights
Sydney Darling Harbour's all in one sightseeing pass, valid for 30 days
SEA LIFE Sydney Aquarium with more than 13,000 animals

WILD LIFE Sydney showcasing Australia's unique wildlife

Great aerial views from Sydney Tower Eye and the amazing interactive ride -- 4D Experience
Hop-on hop-off sightseeing cruise around Sydney Harbour

See the unique collection of lifelike wax figures at Madam Tussauds

What You Can Expect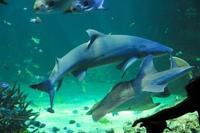 Upon booking your Sydney Attraction Pass, you will receive a voucher. Simply present your voucher at SEA LIFE Sydney Aquarium to collect your pass. Then plan your visits to the attractions according to your schedule. You can go to several attractions in one day or take the full 30 days to complete the use of your pass.
SEA LIFE Sydney Aquarium
More than 13,000 aquatic creatures live in the SEA LIFE Sydney Aquarium, making it Australia's largest collection of marine animals. Discover the largest predators of the ocean as you meander across the Shark Walk; admire the graceful inhabitants of the Tropical Bay of Rays, South Coast Shipwreck and Discovery Rockpool; and marvel at the massive Great Barrier Reef exhibit.
WILD LIFE Sydney Zoo General Entry
Step into WILD LIFE Sydney Zoo to see Australia's most iconic animals under one roof, including kangaroos, wallabies, koalas, a family of wombats and one of the largest crocodiles in captivity. The size and diversity of the continent becomes evident as you explore exhibits with a myriad of amazing animals and habitats.
Madame Tussauds:
Admire wax replicas of famous Australians and other celebrities at Madame Tussauds. You'll see Hollywood darlings and important figures from history, politics and world sports. Life-size wax figures portray numerous movie and TV stars, musicians and members of various royal families.
Sydney Tower Eye and 4D Experience:
Head up to the Observation Deck at Sydney Tower Eye to take in Sydney from the highest viewing platform in the city, located 820 feet (250 meters) above the ground. With 360-degree views, you can spot Sydney Harbour Bridge and Sydney Opera House, see yachts in Botany Bay and look to the east towards the Blue Mountains. Then grab a seat in the theater for another view of Sydney with the 4D Experience, which entails a 3D film accompanied by effects that provide an amazing view of the city.
Captain Cook Cruise:
Use the hop-on hop-off Red Rocket ferry to travel on the waterways of Sydney Harbour. Stops include Darling Harbour, Circular Quay, Fort Denison, Taronga Zoo, Watsons Bay, Shark Island and Luna Park. It's an easy and fun way to get between Sydney's attractions. Bonus: you get great views of Sydney Opera House, Sydney Harbour Bridge and the city skyline.
Nick's Bar and Grill Restaurant:
Celebrate your time in Sydney at Nick's Bar and Grill. Your pass includes one lunch or dinner at Nick's, the perfect place for casual waterside dining. You can choose either one main course and one entree, or a sweeter option that features one main course and one dessert.
December 2014
I was able to spend a lovely day in Sydney visiting all its major attractions.
Dr. Alice USA
December 2012
This was by far the best value obtainable from viator. We had nearly a month to use all the passes we received and because we had other tours booked by far the most flexible with use time. Beware though Nick owns 6 restaurants in Darling Harbor and all are fantastic but the voucher is for Nick's Bar and Grill directly across from the Majestic touring boat (which is also a must and available through the Sydney pass). Our included dinner was excellent as were our meals at Nick's local restaurants. The included meal was a real treat given the cost of meals in Australia. Our US dollar was devalued a few times while in Sydney which made prearranging our tours ahead of time an even better value. This pass truly included everything in Darling Harbor we used every voucher. Definately worth the investment. Hurry though the monorail was sold to Tasmania and won't be running past June of 2013 in Sydney.
May 2012
We had a great and wonderful time in your city. Looking forward to visiting again!!!!!
Hazel K United Kingdom
January 2012
We used most of the elements of the Harbour Pass. The only one not used was the meal voucher. This was only due to lack of time as we added our own visits to The Maritime Museum as well as a personal visit to the Wellcome Memorial and the Hard Rock Cafe to our four day stay in Sydney.
We found the pass the best value and once you had collected all your tickets from the Aquarium you were fast tracked through the prepaid shortest queues at each attraction.
We also over heard ticket counter staff at one attraction advising a customer to use the internet to get a Viator Darling Harbour Pass as it was the best way to see all the attractions
May 2011
A great value for money trip! Covers everything, well worth doing if you are in Sydney for a few days
T A G Australia
July 2010
We had an excelllent time. The pass is great value and we would recommend it highly. Thanks!
June 2015
Hop on Off ferry was the very best Dinner was fine but you should include an address. Skyview was very impressive.
Advertisement
Advertisement