Bicycling around Sydney is the perfect way to sightsee in this gorgeous harborside city. Join your expert guide for a fun and fascinating look at up to 30 top sights, including the iconic Sydney Opera House and Harbor Bridge, along with many others. As you pedal around the city, learn about the history, culture and favorite local spots on your choice of four cycling routes. Tours cover the highlights in 2.5 hours if you have limited time, or take up to five hours and see the sunset in Manly.
Highlights
Sightseeing tour of Sydney by bike
Knowledgeable and friendly tour guide
Choice of four great tours
Mix of famous and lesser-known Sydney sights
Use of state-of-the-art bicycle and red safety helmet
Itineraries ranging from 2.5 to five hours
Recent Photos of This Tour
What You Can Expect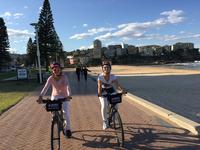 You'll have the company of an expert guide on your cycling tour of Sydney. Taking a bike tour is easy and a great way to see more than 30 great attractions – all on one tour! Get great photo ops of the Sydney Opera House, Harbor Bridge, Darling Harbour, the Rocks, Hyde Park, the Royal Botanic Gardens, Mrs Macquarie's chair and more.
Choose from four cycling tours, each featuring different routes. You can even book more than one and get different perspectives on the city and its surroundings. Your guide leads you along less-traveled roads and bike paths with attention to safety, pacing and fun.
You'll have the use of safety gear and a super-comfortable bike. Pick up insider tips and seasoned advice for what to do while you're in town and meet other intrepid travelers during this fantastic day out in Sydney.
See
Itinerary
below for more details of the four tours:
The Sydney Classic Tour, for all the Sydney icons and more
The Sydney Highlights Tour, for a fast round-up of all the essential sights
The Manly Beach and Sunset Cruise Tour, to see the city skyline at night
The Sydney Harbour Bridge Ride, so you can say you've cycled over the famous bridge
Itinerary
Sydney Classic Tour (4 hours)
Departs at 10:30am:
Go to all of the iconic sights and other sights you may miss on your own. The expert guides will give you the information you need to get the most out of your trip to Sydney. See the Sydney Opera House, Sydney Harbour, the Sydney Harbour Bridge, Darling Harbour, the Royal Botanic Gardens (including the Flying Foxes), Hyde Park, the Anzac War Memorial, Chinatown, Sydney Tower, Parliament House, Queen Victoria Building, Museum of Contemporary Art, Art Gallery of NSW, and more than 30 more great attractions. You will even stop to take in a warm friendly pub as a half way point on your tour.

Sydney Highlights Tour (2 1/2 hours)
Departs at 2:15pm from April to September or 3:15pm from October to March:
Got a couple of hours to kill in the city or just short on time? Hop on the Sydney Highlights tour to experience the essentials of Sydney. Go on a super easy ride featuring stunning harbor views as you pedal past Circular Quay, the piers at Walsh Bay, Darling Harbour, Hyde Park, and the Royal Botanic Gardens. There's no better way to get a quick feel for the city than the Sydney Harbour Highlights Tour.

Sydney Harbour Bridge Ride (5 hours)
Departs at 10:30am:
You've seen it, you may have climbed it, but have you ridden it yet? Head out over the fantastic Sydney Harbour Bridge, take in its amazing views, and enjoy the peaceful surrounds of Sydney's North Shore! You'll start out in the famous Rocks district before you make the easy ride over the bridge — it's an unforgettable sight looking at Sydney and the Harbour from this famous landmark. After crossing, you will explore Kirribilli and the Governor's House, then onto a breathtaking 2.5 km stretch of easy waterside riding past Luna Park and the tranquil Lavender Bay. The conclusion of the trip entails a short ride back over the bridge, lunch, and a visit to more of Sydney's unique historical and cultural sites. Lunch and a beverage is also included with this tour.

Manly Beach and Sunset Cruise Tour (4 hours)
Departs at 2:15pm from April to September, or 3:15pm from October to March:
Start your Manly Beach tour with stunning views from the ferry of Sydney Harbour and the city skyline (don't forget your camera — you can't get better pictures of Sydney Harbour and Opera House). After the memorable ferry ride, you'll see the world famous Manly beach and venture out to the scenic North Head. Take in the coastal cliffs with the city skyline in the background, and depending on the time of year, maybe catch a glimpse of the endangered little penguins or migrating humpback whales. After the ride, sit back and take in the beautiful Sydney sunset behind the Opera House, Harbour Bridge, and city skyline as we cruise back on the ferry.
Please note: this ride is more suited to an intermediate fitness level due to a significant hill when heading out to North Head. But don't worry, it's worth it when you get up there, and the ride down is a blast! Ferry tickets included.

June 2016
Loved every minute! Super tour guide
June 2016
Excellent tour guide, nice overview of city with some sights not ordinarily seen, Harbor Bridge ride a nice highlight
June 2016
Very enjoyable! We had perfect weather, the guide was knowledgeable and fun, and a very nice group of people.
David K USA
April 2016
We had such a GREAT time on the 5-hour bike tour. I would highly recommend to take this tour. The company is run professionally and they take the time to really get to know you during the ride. You can tell that they have you best interest in mind and their aim is to make you feel like a pampered guest.
April 2016
Awesome tour, I love bike riding so it was fun, and you see a lot of Sydney and hear the history thru the very entertaining Tour guide!
March 2016
Steve was an excellent guide, very considerate and personable.
January 2016
This is one of the best way to tour Sydney City Center. The tour was well conducted.
January 2016
Steve, our tour guide, was awesome! The tour took us to parts of Sydney we would have otherwise never gotten to or even knew were there. We highly recommend Bonza Tours!
January 2016
We had an excellent bike tour with Steve despite the torrential rain for the last hour and a half. The tour was very well organised and despite not sitting on a bike for at least 5 years I felt comfortable straight away. The frequent photo opportunity stops were just the right amount. Lunch was lovely. When the rain hit Steve produced ponchos for everyone and the option to curtail the ride but we all wanted to carry on. The tour is a great way to Sydney, far more enjoyable than walking! I highly recommend this tour.
November 2015
thoroughly enjoyed the bike tour. took in lots of sights, tour guide was great and we got some gentle exercise!
Advertisement
Advertisement