Summit the Sydney Harbour Bridge for unrivaled views from a height of 440 feet (134 meters) on this iconic Australian landmark. Select a 3.5-hour BridgeClimb with an expert guide in the morning or afternoon, or go at dawn, twilight or night. Choose from several other options, including a 1.5-hour Sampler Climb that takes you halfway up, or a 2.25-hour Express Climb for a rigorous ascent at a faster pace. Each BridgeClimb is limited to a maximum of 14 participants to ensure personalized attention in a small group.
Celebrate the Sydney Gay and Lesbian Mardi Gras Festival with a special day, twilight or night BridgeClimb (February 25–March 9, 2016).

Highlights
Climb Sydney Harbour Bridge with an experienced guide

Admire spectacular views of Sydney Harbour, the Sydney Opera House, the Blue Mountains and more

Follow a professional guide who ensures a safe, fun and informative climb
Choose from a number of departure times for the 3.5-hour tour

Have the option to take a more rigorous 2.5-hour Express Climb
Try a 1.5-hour Sampler Climb if you have limited time or concerns about heights
Each climb includes a maximum of to 12-14 people, providing a more personalized experience

Why Our Insiders Chose This Tour
Adventurous locals and visitors alike have flocked to BridgeClimb since it opened, with thousands of marriage proposals and birthdays celebrated here. Among the informative displays in the Visitor's Centre, check out photographs of celebrities who have climbed the bridge.
Recent Photos of This Tour
What You Can Expect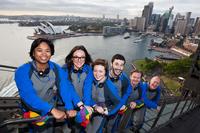 Make your way to the Sydney Harbour Bridge Visitors Centre for a comprehensive safety briefing before your selected BridgeClimb. Pull on a specially designed BridgeSuit to protect your clothing, slip on the provided headsets and get securely clipped into a safety wire.
Once you're ready, follow your expert BridgeClimb guide along your chosen route. You'll climb with a small group, be entertained with informative commentary and anecdotes, stop at scenic points and receive lots of encouragement along the way.
The standard 3.5-hour Sydney BridgeClimb to the 440-foot summit is suitable for anyone with a moderate fitness level. Alternatively, choose the 1.5-hour Sampler Climb if you'd prefer to ascend to the halfway point inside the inner arch. The 2.25-hour Express Climb proceeds at a faster pace with fewer stops. Select a VIVID Climb or Sydney Gay and Lesbian Mardi Gras Climb, available during festival dates only.
Afterward, you'll receive a commemorative certificate, BridgeClimb cap and complimentary group photo to celebrate your accomplishment.
Please see more details about each tour under Itinerary below.
Itinerary
Sydney Mardi Gras BridgeClimb (3.5 Hours):
Celebrate the eclectic eighties during Sydney Gay and Lesbian Mardi Gras with a Festival BridgeClimb! Belt out your favorite karaoke tunes while a retro '80s soundtrack plays through your headphones, and follow your guide to the summit. Select a costume from the novelty Song Prop Box and pose for photos at the top. This day, twilight or night BridgeClimb is available only during Mardi Gras Festival dates (February 25–March 9, 2016).
Morning or Afternoon Sydney BridgeClimb (3.5 Hours):
This is the original BridgeClimb that takes the outer archways of the bridge all the way to the top. Climb up a steady incline and traverse catwalks and ladders, then admire panoramic views of Sydney Harbour and Sydney Opera House. Look out at the Blue Mountains, visible in the distance on a clear day. Choose from a morning or afternoon departure and see the city in full swing.

Dawn BridgeClimb (3.5 Hours):
Take in the breathtaking views of the sun rising over Sydney on a dawn BridgeClimb. Join the first group to climb the Sydney Harbour Bridge for the day, departing in the early morning before sunrise. Exact departure time is determined by timing of the sunrise. Receive two additional complimentary photos on this tour.

Twilight BridgeClimb (3.5 Hours):
Get the best of both day and night on this tour, which departs just before sundown. Take in a spectacular sunset and watch the moon and stars appear during your climb. Exact departure time depends on the timing of the sunset.

Night BridgeClimb (3.5 Hours):
Depart after the sun has set on this 3.5-hour tour to the summit. See the sparkling lights of the city and Sydney Harbour below while the stars and moon shimmer above.

Express BridgeClimb (2.25 Hours):
If you don't have a lot of time or simply prefer a faster route to the summit, the Express Climb provides an incredible experience. Unlike the longer tour that walks along the outer arches, your route goes through the heart of the structure, which provides a different perspective. With this option, there are fewer steps to climb, fewer stops and the ascent to the top moves at a faster pace. Perfect for those with a higher level of fitness who are looking for an energetic experience within a shorter time frame.

BridgeClimb Sampler (1.5 Hours):
The Sampler is ideal if you have limited time, would like a more economical option or have concerns about heights and prefer not to go to the very top. The climb follows walkways on the inner parts of the bridge, which some people prefer to the exterior walkways used for other climbs. Reach a spectacular vantage point located on the inner arch of the bridge at the highest point of this climb, which is situated about halfway to the top of the bridge. With a maximum of 14 people, you're sure to have customized attention from your expert guide.

The VIVID Climb (3.5 Hours):
Experience the magic of a bird's-eye view of Sydney as it sparkles during VIVID Sydney 2016. Get spectacular views of the colorful light installations all around the harbor and as you climb the bridge. You'll also take part in the Sydney Harbour Bridge light show when you wear the provided VIVID Climb Vest. You will climb into the frame of a unique festival installation, high above the city, to capture a must-have image to commemorate your VIVID climb. The VIVID Climb will only be available during VIVID Sydney 2016 (May 27 – June 13).

Mandarin Climb (3.5 hours):
Take the 3.5-hour BridgeClimb with an expert guide who speaks Mandarin fluently.

February 2016
February 2016
Don't be put off by the height - you are very well looked after and other than some initial ladder climbing the rest of the climb is very gradual and easy. The views at the top are spectacular and you learn loads about the history of the bridge and Sydney as you go as the guides are really well informed. Brilliant few hours!
February 2016
This was by far one of the best activities I have ever done. The entire experience was so well organized. Our guide, Stephanie, was outstanding. She gave us all kinds of information through the headphones we wore. Absolutely exhilarating
CliffCheryl United States of ...
February 2016
The chance of a lifetime. The guide made us feel very comfortable and at ease. They provide all the equipment and coveralls as well as rain gear if needed. We felt very secure. The difficulty was less than we expected and we had a wonderful time. They stop at several points and take individual pictures as well as a group photo and even a 10 sec video. The group photo and video are free and you can get up to 10 of the other photos on a USB drive for 60 price may change. The views are spectacular and you also get a free ticket to go up the viewing tower that is located in the support pylon.
February 2016
Fantastic!!. The company was very professional and thoroughly prepared. Guide were excellent and made sure we were safe and well taken care of. Would definitely climb again.
February 2016
The tour was climbing the Sydney harbour bridge .TheViews off the bridge was amazing and the guides were very professional .
February 2016
After storm delayed our climb, we were given opportunity for next day or money back. We climbed next day and weather perfect. Views were spectacular and leader receptive to everyone. Not cheap but good thing to do.
January 2016
I was told by friends that I absolutely HAD to do the Bridge Climb while I was in Sydney and now I understand why! It was a rainy and windy day so I was nervous about how much I liked it but once I got to the top--the views were AMAZING! They equipped us with everything we needed and even gave us a rain jacket and rain pants. Only thing was our shoes got wet. Our guide was so knowledgeable about the bridge history and really helped you to appreciate what we were climbing on and the significance of the bridge to the Australian people. Don't be turned off by the cost of the Bridge Climb--it was worth every penny!
January 2016
It was pouring down rain and super windy but still fantastic. SO worth it!
January 2016
My daughter had the time of her life in this bridge climb!
However, sourvenir photos, USB were very pricey! They should allow
at least a GO PRO or small cameras that can be tied around the wrist
so climbers can take more pictures of the scenery or a selfie!
Advertisement
Advertisement