See Sydney from a local's perspective on a guided walking tour of its harbor-side beaches and eastern suburbs. Breathe in the ocean air as you ferry across the water to Rose Bay, where you'll set out to see a seldom-explored side of the city. Discover Parsley Bay, Nielsen Park and the Hermitage Foreshore track, which grants stunning views of the Sydney Opera House and Sydney Harbour Bridge across the water. End the walk with a much-deserved lunch of fish and chips from the popular Doyle's at Watsons Bay to be enjoyed in the park at Watsons Bay followed by a non-alcoholic beverage of your choice at Watson's Bay Hotel.
Highlights
Sydney Harbour National Park walking tour

Round-trip ride on a Sydney Harbour ferry

Walk the Hermitage Foreshore Track, one of Sydney's great harbor tracks, from Rose Bay to Watsons Bay

Fantastic photo opportunities of Sydney Opera House and Sydney Harbour Bridge

Take in the stunning views of Sydney Harbour

Enjoy fish and chips at the famous Dolye's in Watsons Bay

Small-group tour limited to eight people provides an intimate experience and ensures personal attention from your guide

What You Can Expect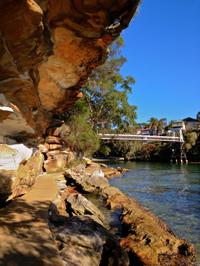 Begin discovering a less-explored side of Sydney from Circular Quay, where you meet your guide and board a ferry to cross to Rose Bay. As you're carried over the water, catch a glimpse of Shark Island—named for its fin-shaped outline—and Sydney landmarks. Arrive at Rose Bay where you will enjoy a delicious morning tea snack and begin your guided tour of the harbor foreshore and surrounding areas that make up Sydney Harbour National Park.

Leading your small group is a local guide who is well-versed in the area. On your easy walk, meander down the Hermitage Track to Watsons Bay as your guide shares insider tips about the area. The path affords views of Sydney Harbour Bridge and the Sydney Opera House across the harbor. Snap gorgeous photos and experience these iconic sights from an entirely new perspective.

The Hermitage Track also holds its own appeal. Admire the grounds of Strickland House, climb ancient toppled tree trunks, and wind past native flora. Along the way, stop at Parsley Bay, a favorite of local families, where you can walk a brief bushland circuit that showcases a waterfall spilling from the head of a gully. Continue on to Nielsen Park, and admire the turquoise waters of Shark Beach.

Before heading back across the water on the ferry, experience another local favorite—fish and chips at Doyle's at Watsons Bay. This Sydney institution, family owned for five generations, dishes out fresh Australian seafood against the backdrop of the stunning blue waters of the bay. Once you've had your fill, enjoy a non-alcoholic beverage at Watson's Bay Hotel before returning by ferry from Watsons Bay to the heart of Sydney, with a new appreciation for the skyline you admired from across the harbor.
July 2014
This tour was amazing and our group of eight highly recommends it. Our guide Bell was superb and the scenery was breathtaking with views of Sydney Harbour not usually seen by tourists. We loved discovering the beautiful bays and learning about the history of the area, not to mention Bell's delicious home made muesli bars! The tour was the highlight of our time in Sydney.
July 2014
The Sydney Harbour National Park Walking Tour is a 'must do' for all Sydneysiders, Interstate and International visitors. Starting at Circular Quay, you catch the ferry across one of the most beautiful harbours in the world to Rose Bay. From there you start the walk, while an expert guide informs you of local history. Continuing to walk you join the Hermitage Foreshore Track, which has to be one of the most spectacular walks in Sydney, taking in all the harbour views, Nielsen Park and Parsley Bay. Reaching the end at Watsons Bay for a much deserved fish and chip lunch at Doyle's at Watsons Bay.
The walk is very well organised and our guide was very knowledgeable and friendly. I would recommend this walk to all who enjoy the outdoors, nature and of course, waking.
June 2014
Bell,my tour guide,was very nice and
did her job well.She guided me even
had only one person for the tour.
About routing where I walked was
so beautiful ,I took lots of photos.
March 2014
This experience was truly exceptional. The views were outstanding and the walk was relatively challenging. And the tour guide's enthusiasm was infectious. It really is nice to go on tour with a person who obviously likes her work so much. The itinerary was well put together and every element of the day fitted well together. And the fish and chip lunch was very welcome after the walk. Keep up the good work Berangere - you truly have a tour that every able bodied person should experience.
March 2014
After the razmattaz and excitement of Circular Quay, the Opera House, etc. this was a super pleasant way to spend half a day looking at Sydney Harbour from calmer shores. Bérangère Graham was our delightful guide. French, but now a committed Australian she guided us from Rose Bay to Watson's Bay passing through some delectable suburbs and interesting spiders' webs. The ferry rides there and back were an adventure too and provided yet more angles to photograph the iconic sights of Sydney's magnificent harbour. One of my highlight activities.
February 2014
This was actually my first detour experience. I happen to find it when I felt like to do some hiking around some area I haven't been in Sydney. I was so lucky that the day I booked had no other guest. But the host Berangere still did the tour for me. Berangere was a very sweet and kind lady who made my trip a lot of fun. She made very delicious energy desert for every guest, which was nicely wrapped like a delicate gift.
October 2013
Great tour with a friendly and accomplished guide. Have seen lot of hidden places, beautiful bays/beaches apart from all those tourist paths. Have had a wonderful day, enjoyed it. This tour's definitively its money worth; high recommendable!
October 2015
This tour was very informal because the Australian company doing it keeps the tourist group to a.maximum of 8. Therefore it was easier to get along with other people in the group.
The tour was very interesting.starting with a ferry trip to the national park and a 3 hour walk in the park taking in views of the harbour, beaches and various houses that were lived in by famous historical people.
The walk can be a bit tiring for pensioners so be sure you can hike and wear good walking footwear.
Also it would be wise to bring a bottle of water.
The tour ends with lunch and ferry return.
Lunch was on my opinion poor as we were encouraged to have a takeaway fish and chip meal that was cheap and eaten from cardboard container. Plastic cutlery included.
Meal comes free with the tour, but drink of any kind we had to pay for extra. I was disappointed with the lunch and would have preferred having a sit down lunch in a restaurant with use of proper cutlery and salt, vinegar which was not given with takeaway.
All considered the guide was young and friendly and very informative, and made the tour interesting.
This tour could have been five star only for the lunch being the let down.
Advertisement
Advertisement