Celebrate the arrival of 2016 with a festive New Year's Eve dinner cruise on Sydney Harbor. Ring in the new year in style aboard a traditional square-rigged tall ship, with a cruise that includes dinner, drinks, music and front row views of Sydney's famous fireworks displays. Enjoy watching the procession of colorfully illuminated vessels on Sydney Harbour while dining on fresh seafood, meat and vegetable dishes accompanied by unlimited wine, beer and soft drinks during this 5.5-hour cruise from Darling Harbour.

Highlights
New Year's Eve tall ship cruise on Sydney Harbour

Be part of the New Year's Eve Parade of Lights Spectacular
Enjoy the impressive Sydney Harbour fireworks from the middle of the harbor

Gourmet barbecue dinner including fresh seafood
Unlimited wine, beer, juice and soft drinks
Live entertainment

What You Can Expect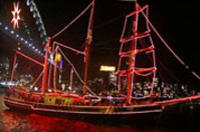 In the early hours of New Year's Eve, make your own way to the dock in Darling Harbour to board your tall ship cruise. You have a choice of sailing on either the Soren Larsen or the Southern Swan, both of which are modeled on the classic square-rigged style ship of the 1850's.

Sip a glass of complimentary wine, beer, bubbly or soda as your ship sets sail on the festively lit harbor. You can soak up the sight of the sparkling city skyline and harbor from comfortable interior cabins or exterior decks as your sturdy ship glides around Sydney Harbour.

Your dinner includes a delicious barbecue spread with a selection of international dishes made with fresh seafood, vegetables and meats. Desserts, tea and coffee, and unlimited wine, beer and soft drinks are served with your meal.

You'll have the best views in the city when Sydney's famous fireworks displays light up the skies at 9pm and midnight. A parade of colorful ships will be on the water too, adding to the visual feast.

Your New Year's Eve dinner cruise ends after 5.5 hours with return to the dock.

Itinerary
New Year's Eve BBQ Dinner Menu:


Sydney rock oysters served natural with lemon
King prawns with dill aioli
Grilled chorizo pieces
Californian sushi roll with soy dipping sauce
Lamb and rosemary pies
Roast kumara and rocket wrapped in rare beef with chilli jam
Thai beef salad in noodle box with ginger, bean sprouts, shallots, lemongrass and mint
Tandoori chicken cocktail wraps with coriander and riata
BBQ chicken skewers
Asian duck roulade with shallots, five spice and plum sauce
Tuna, Spanish onion and chive cocktail baguette
Assorted finger sandwiches – meat and vegetarian
Beef and pork meatballs with honey mustard dip
Gourmet sausage rolls with spicy tomato dip
Smoked salmon and leek tart
Dessert


Pavlova with passion fruit coulis
Chocolate profiteroles
January 2011
Absolutely fantastic experience, the band and staff were awesome. Pricey for New Year, but definately the place to be for the fireworks........Champagne and drinks where non stop, food was excellently delivered as canap'es.... Once in a life time experience for us a family of 4; 18 and 20year old children...... Thank you..

Marilyn A USA
January 2014
I am so mad I chickened out and did not go. I watched it all from my window. I was afraid I would not be able to get back to my hotel.
Marie M USA
January 2011
The harbour point was hard to find, others had just as much difficulty as us. The person of contact wasn't visable, but he started running around so everyone found him. The location of the ship was great, the food was pretty good, the unlimited drinks were good and they didn't make us feel bad since I don't drink. But the 5 hours of Irish folk music really got to me by the end of the nite. It wasn't music to dance by, the 1st hour was alright but after awhile it was annoying. And since every boat was in the harbour we had to wait to dock, unfortunately we were one of the last ones to dock. So sitting in the harbour for an hour, with boat fumes wasn't great. We got back to the dock at 2am. The fireworks were great and considering the view it was very memorable.
Advertisement
Advertisement