When in Sydney, don't miss the chance to watch the Australian Ballet Company light up the stage at the Sydney Opera House. Your Sydney ballet and dinner experience begins with a guided tour of the World Heritage–listed Sydney Opera House, followed by an exquisite three-course meal at Aria Restaurant, located just steps away on the Sydney Harbour waterfront. After dinner, watch the ballet of your choice under the sails of the iconic opera house, selecting from options such as Sleeping Beauty, The Dream, 20:21 and Giselle.
Highlights
See the Australian Ballet perform at the Sydney Opera House
Guided Tour of the of the Sydney Opera House
3-course dinner at the award-wining Aria Restaurant
2015 Performances include Giselle, The Dream, 20:21 and The Sleeping Beauty

Recent Photos of This Tour
Sydney Opera House and Australian Ballet Dinner Package
What You Can Expect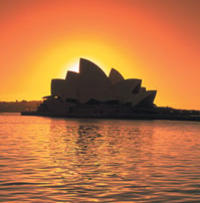 Make your own way to the Sydney Opera House and start your evening with a behind-the-scenes tour of the venerable performing arts center.

Your knowledgeable guide shares tales about the history, architecture and performances of the opera house during a walking tour that lasts approximately one hour. Gain access to off-limits parts of the building and get an insider's perspective on a celebrated venue that hosts more than 1,500 live performances per year.

After a captivating tour, stroll over to Aria Restaurant for your three-course dinner (see sample menu under Itinerary). Enjoy views of Sydney Harbour Bridge, Circular Quay and the Opera House from the dining room.

When you have finished your meal, return to the opera house to take your seats for your Australian Ballet Company performance. Have your choice of A-reserve or B-reserve tickets for one of the company's full-length classic ballets or contemporary works. In addition, you will receive a small gift to take home as a souvenir of your Sydney ballet experience.

Please note: The Sydney Opera House and Australian Ballet Dinner Package often sells out weeks in advance. Book now to avoid disappointment.

Click on the "View Additional Info" link below for the Sydney Opera House map.
Itinerary
The evening begins with the a guided tour of the Sydney Opera House, then afterwards, you will be taken to Aria Restaurant for a pre theatre dinner and then the Ballet, as per your choice from the options below.
2015 Performances at the Sydney Opera House:20:21

The best of the 20th century, the freshest of the 21st: this electrifying triple bill showcases two giants of the New York dance scene and The Australian Ballet's newest resident choreographer..
Performance dates:
November 5, 6, 7, 9, 10, 11, 12, 13, 14, 16, 17, 18, 19, 20, 21
The Sleeping Beauty
Fairies, bluebirds, a gilded court and a spell‐shattering kiss: the world's most extravagant ballet is awakened to new life by The Australian Ballet's Artistic Director David McAllister The much‐anticipated world premiere of this landmark production will be the crowning moment of the year and perfect for all ages.
Don't miss the moment when this majestic Beauty opens her eyes
Performance dates:
November 27, 28, 30December
1, 2, 3, 4, 5, 7, 8, 9, 10, 11, 12, 14, 15, 16
2016 Performances at the Sydney Opera House:
Swan Lake

From the first yearning bars of Tchaikovsky's score, Swan Lake beckons you to another world. With its bewitched Swan Queen, its doomed Prince, its glittering villainess and its drifts of white tutus, this is the ultimate night at the ballet.
Performance dates:
April: 1, 2, 4, 5, 6, 7, 8, 9, 11, 12, 13, 14, 15, 16, 18, 19


Vitesse
A stiring triple bill with three of the world's greatest contemporary choreographers - Christopher Wheeldon, Kiri Kylian and William Forsythe each curating a unique piece.
Performance dates:
April: 26, 30
May: 2, 4, 6, 10, 11, 13, 14, 16


Nijinksy
Vaslav Nijinsky changed dance forever with his explosive leap and his shockingly sensual choreography, before a dark descent into madness ended his career. John Neumeier, one of the greatest living choreographers of the story ballet and director of the acclaimed Hamburg Ballet, charts Nijinsky's rise and fall through the vivid memories unfolding in the dancer's mind during his last performance in a Swiss hotel. He recalls his troubled family, his ill-starred romances and the transcendent performances that brought him fame.

Performance dates:
November: 11, 12, 14, 15, 16, 17, 18, 19, 22, 23, 24, 25, 26, 28


Coppélia
This sparkling tale of magic and micheif romps along to Delibes' lilting score. It's amusing fun for the whole family - but its playful confusion of girl and doll packs a contemporary punch in the "uncanny valley" of the modern era.

Performance dates:
December: 2, 3, 5, 6, 7, 8, 9, 10, 12, 13, 14, 15, 16, 17, 19, 20, 21


Symphony in C
Spins, leaps and lifts: Symphony in C is dance at its most exhilerating. This all-thrills double bill offers George Balanchine's tutu extravaganza alongside a gala program of glittering party pieces and two new workds from the Australian Ballet's emerging choreographic stars.

Performance dates:
May: 3, 5, 7, 9, 12,


Pre-theatre Sample Dinner Menu:

ARIA :
Located on the doorstep of Sydney Opera House, ARIA combines the finest of food and wine, knowledgeable and friendly service with spectacular views of the Harbour Bridge, Circular Quay and of course the Opera House, making ARIA one of Sydney's ultimate dining restaurants.
The ARIA bar boasts an impressive private cellar providing the opportunity to sample some of Australia's rarest and the world's finest wines, with an elegant space for a relaxing drink before dining.
Entree:
Freshly shucked Sydney Rock Oysters. Half dozen, with thai basil and Banyuls dressing
Heirloom carrots with green lentils, sheep milk yoghurt and sherry vinegar
Scallops roasted with kimchi puree, silken tofu, steamed eggplant and tapioca crisps
Peking duck consomme with duck dumplings, shaved abalone and mushrooms
Kurobuta pork belly with pork croquette and caramelized apple
Main:
Quinoa crusted celeriac with grilled baby leeks, fried camembert, fregola and salsa verde
Crisp skin Barramundi with fzucchini, lemon and pine nuts
Roasted fillet of salmon with fennel, orange and watercress
Roast lamb rump with garlic soubise, baby fennel and mint gel
Grass fed scotch fillet with lyonnaise potatoes, green asparagus with a bone marrow and cornichon sauce
Dessert:
Brandy snap mille feuille with caramelised bananas, hazelnuts and salted caramel sauce
Black currant jelly with poached peaches, quinoa tuille and vanilla ice cream
Valrhona "Caramelin" mousse with candied cumquats, gold leaf and pecans
Cheese plate. A selection of Australian and international cheeses
Please note that menus are samples and subject to change
February 2016
We loved it. Our guide, who later sold us the program, was so knowledgeable and charming. We liked it that the admin staff knew our names on arrival. Ten out of ten, everyone. The Aria meal was superb and the ballet remains with me still. We would definitely book things with you again. Thank you so much for making our time in Sydney so special,
Philippa from Cornwall, U.K.
December 2015
Every thing was above expectations.
Restaurant was great and theBallet was super.
Highly recommendes.
December 2015
This was lthe highlight of our trip. Excellent tour of the opera house and a fabulous dinner!!!!
Stevebarn USA
June 2015
May 2015
Excellent tour. Our guide, Leoni, was knowledgeable and passionate about her subject matter. Dinner was very good.
May 2015
Tour, dinner and ballet were excellent!

May 2015
This tour was sooo amazing! I really enjoy it.
Australia ballet company 's
performance was wonderful, The pre-theatre dinner at Aria was really delicious, especially oysters were my favorite.
And furthermore, the tour guide for the backstage tour was very very helpful.
May 2015
Excellent tour ... top class!
April 2015
Everything was perfect!! Dinner was especially GREAT
March 2015
The tour of both the Opera House and the Concert Hall was interesting and given by a very good guide. The dinner at the Aria Restaurant was very well prepared and the service was excellent. The Ballet was wonderful - the house was sold out and the costumes and dances were magnificent. It was well worth the time and cost.
Advertisement
Advertisement