From May to June, Sydney Harbour Bridge, Sydney Opera House, and other city attractions glow in neon colors during the annual VIVID light festival. On this luxury boat ride from Circular Quay, your cruiser even becomes part of the festivities as it glows with colorful lighting — it's part of a select group of vessels allowed to participate in this inaugural VIVID event! After you have your fill of complimentary drinks and snacks, disembark at Darling Harbour to walk around the eye-popping displays. Don't miss the exclusive opportunity to join the fun on this small-group tour limited to 16 people.

Important! Please note we are currently sold out. Please check back soon for next year's rates and availability.
Highlights
1.5-hour small-group luxury evening cruise on Sydney Harbour

Take in spectacular views of the light shows at VIVID, one of Australia's favorite annual festivals
Get the exclusive opportunity to cruise on a motor-cruiser equipped with lighting displays specially designed for VIVID
Marvel at the Sydney Opera House and Sydney Harbour Bridge as they are transformed by mesmerizing light projections
Enjoy drinks and snacks throughout your deluxe cruise
Have the option to disembark at Darling Harbour and stroll through Vivid Aquatique, an amazing lighted art installation
Small-group tour with a maximum of 16 people ensures a more personalized experience of VIVID Sydney
Recent Photos of This Tour
Sydney VIVID Festival: Sydney Harbour Small-Group Luxury Cruise
What You Can Expect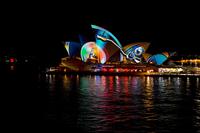 Sail into the center of the festivities on this evening boat tour of Sydney Harbour during VIVID Sydney, the city's popular lights festival. Choose from two departure times for this unforgettable small-group Sydney experience.

Make your way to Campbell's Cove to board your luxury 52-foot (16m) motorized cruiser. Take your pick between indoor or outdoor seating: both areas offer incredible views and photo opportunities of VIVID's colorful light shows. Your knowledgeable crew takes you to the best spots in the harbor to enjoy the show. The cruiser's staff share insightful commentary about the festival and Sydney's sights along the way.

Glide around the harbor to admire the breathtaking light displays projected on Sydney's famous architecture, including the Sydney Harbour Bridge, Sydney Opera House, the Customs House, and National Maritime Museum.

But not all the action is on the shoreline: Your cruiser is also part of the festivities! The year 2014 marks the first time that a select group of boats can participate in VIVID Sydney, and you get the exclusive opportunity to be part of the inaugural run! Programmed lighting makes your vessel change colors as you move about the harbor.

During your cruise, enjoy complimentary wine, beer, sparkling water or soft drinks. If you get hungry, snack on a variety of cheese and antipasto.

Cruise to Darling Harbour where you can disembark at King Street Wharf to walk through one of VIVID's most colorful districts. Be sure to check out Vivid Aquatique, a giant eye-popping installation that features fountains inspired by the Water Garden at Versailles. Video projections, lasers and fireworks illuminate Darling Harbor as you stroll past numerous cafes and restaurants with great views of the city.

Make your own way back to your hotel from Darling Harbor. If you want to see more lights, cruise back to Campbell's Cove to disembark and enjoy a stroll around the color-drenched outdoor sculptures that have been installed throughout Circular Quay.
Anonymous
May 2014
Lovely staff, great cruise, we were made very welcome! I would recommend this cruise especially for VIVID!
Anonymous
May 2014
Boarding at Campbell Cove was great it wasn't busy or crowded and right amongst the action. Cruising around to Darling Harbour and being positioned right there was amazing , that was a real surprise and one of the many highlights. I have three words FABULOUS FABULOUS FABULOUS.
Anonymous
May 2014
I really enjoyed the cruise, was fantastic to catch the show in Darling Harbour at 7pm, the food was great and drinks were perfect James
May 2014
What a fantastic way to experience VIVID. Being amongst a small group of people made for a very special experience with great viewing and photo opportunities. I'd say the highlight was being in prime position to watch the Aquatique Water Theatre at Darling Harbour. Our boat was at the front of all other boats, providing the best views as we relaxed with our dinks and nibbles on the front deck. Amazing!!!!
Anonymous
May 2014
Can't recommend this enough, we had a great night and viewing Vivid from the harbour was amazing!
Anonymous
May 2014
What an amazing night. Cruising around Sydney Harbour to view the lights of Vivid. Seeing the crowds on the street am pleased we took a cruise instead this year. The staff were extremely attentive and talented, carrying a drinks tray and not spilling a drop all night ! Mathew P.
May 2014
What a magical night out on the harbour seeing Vivid! The staff and captain were all welcoming and couldn't have been more attentive. We had the best view of Vivid and even managed to see the 7PM laser projection show at Darling Harbour courtesy of some very clever steering from the captain. I highly recommend this as a great way to spend some time on the harbour and see the Vivid lights. David and Paul
June 2014
The views of the VIVID lighting were fantastic. The crew were friendly and generous with drinks, and the length of the cruise was just right. Only issue was the food, we had to eat off a paper napkin, and the food selection was very basic. We did enjoy it overall.
Advertisement
Advertisement