Take a walking tour that explores the seedy past of the Kings Cross district in Sydney. Your knowledgeable guide shares the fascinating history of the neighborhood in the 1920s and 1930s when it was the stage for organized crime controlled by three notorious women: Tilly Devine, Kate Leigh and Nellie Cameron. During your two-hour tour, you'll learn about the bootleggers, brothel owners and razor gangs that fought for control of the streets, a bloody part of Sydney's history that has contributed to the scandalous reputation of Kings Cross.
Highlights
Guided walking tour of Kings Cross district to explore the historical, crime-filled events of Sydney's 1920s and 1930s

Learn about the women who controlled Sydney's underbelly in the 1920s and 1930s, including such famous names as Tilly Devine, Kate Leigh and Nellie Cameron
Discover the history of Kings Cross, Sydney's red light district
Perfect for first-time visitors, repeat visitors or locals
What You Can Expect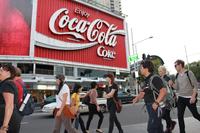 After meeting your guide in the center of Kings Cross, step back in time to the early 20th century when organized crime dominated the neighborhood.

Your guide takes you to spots where violent brawls occurred between rival 'razor gangs,' so named for the weapon of choice after guns were criminalized in New South Wales in 1927. New legislation in the 1920s and 1930s also placed restrictions on cocaine, prostitution, gambling and drinking, inadvertently creating fertile ground for criminal leaders to profit from illegal goods.

Hear about the prostitutes, sly-grog shops (unlicensed liquor sellers) and gangs that filled Kings Cross with illicit trade and violence, and learn about charismatic criminal leaders including Kate Leigh and Tilly Devine, prominent brothel owners who fought to control the streets.

Stop to examine where two of the most famous riots of the era took place, the 'Battle of Blood Alley' and the 'Battle of Kellet Street.' Your guide spins a captivating tale about tough characters such as Frank Green, Guido Calletti and Nellie Cameron who were at the center of the action.

Your tour ends in Kings Cross, where you can opt to visit a popular bar with your guide if you like.
February 2016
Great tour, looking forward to doing others with two feet and a heart beat :
August 2015
Very informative. Awesome guide that was very knowledgable... Would highly recommend
February 2015
Very informative. Not for those that do not like long walks.

April 2014
Valentino was AWESOME. Friendly informative guide. Will be back to do more tours with this tour group.
January 2014
Excellent tour. Very knowledgable guide. Definitely recommend this tour.
January 2014
Fantastic. I loved the friendly guide he was a sweety and I learnt a lot! Definety worth doing!
January 2014
gREAT! bOOKING WAS REALLY EASY. GREAT CUSTOEMR SERVICE. THE GUIDE WAS WONDERFUL - GOOD SENCE OF HUMOUR, GOOD DUTY OF CASRE and CONCERN and VERY INTERESTING. THANK YOU!
PETER T Australia
January 2013
This personal tour of Underbelly Crime should not be missed. After watching the series and visiting the area where it all happened back in the 1920-1930's was great.
August 2012
Was a wonderful tour what a great guide, who has a lot of knowledge of the area and the history and architecture alike. Wonderful stories about the Razor era and was great to see the houses where they actually lived. Have recommended to people already. Would do again
May 2012
What an incredible experience this tour was, the guide, Sid, was incredibly knowledgeable about the area and threw in some extra tid bits to really make the tour worth while. He even offered dining recommendations at the end of the tour.
All in All i thoroughly enjoyed the underbelly Razor tour or kings cross and Darlinghurst.
I wouldn't hesitate to recommend this tour to anyone with an interest in organized crime in inner city sydney.
Advertisement
Advertisement