Spend a weekend in the snow at Perisher or Thredbo, tearing down the ski runs or working on your board tricks during a 2-night excursion from Sydney or Canberra. Travel by coach from the city to the mountains on Friday evening and spend the night at your accommodation near the slopes. Wake up and ski for two full days before leaving the mountains on Sunday and returning to the city that evening. Includes two nights accommodation, two breakfasts and Saturday dinner party, expert guides and transportation by comfortable coach.
Highlights
2-night weekend tour to Thredbo and Perisher, from Sydney or Canberra

Relax with round-trip coach transportation from Sydney or Canberra to Snowy Valley Resort
Includes two nights of accommodation at the Snowy Valley Resort in Jindabyne with hot breakfasts

Ride the provided shuttle to get between the resort and the mountains
Fuel up with two hot breakfasts included

Celebrate with an included 3-course dinner on Saturday night

Equipment rental and lift tickets available to purchase on-site at the resort or nearby

Recent Photos of This Tour
Thredbo or Perisher Weekend Snow Trip
What You Can Expect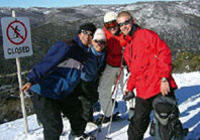 Your Thredbo or Perisher weekend ski tour makes it easy and fun to get to the snow from Sydney or Canberra with pickup at centrally located spots in each city on Friday evening.

Ride in a comfortable coach from Sydney, pick up additional passengers in Canberra, then arrive around midnight at Snowy Valley Resort. Catch some sleep in shared rooms and be ready to rock the slopes on Saturday morning after breakfast. Your tour includes two hot breakfasts and a 3-course Saturday night dinner followed by a party. Your entertaining guides promote a festive and friendly group atmosphere during your weekend in the snow, and can answer any questions you may have along the way.

Enjoy two days of skiiing or snowboarding on Saturday and Sunday before hopping back on the coach in the late afternoon on Sunday and heading back to Canberra or Sydney. Round-trip shuttle between your resort and the slopes is provided each day. Your stay includes two nights at Snowy Valley Resort is a laid-back budget resort with shared rooms and amenities that include a sauna, hot tub, indoor heated pool, on-site equipment hire, bar, internet access and views over Lake Jindabyne.

Choose to hit the snow at either Thredbo or Perisher (see more details below). Lift tickets and equipment rental are not included, however you can purchase tickets and rent all the gear you need — including skis, poles, boots, snowboards, snow jacket and pants, helmets and more — on-site in Jindabyne or Thredbo.

Thredbo:
From Friday Flats beginner runs to steep tree runs, board park and half-pipe, Thredbo offers something for everyone. There are plenty of challenging off-piste runs that feature powder-filled chutes and natural hits. More advanced snowboarders can try the 360-foot (110-meter) long half-pipe in Thredbo's extreme board park.

A combination of long runs and lots of vertical terrain means less time getting to and from places and more time ripping up the slopes. Thredbo guarantees that there will be snow, as it boasts the largest snow-making facilities in the Southern Hemisphere as well as the highest lift point in Australia.

Perisher:
Perisher offers an amazing natural experience surrounded by great Australian scenery. It has the biggest area for skiiing in the Southern Hemisphere, with options suitable for all levels, from beginner to thrill-seeking skier or snowboarder. Perisher has a range of services, such as the terrain park's 85-foot (26-meter) rail, tabletops, burns, kickers and a half-pipe designed by experts.
June 2011
This snow weekend was exactly as described, no hidden or unexpected costs! The crew were very helpful, informative and accommodating. My friends and I enjoyed the trip very much and I can't wait to return in 3 weeks!
Steven C USA
December 2009
More oriented to younger folk, but definitely a lot of fun.
Jason Wuen Jin D Singapore
August 2009
This was a good trip for the money paid, and eliminated the hassle of driving up to the snow. We wanted to go to Perisher, but were convinced by our guide to go to Thredbo as we were beginners. If you do intend to go up to Perisher, make sure that you board the right bus. Other than that, there were many positives from the trip. The ski rentals were cheaper than usual. It was $29 AUD for both ski pants and jacket. The ski lift prices were bundled with the ski equipment rental, which cost AUD $209 for skiers and $219 for snowboarders. It was $10 AUD for two 2-hour lessons for the two days. We boarded the first bus that left Sydney central. All of the payments for the lift passes and hire stuff were done and paid in cash on the bus, After the payment we received a receipt that detailed our purchases to use when we arrived to get our ski equipment and clothing. The bus ride was comfortable, and people were having a good time at the back of the bus. Sit in front if you intend to sleep on the bus. Our guide was very helpful; he kept us on time and answered any questions we had. On the snow we had lessons, and the quality of the lessons depends randomly assigned trainers. I would recommend them to any beginner, as it really gives you a head start for only AUD $10. Accommodation was adequate and NOT luxurious. I shared a room with 6 other skiers. Portable heaters were working well, though. The washroom and shower were clean, and hot water was available always. Breakfast and Dinner were served hot and were average. Go early to avoid the queue, as there are 300 people at the resort. All in all, it was a good trip for any ski newbie!
Lok Ming Noel L Hong Kong
August 2009
Everything was great, especially the tour guide! She was very nice and helpful. My sister and I enjoyed the trip very much.
Anonymous
September 2008
We left Sydney around 6pm and we ended up getting there around 1am. The bus journey took us more than 6 hours to get there. Ones we were there we had to organize everything for the morning. I wasn?t looking forward to that, simply because I was tired and all I wanted to do was to get to bed and get some decent sleep after a long time on the coach. In the morning we had to get up at 6.30 for breakfast and leave for the mountains at 8am. Wow, finally getting to the mountains was amazing, my first time going on the snow ?what was I thinking?. Well, there was too much of emotions, happiness and excitement at the same time. As a first timer I was given two hours training on how to ski. At first I thought to myself I wouldn?t be able to do this, to my surprise I had the most incredible instructor. He was very easy going and showed me all the basic to skiing. As the training went on I started to get my confidence up and I was enjoying every moment of it. After two hours of training we were able to ski on our own. Day one on the mountains was great, everything was perfect. I couldn?t asked for anything more. The whole snow experience was just unreal; it was just amazing and fantastic at the same time. I had the best time of my life and I will cherish and appreciate the whole experience for the rest of my life. Will I do it again? You bet I will, I?m already planning my next trip early next year. See you next year everyone!!!
Noraizah I Singapore
September 2008
The staff were nice. They are professional.
August 2015
Great tour to introduce you to Skiiing! Would go again!
July 2014
The crew and snow where just fab. Going again.
July 2013
The trip was wonderful , thoroughly enjoyed the snowfall !!!

August 2012
Was a good weekend, your operator really takes care of everything. This is not a luxury or quality weekend. The bus was old and a little cramped and the accommodation was in dorms - but the tour operator took care of everything which was convenient. The breakfast and dinner was much better than we expected (think full breakfast with cereal eggs bacon sausage baked beans toast etc; and choice of three mains for dinner, with soup for starters and cake for dessert). The main feature of this weekend is to be on the slopes carving it up and they definitely deliver in terms of getting you out there each day on time for a full day of skiing or boarding. We did Perisher which gave us a bit more time as they drop you off first and pick you up last - but if you want to do this you have to organise it yourself as the operator only organises Thredbo Be prepared to be moved quickly from place to place like cattle - but if you're able to cope with the rough bits, this is an efficiently run, good-value and fun weekend at the snow. Thanks!
Advertisement
Advertisement