Discover the beauty of Taiwan's countryside on this 3-day tour from Taipei. Hear interesting anecdotes and enlightening commentary aboard your coach, and disembark to explore the picturesque region on foot with your guide. You'll drive around Sun Moon Lake and walk through the well-preserved Alishan National Scenic Area. Visit the town of Puli and several temples and pagodas in the historic town of Lukang, such as Tianhou Temple and Lung Shan Temple. Includes two nights' accommodation near Sun Moon Lake and Chiayi with breakfast, plus round-trip transport.
Highlights
3-day sightseeing tour of Puli, Sun Moon Lake, Alishan National Scenic Area and Lukang from Taipei
Enjoy a drive around the Sun Moon Lake area and visit charming sites like Tehua Village, Wenwu Temple, Tse-En Pagoda and Holy Monk Shrine
Walk through the old town of Lukang and visit ancient temples like Tianhou Temple and Lung Shan Temple
Explore the beautiful Alishan National Scenic Area and marvel at natural wonders like the Sister Ponds and the Xianglin Sacred Tree
Stop at the Guangxing Paper Factory in Puli to learn about the paper-making process
Overnight accommodation in 4- to 5-star hotels, transportation and hotel pickup and drop-off included
Recent Photos of This Tour
3-Day Tour of Sun Moon Lake, Puli, Lukang and Alishan National Scenic Area from Taipei
What You Can Expect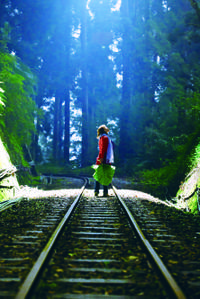 Explore the natural beauty and must-see cultural attractions of the Sun Moon Lake region and Alishan National Scenic Area on this 3-day tour from Taipei. Your trip combines relaxing coach tours with walking tours of Chiayi County's temples, forests and towns such as Puli and Lukang. Enjoy two nights' accommodation with breakfast and informative commentary from your guide. Note: Your tour may return to Taipei by train.

Please see
Itinerary
below for a more detailed schedule.
Itinerary
Day 1: Taipei – Sun Moon Lake
After pickup from your Taipei hotel, your guide will drive you by comfortable, air-conditioned coach to Puli in the county of Nantou. Stop at the Guangxing Paper Factory for a guided tour to learn about the elaborate process of making paper.
Continue your drive to Sun Moon Lake. As you travel through the scenic area around the lake, admire views of boats docked by the lake's pier and listen to your guide's informative commentary on local sites you pass such as Tehua Village, the local village of aboriginal people. Step off the bus for short stops at Wenwu Temple, Tse-En Pagoda and Holy Monk Shrine, among others.
Have lunch (own expense) either in Puli or around Sun Moon Lake. Your guide will give you suggestions on great local restaurants and eateries, where you can enjoy a delicious meal in the company of your fellow travelers.
Head to your hotel and enjoy its extensive facilities before spending the night.
Overnight: Fleur de Chine near Sun Moon Lake (rated 4.5 stars on TripAdvisor) or similar
Day 2: Sun Moon Lake – Alishan – Chiayi (B)
After a complimentary buffet breakfast in your hotel, board the bus and enjoy a scenic ride along the New Central Cross Island Highway. On this 2- to 3-hour (approx.) drive, enjoy gorgeous views of towering mountain ranges covered with dense forests as you pass Yushan National Park.
Visit Alishan National Scenic Area in Chiayi County for a walking tour of its forest. As you stroll along the shore and over the bridge of the Sister Ponds with your guide, learn about the tragic story of the Tsou sisters who, according to folk legend, threw themselves into these still waters after falling in love with the same man.
Follow your guide along the forest trails under the canopy of towering red cypress and cedar trees. Discover the quirky names given to nearly every tree, like the 'Tree Spirit Pagoda,' the 'Tree of Three Generations' and the 'Xianglin Sacred Tree.' Enter the Shoujen Pagoda, the park's largest temple, and marvel at the ornate golden altar and thousands of illuminated miniature Buddhas.
Stop for lunch (own expense) in any of the towns along the way at a restaurant suggested by your guide, and then continue on a 2-hour drive to the city of Chiayi. Soak in scenic forest views along the highway and snap some photos of scenic villages like Fenchihu and Rueili while listening to your guide's informative, fascinating tales.
Afterward, check in your hotel and rest up for the night.
Overnight: Nice Prince in Chiayi (rated 4 stars on TripAdvisor) or similar
Day 3: Chiayi – Lukang (B)
After a buffet breakfast on your third day, board the bus for a 1-hour (approx.) drive past rolling valleys and through both small towns and big cities to Lukang. When you arrive, follow your guide on a walking tour of the old town. Visit historic temples like Tianhou Temple and Lung Shan Temple and admire their many halls dedicated to folk deities.
At the end of your third day, you'll head back to Taipei by bus. Once you arrive in Taipei, your driver will meet you at the station to take you back to your hotel.
April 2016
Every trip must start and finish with safety. Therefore a big thank you to our Bus Driver!!!
What can I say for this trip. Just amazing. Our Tour Guide David was very knowledgeable with a good sense of humor and really friendly.
Yes, it is a tour with a lot of hours inside the Bus but the scenery and the surroundings during these 3 days were just unforgettable.
It is difficult to express with words what our eyes saw by visiting the Sun Moon Lake, the Alishan National Scenic Area, and all the magnificent Temples during our 3 day Tour.
The Hotels? The dinner buffet and the breakfast buffet at the Fleur de Chine and also the breakfast on the Nice Prince Hotel?
Everything was just perfect.
Yes, I fully recommend this Tour.
Thank you once more David for making us feel comfortable during these 3 days and learning so many things about Taiwan.

November 2015
My wife and I have a great time. Michael, our tour guide was great. It was a small 'bus', with lots of room. The bus makes frequent enough stops for bathroom and snacks, and the food is generally not expensive.
It rained part of the tour, but it was expected, so we packed accordingly. The hotels are very nice with friendly staff, especially at Sun Moon Lake. There is quite a bit of driving on this tour, as these areas are 'remote'. The tour is 'short', but it gives you a taste of the mountain region of Taiwan.
June 2015
Absolutely LOVED our trip. Our tour guide Mike and driver were the best. I was so looking forward to Alisha National Park and was not disappointed with the Cherry blossoms and the 1000 year old cypress trees. Driving and stopping in tiny towns was truly amazing and more people who go there for business should take more time away and explore Taiwan. Will recommend Mike to all our friends and thank you Viator for making this possible.
March 2015
The tour guide was very proficient in English and knowledgeable of the sites visited. The hotel choices were very good!

January 2015
Highly recommended tour and David the tour guide is very knowledgeable and friendly, he takes your preference into account. The hotels at both sun moon lake and chiayi are really good with delicious breakfast. All of the scenic spots are very beautiful
Lazy traveller Australia
February 2014
This was a very enjoyable tour. The tour guide was very helpful and everyone in the tour had a great time. This is a must do tour to see outside Taipei.
August 2013
The three day tour to Sun Moon Lake, Puli, Lukang, and Alishan National Scenic Area was fantastic! We were lucky to be the only ones on the tour, so we were able to see even more than the scheduled stops on the itinerary. Our tour guide was flexible and when we asked he helped us buy tickets to take a ferry across Sun Moon Lake, even though that was not a scheduled activity. We also made additional stops at a tea store, plum wine store, and ceramic factory. The handmade paper factory was really interesting and we enjoyed the hands-on opportunity to print on the paper for unique souvenirs. Sun Moon Lake and Alishan National Scenic Area were breathtaking! We loved both of the hotels, especially the Fleur de Chine hotel at Sun Moon Lake where we enjoyed the Japanese style room with a balcony view of the lake, the delicious local foods prepared at the hotel restaurant, and the fun pools and hot springs. This tour was a lot of driving and the scenic mountaintop roads were sometimes frightening, but our trip to Taiwan would not have been complete without seeing these beautiful sites!
Anonymous
June 2013
Love the scenery and food! Five stars!
June 2013
It was a very nice Experience in Taiwan! Thanks a lot.Very nice People arround and on the Tour.
Greetings from Germany!
October 2014
We mainly enjoyed this tour and it formed a good finale to our 5-week holiday in South-East Asia. It didn' t have quite the "wow" factor that our longer tour in Indo-China had, though.
Plus points - Sun Moon lake itself, Wen Wu temple, Holy Monk shrine and Tse-En pagoda on the first day. On the second, the mountains, the railway and the walk through Alishan. On the third day, Lukang old quarter. Throughout, the guide's excellent and most informative talks, including answers to specific questions.
Negative points - Visit to paper factory replaced with rice wine brewery visit (too fast, uninteresting and the wine is foul!); the aboriginal village is horrible and plain tourist exploitation. And the tea plantation visit changed to tea tasting in a tea factory (quite boring and an unashamed attempt to sell volume at high price). Finally, the mountain road is a good one, compared with France and Spain but the driver goes very fast, often overtakes, which IS scary and does not seem to consider that he is throwing the bus around.
But the hotels are quite excellent and our final thought is that we're glad to have done it.
Advertisement
Advertisement