Enjoy an amazing 4-day experience of Taiwan on this tour from Taipei. With your guide, visit beautiful Sun Moon Lake, see various monuments in Tainan and explore lush Kenting National Park and Taroko National Park, filled with incredible marble formations. Hear interesting commentary about the sites you visit, and make plenty of stops for photo opportunities. You'll travel by comfortable, air-conditioned coach and stay in 4- to 4.5-star hotels, with daily breakfasts included.
Highlights
4-day tour of Taiwan from Taipei with an English-speaking guide
Admire the scenery and visit temples at beautiful Sun Moon Lake
Learn about the area's history and culture at Koxinga Shrine, Chihkan Tower and the Chi Mei Museum in Tainan
Journey through famous Kenting National Park's lush rural landscape
See amazing marble rock formations like Taroko Gorge and Eternal Spring Shrine in Taroko National Park
Three nights of accommodation, daily breakfasts and transport by comfortable coach included
What You Can Expect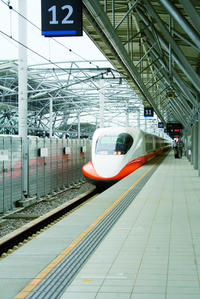 Begin your 4-day tour of Taiwan with pickup from your Taipei hotel in the morning. Board the high-speed train and travel south to Puli's Sun Moon Lake, where you'll admire the beautiful scenery and visit Wen Wu Temple, Tehua Village, Tse-En Pagoda and Holy Monk Shrine. You'll stay overnight in a hotel overlooking the lake.

The next day, proceed to Tainan to tour Koxinga Shrine, Chihkan Tower and the Chi Mei Museum and learn about the area's culture, history and heritage. Then, when you arrive in Kaohsiung, explore bustling Lio Ho Night Market and try some tasty local eats (own expense).

On your third day, journey through Kenting National Park's lush rural landscape before passing through Taitung on your way to Hualien, home to stunning Taroko National Park. Admire incredible natural marble formations like Taroko Gorge and Eternal Spring Shrine. You'll then return to Taipei to conclude your tour.

You'll travel by comfortable, air-conditioned coach to and from site locations and stay in 4- to 4.5-star hotels. Daily breakfasts will be served at the hotels, and some lunches are included; for dinner, your guide can give you recommendations on great places to eat.

To see details on each day, see the Itinerary section below. For a look at the tour's route, click on the View Additional Info button.
Itinerary
Day 1: Taipei – Puli – Sun Moon Lake (L)
You'll be picked up from your Taipei hotel in the morning and taken to the Taipei High Speed Railway Station, where you'll board the bullet train south to Taichung.

When you arrive, drive to the nearby city of Puli, a basin surrounded by mountains, hills and farmland. Have lunch and then visit famous Sun Moon Lake, the largest body of water in Taiwan. Enjoy the scenic environment and watch for native birds.

Near the lake, visit Wen Wu Temple, built in 1938. Admire the architecture of the temple, characteristic of northern China's traditional palace style. You'll also visit Tehua Village, Tse-En Pagoda and Holy Monk Shrine, the cultural and artistic haven of Puli and Taichung.

After your tour, you'll be taken to your hotel near the lake.

Overnight: Hotel Del Lago (rated 4.5 stars on TripAdvisor) or similar near Sun Moon Lake

Day 2: Sun Moon Lake – Tainan – Kaohsiung (B, L)
After breakfast at your hotel, board the coach for a trip to Tainan, where you'll have lunch and tour Koxinga Shrine, Chihkan Tower and the Chi Mei Museum.

Koxinga Shrine is the only Fujianese-style shrine in Taiwan, and was built to commemorate the work and achievement of Cheng Cheng Kung, a Chinese general and pioneer of Taiwan. Continue to Chihkan Tower, built by the Dutch in 1652 during their colonization. Learn how this tower was designed and built in a classical Chinese style with red tiles and cornices, and reflects one of the many prominent heritages of Taiwan.

Next, tour the Chi Mei Museum, a collection of Western art, musical instruments, natural history artifacts, antiques and armor.

On your drive inland, arrive in Kaohsiung, where you'll see beautiful Love River with city structures in the background. Take a tour of bustling Lio Ho Night Market, full of local merchants selling snacks and providing entertainment. Snag a tasty treat from a vendor (own expense) for a taste of local culture.

You'll then head to your hotel in the heart of the business district for a relaxing overnight stay.

Overnight: Howard Plaza Hotel (rated 4.5 stars on TripAdvisor) or similar in Kaohsiung

Day 3: Kaohsiung – Kenting National Park -- Taitung (B, L)
Have breakfast and then check out of your hotel for a drive to Kenting National Park, Taiwan's only tropical national park. Admire the rural landscape filled with mountains, forests, lakes and sand dunes.

Have lunch in Kenting before proceeding to Taitung via the scenic Southern Highway. Enjoy pristine coastal views and then arrive at your hotel, which combines modern style and aboriginal culture.

Overnight: Formosan Naruwan Hotel & Resort (rated 4 stars on TripAdvisor) or similar in Taitung

Day 4: Taitung – Hualien (B, L)
Starting your day with breakfast and hotel check-out, head to the Taitung Railway Station to board the train to Hualien. When you arrive, explore Taroko National Park, home to Taroko Gorge, famous for its spectacular mountains, marble canyons and cliffs that stretch along Liwu River. You'll be amazed by the impressive natural scenery.

Stop by Eternal Spring Shrine, a memorial shrine complex and one of the most picturesque areas of the park, with the view of the mountains and a waterfall. You'll also visit Swallow Grotto, the winding Tunnel of Nine Turns and Tienhsiang Lodge, where you'll have lunch.

Learn more about marble at the marble factory and see how marble is excavated from these sites to create amazing marble products.

After your tour, hop back on the train and relax on the ride north to Taipei. You'll arrive around 7pm and then be taken to your hotel to conclude your tour.

September 2013
This tour was really perfect. Every meal was different and delicious, and really highlighted the excellent cuisine of Taiwan. The accommodations were very comfortable and pleasant. James was an excellent tour guide and is full of funny and interesting stories about Taiwan. The group was small and we got to know our fellow travelers pretty well, which added to the fun. Interestingly enough, the "featured" attraction of Sun Moon Lake was probably the least interesting part, but I think it has become a bit of a tourist spot. I would say that this tour is a great way to get to know Taiwan in a hurry.
April 2013
A value-for-money enjoyable 4-day round Island tour. Good Hotels and Good Food (Breakfast and Lunch provided). Half the journey was via Shinkansen and train rides. This made the journey very pleasant and less tiring. However, may not be suitable for older folks especially to manage daily luggage and getting and out of train platforms. Overall, we had a great time and would recommend this tour. Thanks Viator! =D
January 2014
Enjoyable tour. Good hotels and food. Very professional guide.
October 2013
Would have loved to spend more time at Taroko Gorge. Instead, we were taken to the marble factory and showroom. Wasted 1 1/2 hours. Our tour guide Danny was very experienced and accommondating. If it wasn't for the marble factory stop, i would have given this tour a 5 star.
June 2013
A good way to see the highlights of Taiwan in a short time. James (the tour leader) was very good and hotels were excellent. The included lunches are also well above what you'd expect from a tour package. Having said this, the bus used for the tour between Taichung and Hualien was a 21-seat minibus which had obviously been touring for some time, it was not as comfortable as the larger coaches used by some other tour groups (one star off for this). Taroko Gorge in particular was spectacular and I plan to return to spend more time there.
January 2013
Highly recommended tour. Experienced english speaking guide and nice accomodations. However, i think it's not suitable for young family with kids.
September 2013
My tour guide (Thomas) was great. He speaks quite a few languages so it was kind of cool to hear. The tour itself was alright. If you're into learning about the history you will like this. There was a lot of visiting temple places. The lunch provided at the restaurants to me was mediocre. It wasn't the best and wasn't the worst. The hotels were pretty good, but i wouldn't say its 6 stars.
January 2014
This is my 5th time travelling with Viator and its also the first time that i had to follow a Viator tour with 30 other people. The reason why i liked travelling with Viator is becos of its small-group tours, you can have very personalised service/guide and travelling is a lot more convenient and faster (dont have to keep waiting for others).
Me and my friends were very shocked, as, if we wanted to travel with the typical large bus tour groups, we could easily booked it off through any local travel agency.
About the tour - it was multi-racial on board the bus, the guide had to speak/repeat in 3 different languages. Food and hotel were value for money. We were bought to some "tourist-only" night market (in kaoshiong) where everything was so expensive, we took a cab and left to a near by mall. We were also told that its their custom to give tips.
In my opinion, i guess this tour is more suitable for the older age.
Advertisement
Advertisement