Visit the numerous temples, shrines, hot springs and national parks of Taiwan on this 5-day tour around the entire island. Leave bustling Taipei behind for the remote beaches and rocky coastal scenery of Sun Moon Lake, Taroko Gorge, Kenting National Park and the East Coast National Scenic Area. Your guide provides insightful commentary on sites such as Fo Guang Shan Monastery, Wenwu Temple, Holy Monk Shrine and Tse-En Pagoda. You'll travel by comfortable coach and stay in 5-star hotels with daily breakfasts and all entrance fees included.
Highlights
5-day Taiwan island tour

Experience the whole island of Taiwan aboard a comfortable, air-conditioned coach

Enjoy several guided tours and learn about Taiwan from your expert English-speaking guide
Visit Sun Moon Lake, bustling metropolitan districts, historic shrines and Buddhist temples

Interact with monks and nuns at Fo Guang Shan Monastery

Admire the remote beaches and rocky coastal areas of Kenting National Park and East Coast National Scenic Area
Accommodation in 5-star hotels, daily breakfasts, entrance fees and transportation included

Recent Photos of This Tour
5-Day Best of Taiwan Tour from Taipei: Sun Moon Lake, Taroko Gorge, Kaohsiung and Taitung
What You Can Expect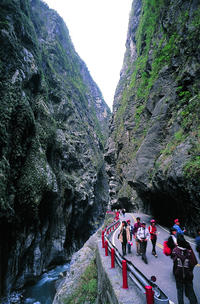 Start your 5-day round-island tour of Taiwan with the coach drive from Taipei to the temples of Sun Moon Lake, including Wenwu Temple, Holy Monk Shrine and Tse-En Pagoda. Day 2 takes you to Fo Guang Shan Monastery and the night market of Kaohsiung. You'll explore Kenting National Park on Day 3, continue your journey through the unspoiled coastline of Taitung's East Coast National Scenic Area, then finish at Hualien and nearby Taroko Gorge, whose towering marble cliffs dominate Taroko National Park.
Enjoy four nights' accommodation in 5-star hotels with daily breakfasts included; your guide can make recommendations of authentic Taiwanese cuisine for lunch and dinner.
For details on each day of the tour, see the Itinerary section below.
Itinerary
Day 1: Taipei – Sun Moon Lake
You'll be picked up at your hotel in Taipei for a drive south to Sun Moon Lake, located in the lofty mountains of central Taiwan about 2,500 feet (762 meters) above sea level.
Around the lake — the largest body of water in Taiwan — stop at Wenwu Temple or Literature Warrior Temple, dedicated to Confucius and Kuan Ti, the Protector of Buddhism. You'll also visit Holy Monk Shrine and Tse-En Pagoda. Proceed to your hotel for check-in and relax in the nearby natural hot springs.
Overnight: 5-star Fleur De Chine or similar near Sun Moon Lake
Day 2: Sun Moon Lake – Kaohsiung (B)
After breakfast at the hotel, drive to Fo Guang Shan Monastery, one of the most famous Buddhist sites in southern Taiwan. Here, take a walking tour to learn about Buddhist culture. Communicate with some of the monks and nuns during a visit to the Main Shrine, where you will find a massive Buddha statue, and feel free to eat a traditional vegetarian lunch here (own expense).
Afterward, drive to Kaohsiung, the second-largest city in Taiwan. Stop at Former British Consulate, pass by Love River (Ai River), and stroll through Lio Ho Night Market.
Overnight: 5-star Grand Hi-Lai Hotel in Kaohsiung or similar
Day 3: Kaoshiung – Kenting – Taitung (B)
Have breakfast and then take a morning tour to Kenting National Park, located on the southern tip of Taiwan. The 37 miles (60 km) of coral-rimmed shoreline along three sides of the park provide many notable attractions. Inside the park, stop at the Oluanpi lighthouse, the Maobitou scenic coastal area and the forest recreation area. Then, continue your drive to Taitung, where you'll stay overnight.
Overnight: 5-star Hotel Royal Chihpen or similar in Taitung
Day 4: Taitung – Hualien (B)
Start your morning with breakfast before taking an exciting tour of the East Coast National Scenic Area, an unspoiled parcel of land stretching 106 miles (170 km) down the east coast of the island. Erosion and weather conditions have produced a wide range of landforms here.
On your tour, stop at Siaoyeliou, Sanxientai or Sanxiantai (Terrace of the Three Immortals), all scenic spots featuring interesting land formations. You'll also see the Sanxiantai Bridge, Caves of the Eight Immortals and Shitiping, step-like rocks formed by coral reefs.
In the late afternoon, proceed to Hualien for an overnight stay.
Overnight: 5-star Silks Place Taroko or similar in Hualien

Day 5: Hualien – Taipei (B)
After breakfast, you'll have the whole day visit to Taroko National Park with your guide. See Taroko Gorge, an exceptionally beautiful, narrow marble gorge created by the Liwu River and cut deep into the mountains. See the road that's carved into the rock walls, winding its way under forested peaks and towering cliffs.
Stop at several notable natural sites here, like Eternal Spring Shrine, Swallow Grotto, Tunnel of Nine Turns, Marble Bridge, Tienhsiang and even a marble factory.
At the end of your tour, you'll head back to Taipei and arrive in the evening.
April 2016
Great tour, great guide, great people on the bus. Would highly recommend the tour for anyone who would like to see as much of Taiwan as possible but does not have much time to do so. The hotels were also really good.
April 2016
This tour is an excellent introduction to Taiwan outside of Taipei. Very good accommodation on each of the four nights, and a very good route selection. Lots of temples, sights, beaches, lakes and gorges to view, and periodic walks and hikes to break up the long drives. Our guide, Peter Lee, was knowledgeable, competent and interested in the welfare of his clients. Having a good guide makes a tour that more enjoyable. Highly recommended.
February 2016
Great itinerary. Gave me a good overview of some of the best attractions in Taiwan. Very professional english-speaking guide, love the hotel choices!
January 2016
It was really excellent, especially the best tour guide Eric. He is the best tour guide we have ever had in all of our trips up to now.
Wilson Wong-Ching/ Irma Lau de Wong
January 2016
I thoroughly enjoyed this trip. Initially, I was not sure about my decision since I had to pay more since I am a solo traveler and they had to put me in a single room. But it turned out to be an excellent one. The trip was very well organized. Our guide Lenny was friendly and very resourceful. Hotels were excellent especially the first and last nights. I have already recommended this trip to my other friends and family.
December 2015
Wonderful experience. Issac Lee was an outstanding tour guide. We really got to appreciate the beauty of the Island.
December 2015
Our tour guide Eric was fantastic! Everything was well organized, we stayed at the very best hotels, and saw the highlights of the island. We were extremely pleased.

October 2015
The hotels are really 5stars, good tour guide and a lot to see and experience.
My only complain: the tour was bilingual where it should have been only in english. Anyway, 5 star rating deserved despite have of the time I had to listen to a chinese explanation.
August 2015
Great tour! Our tour guide Alan and bus driver Mr. Chen were fantastic. Mr. Chen was very accommodating with his driving. Alan was very knowledgeable about the area in regards to food, attractions and much more. He was also very funny and made everyone very comfortable. The days were well planned with a lot of time reserved for leisure and exploring the area. I would go again if i could!

July 2015
This is an excellent tour was well worth the money. We got to see many beautiful sights and stayed in 5 star hotels. Our tour guide Tony Lin was friendly and knowledgeable about the major cities in Taiwan and may provide additional info for some of the local cities. The schedule is a bit tight, but provides a good glimpse into the highlights of Taiwan. The hotels were excellent and the food tasty. We would recommend this tour to our friends.
Advertisement
Advertisement