13 Reviews
Location:

Taipei, Taiwan

Duration:

5 hours

(approx.)
Discover the heritage and history of Danshui (Tamsui) on a cultural walking tour, including the floating community, local temples and the traditional market. You'll sample local cuisine, such as fish ball soup and other snacks, in this 19th-century shipping port in northern Taiwan. Explore the city, from its historical roots to its modern local life – including Danshui Old Street and more contemporary architectural icons like Fort San Domingo and Little White House. This small-group tour limited to 12 ensures personalized attention from your guide.
Highlights
5-hour cultural walking tour of Danshui with food tastings
Experience local daily life in the historical city
Explore the floating community and traditional market, and sample authentic local cuisine
Visit Danshui Longshan Temple and Danshui Master Temple
Learn about traditional architecture along Danshui Old Street
See colonial buildings like Little White House and Fort San Domingo
Small-group tour limited to 12 ensures a more personalized experience
Why Our Insiders Chose This Tour
The market is packed with stalls selling amazing food, but make sure to save room for Danshui's famous ah gei – a stuffed tofu pocket with a sweet and spicy sauce!
What You Can Expect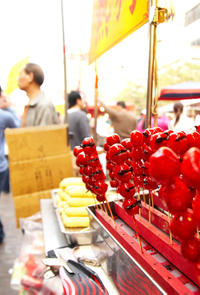 Explore beyond Taipei and head to Danshui, a fascinating city at the end of the MRT line. Meet your guide and small group at the Danshui MRT station and set off for a sightseeing tour on foot – discovering unique traditions, culture, history and food in this historical town, located along the Danshui River (Tamsui River).
Trace Danshui's history and transformation through the eras as you follow your guide to top attractions throughout the city. Begin with Danshui's 19th-century origins on the water at the nearby floating community. Get a closer look at this visible, yet easily overlooked, community and observe the floating structures, which resemble villages in Southeast Asia. Your guide will point out the Shell Warehouse, set up during British colonization and now functioning as Community University.
Next, head to the traditional market, situated at the heart of Danshui, where locals purchase their daily supplies. Watch farmers trade produce as you soak up the lively atmosphere and learn more about the local lifestyle from your guide.
Visit Danshui Longshan Temple, a well-known temple located in the middle of the market, and continue on to the nearby Danshui Master Temple. Here, marvel at several god statues and very fine and exquisite carvings.
Afterward, walk with your small group to Danshui Old Street, where traditional buildings are constructed with red brick. Hear about how the government of Taiwan planned to rebuild this old street at one time and how the Danshui residents – together with historical and cultural workers – acted to preserve the architecture. Now the authentic street has become one the town's most unique attractions!
From here, head to the Little White House, the former residence of the Danshui Tax Division. Then, visit Fort San Domingo, a red fort built by the Spanish, and consider how each colonial building portrays Danshui's different eras and offers an interesting juxtaposition to earlier sights.
Before your tour ends, don't miss the opportunity to sample Danshui's most famous and authentic dish: ah gei, made with a sheet of bean curd stuffed with bean thread noodles and eaten with sweet or spicy sauces. In addition to the fish ball soup, enjoy other local snacks available to sample, like grilled squid, local biscuits and an array of delicious desserts.
With a full belly, follow your guide back to Danshui MRT station, where you can either head back to downtown Taipei or continue your evening exploring Danshui at your leisure.
March 2015
The tour was amazing!! Learn alot of the history of danshui!! The tour guide is friendly and generous! 10 out of 10 would visit again!!
February 2015
Mark, our guide, was wonderful! He answered our questions and brought a multitude of resources to our tour - using his iPad, a map of Taiwan, and many other things to help explain the unique history of Danshui.
January 2015
This tour is a bit off the beaten path but well worth it. Danshui -- or Tamshui as it is written most anywhere, including on the metro -- is a really nice are of Taipei with a lot of beautiful scenery, fascinating history and delicious food. Our tour guide Mark was very friendly, informed, and took really good care of us for the day. The "snack" that's included in the trip (described on this page as fish ball soup I believe) was very good but very filling, so make sure to save some room for it. Otherwise make sure to be wearing comfortable walking shoes, have your camera at the ready and be prepared to sample a lot of delicious treats! Looking back I wish that we had stayed in the area for the night so don't hesitate to tell Mark (or whoever your tour guide is) that you want to part ways in Danshui.
December 2014
This was my first tour upon arriving in Taipei, and a fine introduction. The best part was my guide, Ching-Ling. This lady was very friendly and knowledgable. She was waiting for me with a sign which had my name on it. We had a wonderful afternoon, and I got to try some of the typical food and the bubble tea. She is a good representative of her city and country!
August 2014
May 2014
Nancy, the tour guide, was a total delight. She showed us many places that tourists don't usually see and knew a lot about the history of the city.
Anonymous
April 2014
Very different from the hectic Taipei. Great food we tried. I feel like I was part of the local in Danshui
February 2014
Place is amazing, the market and the river esplanade. Guide tour spoken native English and very friendly. Had also excellent beer and food there.
March 2015
Interesting and nice walking tour.
September 2014
I liked the idea of having the guide so we knew a little more of the history and information about the nearby sights, but I also think for many people this is something that is very easy to do on your own. You may not get all the same info, but you can definitely walk around and see things on your own. Due to the weather we ended up having tea and afternoon snacks to stay dry, which was a great plan B selected by our guide, but that made it so we were too late getting to the fort to go inside, but that was uncontrollable due to the weather. Getting there is easy, but one thing that isn't clear is that the tour listed uses the spelling of Danshui while the MRT only uses Tamsui. They are very similar so most people probably assume they are the same, but it is easy to get confused if you are looking at it in one place and then looking at it as you are actually traveling there. The MRT ride was easy otherwise. If you are interested in the night market, make sure to let the guide know so that there is enough time dedicated to this. Our guide was helpful in finding certain foods we wanted to try and then offered us some suggestions for dinner.
Advertisement
Advertisement