If you love to photograph stunning seascapes, then this private day trip to Taiwan's northeastern coast is for you! Travel by private vehicle with an experienced guide and gain access to a variety of majestic natural landscapes. You'll marvel at coastal wildlife amid the unique geographical formations of Nanya, the rocky shore in Longdong, as well as Cape Santiago's glimmering white lighthouse and sunny Fulong Beach. Enjoy a seafood lunch and a delicious soak at Jiaoshi Hot Spring before your return to Taipei city.
Highlights
Private day trip to Taiwan's northeastern coast from Taipei
Explore the unique geography of Nanya, the rocky shore, in Longdong
Walk uphill to the lighthouse at Cape Santiago and sink your toes into the soft sand at Fulong Beach
Soak in a variety of hot and cold mineral pools at Jiaoshi Hot Spring
Head to the fisherman's harbor for a fresh seafood lunch
Enjoy informative commentary from a knowledgeable guide
Private, air-conditioned transport included
What You Can Expect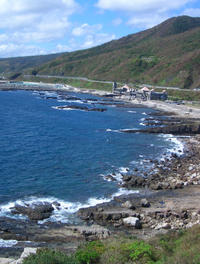 Meet your experienced guide at 9am in Taipei's Zhongzheng District and depart for Taiwan's northeast coast by private vehicle. Arrive in Longdong by 10am and walk around Nanya, the rocky shore, as you enjoy the sea breeze and take spectacular photos of the scenery along the coastline. Frolic along sandy beaches where sea cucumbers, seashells and hermit crabs are plentiful in clear pools, and spot visitors rock climbing and fishing amid the natural beauty.
Afterward, head to Cape Santiago, named by Spanish ships that once sailed along the northeastern coast. Spend some time here exploring the cape, where a famous white lighthouse sits atop a grassy hill and attracts many photographers, especially during the magnificent reflection at sunset. (Please note: The lighthouse is closed on Wednesdays.)
Enjoy a fresh seafood lunch at the fisherman's harbor before your guide delivers you to Fulong Beach, also known as Fulong Bathing Beach. After spending half the day walking on the rocky shore and hiking uphill, the soft sand of this beach is a welcome respite and offers more great photo ops!
Finally, soak any sore muscles at Jiaoshi Hot Spring, rated one of the world's best hot spring sites. Dip into both hot and cold springs, which are odorless (not sulfurous) and extraordinarily rich with natural minerals known for their ability to fortify ailments and nourish irritated skin. Choose from various springs onsite, from open-air hot springs, exclusive private hot spring houses or spa-style pools as you relax your mind and body during a soak in this cozy setting.
Your guide will take you back to Taipei by private vehicle at 5pm, arriving in the city around 6pm.
September 2015
My party and I really enjoyed this excursion of Taipei. Our tour guide Airy Hsaio was great! Very knowledglable about the surrounding areas, friendly and a great photographer. Shared local legends and pointed out interesting landmarks along the way. She was also a great plus in communicating with the vendors!
June 2015
It was a great idea to do this trip as a private tour. Our tour guide changed the itinerary around some but clearly explained why (some concerns with traffic heading back into the city at night) and gave us some options on what we wanted to do with the hot springs. The hot springs were very relaxing and well enjoyed. The drive around the coast was nice, but I would have liked more time to walk around and see the coast (as described in the tour information). We didn't get to see the light house because it was a bit of a hike and we were running short on time. We didn't mind because we were enjoying our day but it would have been nice to see. Lunch was excellent and a perfect choice by our guide. Overall I would recommend this, just make sure to let the tour company and guide know in advance what you would like to spend more time at and less time at so they can best accommodate your day.
Advertisement
Advertisement