Discover Taiwan's natural and cultural highlights on a private day trip to Yehliu National Geopark and Jiufen. Walk over fascinating geological formations at boulder-strewn Yehliu before taking to the narrow streets of Jiufen, a former gold mining town with Japanese influences. Your experienced guide will lead you down Old Street for a taste of Taiwan and take you to Shengping Theater House for a peek into Jiufen's cinematic past. Round-trip private transport from Taipei and seafood lunch are included.
Highlights
Private day trip to Yehliu National Geopark and Jiufen from Taipei
Explore unique rock formations at Yehliu National Geopark with a private guide
See influences of Japanese culture in the former gold rush town of Jiufen
Find tasty local treats and souvenirs along Jiufen's Old Street
Learn about the history of mining and movie making in Taiwan, such as the Oscar-winning film Spirited Away
Enjoy a delicious seafood lunch at the harbor
Hotel pickup and drop-off by private, air-conditioned vehicle included
Why Our Insiders Chose This Tour
Be prepared to get 'spirited away' when you first set foot in downtown Jiufen! It's almost like walking inside of a storybook!
What You Can Expect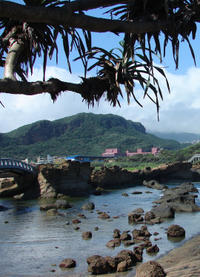 Begin your private tour at 9am with hotel pickup by your guide in Taipei. You'll be transferred by air-conditioned vehicle to Yehliu National Geopark, less than one hour away. Yehliu – situated in one of the most remarkable geological coastal areas in northern Taiwan – is well known for its rocky promontory overlooking the bay.
Admire magnificent scenic views of this phenomenal natural environment shaped over time by wind and waves. You'll enjoy many photo ops as you explore the large rocks dubbed with imaginative names such as Queen's Head; many of the boulders are named by the locals for their resemblance to everyday objects.

After stopping for a delicious seafood lunch at the fishing harbor, your guide will take you to Jiufen, situated in the hills overlooking a small harbor on Taiwan's northeastern coast. Once a prosperous town famous for its gold mining industry, Jiufen was abandoned by the 1970s and nearly forgotten, but is now a mecca for artists and writers as well as the inspiration for films like A City of Sadness and Spirited Away.
Follow your guide down narrow cobbled streets past stone walls and tea houses that provide a picture of the town during Japanese occupation. If you would like to try the local fare (own expense), Jiufen Old Street offers plentiful food stalls as well as souvenirs and tea shops that stretch through the entire town. Walk down the long, narrow street that brims with traditional crafts and delicious snacks such as sweet taro balls, rice cakes and grilled squid.
Next, your guide will take you to see old houses in Jiufen's residential area and explore an old narrow pathway where mountains meet the Pacific Ocean. Then, visit the restored Shengping Theater House, the first movie theater in northern Taiwan, originally built for the mineworkers' after-hours entertainment. Admire authentic details such as the ticket office, seats and stage, as well as vintage movie posters and defunct equipment.
Your guide will share tales about Spirited Away, which won the 2002 Oscar for Best Animated Feature, and point out some of the signature locations from the movie. Hear about the director, Hayao Miyazaki, who was inspired by the scenic beauty of Jiufen on a long visit to Taiwan and used the town's scenery as a backdrop for the Japanese film.
When your private tour of Jiufen ends around 5pm, your guide will drop you off at your hotel in Taipei.
September 2014
We had a really nice time with our private tour. Our guide was the same guide we had for another private tour so we had some time in advance to go over our itinerary with him. The only bad part of the day was the weather and that can't be controlled. It made things a little slower and we missed out on seeing some of the rock formations at Yehliu. At least our guide was prepared with umbrellas and ponchos! The guides choice for lunch was excellent. We were primarily a group of dietitians and our guide took us to a food market for lunch. He helped us find all different kinds of foods to try and offered suggestions for foods we might like. And the ice cream shop he took us to was excellent! The only thing I think would have made this better would have been more time in Juifen to look around and shop. Unfortunately that late in the day it was pretty packed with tourists so it was hard to look around. It was still fun, but I heard it is excellent at night so I think it would have been nice to stay a little later (I know that would turn this into a really long day and that may not be the best either). Overall, I definitely recommend this if you have some time while in Taipei.
September 2014
Great day. The guides English was very good. He knew I was a photographer and went out of his way to find interesting sights for me to take pictures of. I got some great pictures. He was also very knowledgeable about the country and it's history.
Well worth the money.
July 2014
April 2014
Our tour guide for the day, Fred, was excellent!! He provided wonderful details of Taiwan's history and political climate as we toured the northern part of Taiwan. We highly recommend this tour
June 2015
Interesting destinations, good tour guide
November 2014
Our guide Henry was very knowledgeable and friendly. His English was excellent. The tour was not rushed and at our request our guide helped us experience the food in small local Taiwanese restaurants.
October 2014
We had a splendid day out. Henry, our guide/driver was very informative and interesting. We had requested an alternative to the seafood restaurant owing to allergies and he took us to the city of Keelung where he gently guided through the street foods on offer in the market - something we would not have been brave enough to do by ourselves.
The streets of Jiufen were crowded and colourful and Henry ensured that we all negotiated the sights safely.
March 2014
The tour was very good. Our tour guide Fred went the extra mile to take us around and introduced us to places that he thinks might interest us.
Advertisement
Advertisement