Travel in style through Taiwan and discover top attractions with ease on this private Sun Moon Lake day trip from Taipei. Hop aboard your high-speed bullet train and zoom to Sun Moon Lake with your private guide. Enjoy a private 1.5-hour motorboat cruise on the lake and watch the waters for native birdlife. Visit local landmarks including Lalu Island, Hsuan-Kuang Temple and the Ida Thao Village, and learn about the native Thao people. After a traditional lunch, explore the beautiful Tse-En Pagoda and Wenwu Temple by the lakeside.
Highlights
Private day trip to Sun Moon Lake from Taipei
Ride the bullet train round-trip to Taichung
Cruise on Sun Moon Lake and see the National Scenic Area by motorboat
Admire

Tse-En Pagoda

and

Wenwu Temple

Enjoy a local lunch at Ma-Gai-Dan restaurant
Transport by private, air-conditioned car included
Recent Photos of This Tour
What You Can Expect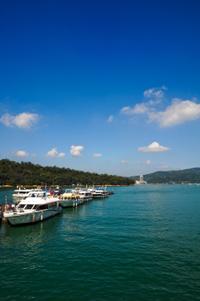 Prepare for a scenic day tour to Sun Moon Lake, known throughout Taiwan for its enchanting beauty – no matter the season or time of day. Divided by Lalu Island, the alpine lake was named for the round and crescent shapes of its unique landscape where hills and mountains reflect in the crystalline water.
Your private guide will meet you in your hotel lobby and transfer you by private car to the Taipei main train station. Board the high-speed rail bullet train, accompanied by your guide to Taichung -- about an hour away -- where you'll disembark for a 39-mile (64-km) drive by private car to Sun Moon Lake.
During the 1.5-hour ride, absorb the spectacular hilllside scenery as you listen to commentary about the region and its aboriginal inhabitants from your informative guide. Learn how Sun Moon Lake and its surrounding countryside were designated one of thirteen National Scenic Areas in Taiwan.
Upon arrival, embark on a 1.5-hour private motorboat cruise on beautiful Sun Moon Lake, stopping at several cultural spots along the way. Relax and be mesmerized by the sparkling water of the gorgeous lake, nestled in the verdant countryside. Keep an eye out for an abundance of birdlife such as the little egret, common kingfisher, black-crowned night heron, crested serpent eagle and more!
Visit Lalu Island, a sacred place to the Thao tribes, one of the aboriginal tribes in Taiwan. Learn about the Thao people, who settled in the Tannan, Dili and Shuanglong Villages in the Xinyi Township. After a stop at Hsuan-Kuang Temple, meet local aboriginal people at the Ida Thao Village.
Dine on aboriginal-flavored dishes for lunch at Ma-Gai-Dan restaurant, and spend your afternoon enjoying a private guided tour of the nine-tiered
Tse-En Pagoda
– situated at the highest altitude in the Sun Moon Lake area – and
Wenwu Temple
, located on the lake's north shore.
At 3pm, your guide will take you by private car back to Taichung's high-speed rail train station for your return trip to Taipei aboard another bullet train. When you arrive in Taipei around 6pm, your guide will transport you by private car to your hotel.
June 2014
The tour guide Mr Edgar Hu has done a great job. He is knowledgeable, professional and walk the extra miles in providing good and satisfactory service. I would strongly recommend him to any tourist who are looking for quality tour in Taiwan.
September 2015
The bullet train was a fun way to make the trip to Sun Moon Lake. I had never actually been on one, and it is a different experience from a Maglev. I got to enjoy the scenery from the window seat. Sun Moon Lake is very pretty with clear emerald-green water. It is a long day, but was very fun. The temple's artistry is amazing as well.
July 2015
The tour was fantastic. Was given business class train ride to Sun Moon Lake and has the whole boat to ourselves to cruise around then lake. Lunch at the local trip restaurant was delicious. Did not have enough time so miss out some of the tourist spots.. It would have been wonderful to end the trip with a business class train ride back to Taipei.

November 2015
Our tour guide, Michael, was terrific. Very knowledgeable, fluent in English and very accommodating with any physical limitations that we may have had. The tour was VERY expensive and I had assumed that the train would have been booked in business class as it was so expensive, but it wasn't never ASSUME. On the return trip, we missed our train due to unforeseen heavy traffic delays no ones fault and Michael did arrange business class tickets for that portion of the ride. The lake is gorgeous. however, the one and 1/2 hour boat ride was actually about 30 minutes. Lunch was at a restaurant MaGaiDan that was not clean inside and when we asked for an outside table as it was a beautiful day, first we were told there weren't any there were 2 with no one at them and after insisting, they stuck us at one that had a broken floor board beneath one of the chairs and a piece of plastic over the table cloth..the staff were not very nice. The chicken soup was good, the rest of the lunch not so much! The WenWu temple is magnificent, the town with its shops and food stalls is fun. Upon arrival to Lalu Island, you must try the tea eggs, delicious! Again, we loved out guide this was our second tour with him, the trip is definitely a must see, but I do feel it was overpriced for what we got.
October 2015
Very touristic
Boat trip was more of a hurry than relaxing
Lunch was very good and in an outstandingly nice place
Advertisement
Advertisement