View the natural and cultural highlights of Taroko Gorge, one of the Seven Wonders of Asia, on a private day trip from Taipei. Receive the expertise of a private guide who has insider knowledge of Taroko National Park and its scenic spots. You'll have amazing views of the marble cliffs and surrounding features like Hualien Stone Sculptural Park and Eternal Spring Shrine, plus a walk around Tienhsiang and the scenic Lushui Trail. Opt to travel by express train or private vehicle – your choice.
Highlights
Private day trip to Taroko National Park from Taipei
Marvel at the sheer marble cliffs of Taroko Gorge, one of the Seven Wonders of Asia, with an easy hike on the Lushui Trail
Drive through the Tunnel of Nine Turns
View the Eternal Spring Shrine and Hualien Stone Sculptural Park
Enjoy a guided walk around the village of Tienhsiang
Eat an aboriginal-style lunch at Leader Village Taroko
Ride the express train round-trip to Hualien (if option selected)
Recent Photos of This Tour
Private Tour: Taroko Gorge Day Trip from Taipei
What You Can Expect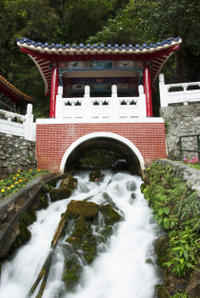 Meet your private local guide upon pickup from your Taipei city hotel in the early morning. Depending on which option you select, take the two-hour express train or drive for several hours to the town of Hualien by private air-conditioned vehicle – with stops for breaks and views along the way. Your guide will transfer you to Taroko Gorge Gateway to begin your private tour of this spectacular region.
Gaze with awe at the sheer marble cliffs of this remarkable gorge and the Liwu River that flows through its rocky landscape. Visit the Eternal Spring Shrine, one of the most photographed scenes around the gorge, where small temples were built to memorialize those who lost their lives in the construction of the central cross-island highway. Then stop for lunch at Leader Village Taroko, a sublime mountain hideaway serving aboriginal-inspired dishes.
Afterward, travel with your private guide through Swallows Grotto, a 12-mile (20-kilometer) section of the highway that runs through tunnels carved into the vertical sides of the gorge from Taroko to Tienhsiang. Drive through 38 tunnels, including the Tunnel of Nine Turns – a stunning part of the gorge where numerous hiking trails begin.
When you reach Tienhsiang, embark on a walking tour of the small village, a frequent stop for travelers to Taroko National Park. Check out the Tienhsiang Lodge and nearby amenities as you walk along shaded walkways and take in the photo-worthy landscape. Catch sight of Hsiangte Temple and its pagoda, situated on a hilltop and reached by a suspension bridge over the Liwu River.
Next, your guide will accompany you onto the scenic Lushui Trail, an easy hiking trail that includes magnificent views of Taroko Gorge and the Liwu River below. Follow the trail as you climb uphill at a mild pace, then cross a suspension bridge before making your way onto an exposed cliff – wide enough for two people – with safety railings along the entire cliff segment.
When you've returned to your car, continue to Chi Hsing Beach for a stroll. Finally, visit the Hualien Stone Sculptural Park and a marble factory before your guide returns you to Taipei by express train or private vehicle.
November 2015
One of the most beautiful sights! Our tour guide, Michael, was terrific and I highly recommend him and the tour. There were a lot of traffic delays due to road work in the park so a couple of the planned stops were not made including the marble store...a tourist shop but that was no ones fault. The Eternal Springs Shrine is unbelievably photogenic and Swallows Gorge, well, you have to see it. Lunch was very good. All in all, this is a must see!!
August 2015
Thanks Viator! We had a fantastic time! Our guide was massively accomodating, informative and caring. The tour itself went swimmingly well without any hiccups and the Gorge was breathtaking. I highly recommend anyone taking this tour to view the Tawanese countryside and the marvel of the Taroko Gorge ! Thanks again and we look forward to booking our next Viator tour!
November 2014
Our guide Walter knew a great deal about the gorge and many sites on the way. He was friendly and his English was excellent. We enjoyed the views along the way and was worth the extra time by car rather than the bullet train. Our driver Jackie was excellent on the winding roads.
Advertisement
Advertisement