This small-group Taipei food tour, limited to 12 people, gives you an authentic taste of delectable Taiwanese cuisine at Ningxia Market. Walk through the traditional night market with your informative local guide, choosing three 'shiao chi' (little eats) from nine different options available. Sample taro cake or fried yam balls, slurp some herb soup, nibble on pork leg rice, try tofu snacks, or devour oyster pancakes. Your guide makes sure you don't miss a single bite as you stroll among hundreds of street food vendors.
Highlights
2- to 3-hour Taipei food tour at Ningxia Night Market in Taipei
Discover hundreds of delicious Taiwanese dishes as your stroll past street vendors
Choose three tasty samples, from sweet peanut soup to salty chicken
Soak up your surroundings in one of Taipei's most popular markets
Learn about Taiwanese street food from your knowledgeable guide
Small-group tour with a maximum of 10 people ensures a personalized experience
What You Can Expect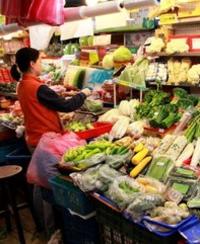 Meet your guide at MRT Shuanglian Station before heading out to Ningxia Night Market. Your guide takes your small group on a culinary adventure through one of Taipei's top markets, where you'll find hundreds of street stalls tempting you with local delights. Soak up the bustling atmosphere of the market as you stroll — a great opportunity to learn about Taipei cuisine and culture.
After your guide explains the nine different food options available during your 2- to 3-hour walking tour, whet your appetite with three mouthwatering dishes to eat alongside your fellow food lovers.
Perhaps start with fried yam balls or taste some karasumi, or mullet roe, which is made from the eggs of mullet fish, baked until rosy red and considered a Taiwanese delicacy. If you'd like to sample traditional meat, try some tender pork leg served with rice and shrimp soup, or a chicken roll with rice and barbecue sauce that's packed with flavor.
Vegetarians will find plenty of stalls at Ningxia Market, from popular sticky rice with mushrooms to Taiwanese tofu dishes. Take a bite of taro balls with egg, or enjoy scrumptious rice balls boiled in sugar soup and served with peanut or red bean soup to balance out the sweet flavors.
Herb soup is especially good after you've eaten a lot and want to give your digestive system some relief. Yam or taro balls are added to this herb soup to create a traditional Taiwanese dessert, but scrumptious oyster pancakes also beckon — definitely worth the wait in line!
You'll discover Taiwanese food from the perspective of a local as your guide offers recommendations and explains the significance of the dishes in Taiwanese culture.
Your small group returns to MRT Shuanglian Station or you can stay at Ningxia Market to continue exploring (and eating) on your own.
June 2015
Helpful guide to navigate Taiwan's night market. Plenty of choices for any dietary requirement.
May 2015
Tour was pretty good. Can be made batter though
October 2014
The tour never happened as your representatives never showed up. We waited from 6pm until 7:15pm at the meeting place. We went back and forth the main ticketing booth and the 2 entrances/exits of the mrt station.
A few days prior to our tour we sent a email to your local partner operation and asked for specifics as regard exact location of the meeting place for the tour per instructions written on the voucher you emailed us. we never got a reply. We decided then to just arrive at the mrt station much earlier than the 7pm meeting time, hoping to be able to locate your local partner's booth, there was none. We asked the personnel at the mrt ticketing booth and they were unfamiliar with your local operator, even when we showed them our voucher and the name of your operator. At 6:30pm we were trying to call the telephone number of your operator however there was no answer, we must have tried almost 10times.
I have used viator for my tours in other locations previously and I have been satisfied of your service. I booked tours through viator because I trust viator, and i expect that you have qualified your partners well. This experience has been real frustrating. That tour was supposed to be our 1st tour for the vacation, and on the day of our arrival. I sent you an email (through My bookings) on that frustrating evening but never received a reply.
I hope this time around I can expect a reply from you at the soonest. Thank you.
Advertisement
Advertisement