See the best of the Taipei on a private layover tour, with round-trip transport from Taiwan Taoyuan International Airport! The Airport is approximately 24.5 miles (40 km) from Taipei city downtown, making for an easy-to-do layover tour! This customizable half-day tour is ideal for business travelers and short-term visitors – specifically designed for those with limited time to spend sightseeing in Taipei City. A private guide will introduce you to the city's major historical sites and most captivating landmarks, such as Chiang Kai-Shek Memorial Hall, the Taipei 101 skyscraper, Confucius Temple and Baoan Temple – a UNESCO World Heritage Site.
Highlights
4- to 5-hour private layover tour in Taipei from Taiwan Taoyuan International Airport
See Taipei City's main landmarks with a flexible itinerary
Witness the hourly changing of honor guards at Chiang Kai-Shek Memorial Hall
Ride an elevator to the top of the Taipei 101 skyscraper
Learn about Chinese philosophy at Confucius Temple and visit the UNESCO World Heritage-listed Baoan Temple
Enjoy commentary by an informative guide and insider tips from a private driver
Air-conditioned private car or van with round-trip airport transport or hotel drop-off
Recent Photos of This Tour
Taipei Layover Tour: Private City Sightseeing with Round-Trip Airport Transport
What You Can Expect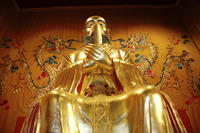 Your private layover tour of Taipei begins with pickup at Taiwan Taoyuan International Airport in the morning or afternoon, depending on your flight arrival. Your informative local guide will take you by private vehicle to Taipei City, the heart of Taiwan, for a great introduction to local life, culture, heritage and history at several sites. Afterward, your guide will accompany you to lunch or dinner (depending on timing), with local snacks and restaurants all easily accessible within the city.
First, visit Chiang Kai-Shek Memorial Hall, a commemorative monument constructed with a blue-tile roof and walls of white marble, and landscaped with red flowerbeds to symbolize the Republic of China's founding father. After watching the changing of honor guards in the main hall, visit the adjacent National Theater and Concert Hall, and take in the glamour of the Chinese design – including gardens, archways, pavilions, verandahs, arch bridges, artificial pools and rocks.
Next, stop by Taipei 101, the world's second tallest skyscraper and Taiwan's most iconic. In just 37 seconds, Taipei 101's elevators will transport you up to the 89th floor for a panoramic view of the city. Your guide will point out the unique skyline of Taipei City from one of the most impressive buildings on Earth. As you descend, discover the significance of the skyscraper's architecture, built in segments like bamboo to represent cultural ideals of slow and steady growth.
Then, head the Confucius Temple, where you may be surprised to find no statues of deities. Instead, see memorial tablets dedicated to Confucius and his most outstanding disciples – schooled in such arts as music, archery, calligraphy and mathematics. Here, learn about this great eastern philosopher who deeply influenced every aspect of Chinese culture, from ethics and education to political thought and the best way to raise a family.
Finally, your guide will take you to Baoan Temple, a 200-year-old UNESCO World Heritage Site and one of the most ornate and beautiful temples in Taipei. Admire the well-preserved authentic architecture, which has been maintained and repaired throughout the years with traditional techniques. Marvel at the ancient healing traditions used by Emperor Baosheng, now the god of Baoan Temple, who protected people's health when he was brought from the mainland to help control a flu epidemic in Taiwan.
Your private tour ends with return transport to the Taipei airport or drop-off at your hotel.
Please note: This private sightseeing tour of Taipei can be customized to your interests; please list any special interests you have (e.g. art, architecture, history, culture, shopping) at the time of booking to alert your guide, so that he or she can better prepare for your private tour.
April 2015
They really did a great job. We did have some problems with the schedule starting so early, but they adapted well.
March 2015
A fantastic tour. Our guide Mark provided a wealth of information and added some extra sights to fill out our layover time. Dinner was spectacular.
Advertisement
Advertisement