Take in the sights of Taipei from an insider's point of view as you travel through the city using local transportation! A friendly and knowledgeable guide accompanies you by MRT, bus, bike and foot to a variety of metropolitan highlights throughout your full-day tour. You'll see Taipei like the locals do: cycling around Daan Forest Park, hiking to Elephant Mountain for the views, and visiting Chiang Kai Shek Memorial Hall. Numbers are limited to six people, ensuring a personalized experience with a small group.
Highlights
Full-day Taipei sightseeing by public transportation
Explore lively Taipei City by bicycle, metro and public bus while accompanied by your guide
Visit Chiang Kai Shek Memorial Hall and Songshan Cultural and Creative Park
Ride a bike past ponds and pavilions in Daan Forest Park
Learn about Qingtian Geo 76 as you pedal along a quiet lane to the Japanese-era building
Take in the views of Taipei 101 and the city skyline from Elephant Mountain
Receive personal attention on this small-group tour, limited to six people
Recent Photos of This Tour
What You Can Expect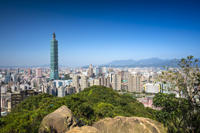 In the morning, make your way to the Daan Park MRT station to meet your guide and small group. You'll get equipped with your bike rental before hopping on two wheels to explore the city for the next 2.5 hours. Pedal through Daan Forest Park (aka Da'an Park), a public park covering 64 acres (26 hectares) of green space, including an amphitheater, children's playground and skating rink, that Taipei residents commonly use for outdoor recreation.
Ride along the pathway past pavilions and ponds where ducks, egrets and turtles find respite from the bustling city, and take in the sight of luxury condominiums that border the park. After half an hour you'll arrive at Qingtian Street, a quiet lane with a well-preserved heritage building from the era of Japanese occupation. Enjoy a guided tour of the old street and Qingtian Geo 76, a rustic Japanese-style home constructed in 1931 that hides behind leafy trees.
The next stop on your bike route is Chiang Kai Shek Memorial Hall in downtown Taipei, where you'll have the opportunity for some great photo ops. If you arrive on time, watch the Changing of the Guards ceremony before a short, guided tour. Gape in awe at the impressive monument, which pays homage to former president Chiang Kai Shek.
Around noon you'll drop off your bike at Dongmen station, and then walk to Yongkang Street for a delicious lunch (own expense). Your guide can recommend favorite local specialties from the many food stalls, restaurants and cafés. Try beef noodles, steam-fried baozi (dumplings), stewed minced pork, baked goods and other traditional Taiwanese cuisine.
When you've had your fill, take the MRT to Xiangshan station — just a 15-minute ride — to the Xiangshan Hiking Trail, which leads up a series of steps to Elephant Mountain. At an elevation of 453 feet (138 meters), the lookout point provides a panoramic vista that includes the astonishing sight of Taipei 101 towering above the cityscape.
After these camera-worthy views, hop on a public bus with your guide for an approximate 30-minute ride to Songshan Cultural and Creative Park. Your 1.5-hour guided tour of the old tobacco building, commonly referred to as the 'Creative Hub of Taipei,' introduces you to an exhibition space for designers to display their work (some areas are free of charge, while others are at your own expense). Learn about the artistic, cultural and interdisciplinary talents showcased here, including film shootings and fashion shows.
Your full-day Taipei tour ends here, and your guide can point you in the direction of your next destination from the nearby MRT station.
June 2015
The guide Mr Tai was friendly and helpful, as well as knowledgeable.
Had given my friend and I a fruitful and insightful trip.
Would definitely recommend this for a different experience in taipei!
February 2015
It turned out to just be me and m very knowledgeable guide, Kelly. Although had there been more people I don't think it would have mattered as they keep group sizes small. Kelly changed the tour a little to suit me but also the weather as it had been reported it was due to get worse throughout the day. Kelly was very caring and had bought a bottle of water for me, and kept checking if I needed to drink or use the WC at various places we visited. I saw a lot of Taipei during the day and enjoyed doing it via various methods of transport. I would recommend this to anyone who visits Taipei, but unlike me do it at the start of your visit as you can get a sense of the city.
January 2015
Tour was jam packed with lots of stuff to see and do. Our tour guide - Tai - knew lots of interesting things that he was more than happy to share with the group. A great way to see the city!
September 2014
Advertisement
Advertisement