265 Reviews
Location:

Taipei, Taiwan

Duration:

13 hours

(approx.)
See one of the seven wonders of Asia, the Taroko Gorge. Take a train ride to Hualien from Taipei to see this great wonder, a must-do while in Taipei.
Highlights
Full-day Taroko Gorge tour, witness one of Asia's seven wonders
Express train or coach from Taipei to Hualien, return to Taipei by train
View the amazing marble cliffs of the Taroko Gorge
Travel through the Tunnel of Nine Turns
Eternal Spring Shrine
Lunch at a local restaurant
Stroll along Chi Hsing Beach
Visti a Marble Factory
Hualien Stone Sculptural Park
English-speaking guide
Hotel pickup and drop off
Recent Photos of This Tour
Taroko Gorge Full-Day Tour from Taipei
What You Can Expect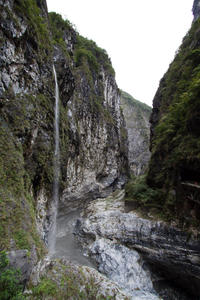 You'll be picked up from your Taipei city hotel at 6:00am to travel by train to Hualien. This full-day guided tour will take you to the Taroko Gorge. A 20-kilometer section of the highway that runs from Taroko to Tiansiang.
The stunning gorge is known for its sheer marble cliffs, deep, winding tunnels, and the Liwu River, which flows through its craggy landscape. Travel through Swallows Grotto, where the section of the highway runs through tunnels carved into the marble vertical sides of the gorge.
Travel through 38 tunnels including the Tunnel of Nine Turns, with it's endless series of turns, this is a stunning part of the gorge and where numerous hiking trails begin.
See the Eternal Spring Shrine, one of the most photographed scenes around the gorge. These little temples were built to memorise those that have lost their lives in the construction of the central cross-island highway.
Enjoy lunch at a local restaurant. Continue to the Chi Hsing Beach and Hualien Stone Sculptural Park and visit a marble factory before returning to Taipei by express train.
Tour Highlights
Hualien and Hualien Stone Sculptural Park
Taroko Gorge Gateway
Eternal Spring Shrine
Swallow Caves
Tunnel of Nine Turns
Tienhsiang Lodge
Marble Factory
Chi Hsing Beach
July 2015
Good tour with a great guide and driver. The tour group was small just 3 of us and we were able to hike up a lot actually for the great views ourselves. Lunch was awesome - included at a nice expensive restaurant just for the tour.
July 2015
Before booking, I read all the wonderful reviews about the Taroko Gorge. I agree with them... The Gorge is breathtaking. The guides are friendly and knowledgeable. The Chinese lunch was quite good! However, I will share my tips about the trains.
The morning train to the gorge is a bit over 3 hours and while comfortable and cool with the AC, the bathroom was a squatty potty. Now, I can use a squatty potty better than most, but the train was also seriously rough and bouncy. There wasn't even a bar to hold onto and the urine from the previous person was sloshing about. I would suggest skipping your morning coffee. I just couldn't stomach the bathroom.
So naturally I was nervous about the train ride home and I avoided drinking too much water throughout the day. That was unnecessary as the train home was more like the Narita Express if you've visited Tokyo. Comfortable seats, snack cart coming through, vending machines on the train, AND a great Western toilet. Plus this ride was much, much smoother. I should have bought a beer at the station and enjoyed my two hours on a much quicker, luxury ride back to Taipei.
Yes, please visit the gorge, but just plan ahead. I wish I had known to skip the morning coffee.
July 2015
Excellent tour, great day trip. Strongly recommended if you want to escape Taipei for a day and visit the interior. The guides were friendly and informative and took good care of us. The views are spectacular, the gorge is well worth a visit.
July 2015
Great way to see the Taroko Gorge when you have a limited time and don't want to hike it. Was very enjoyable with just enough stops to take some beautiful photos!
July 2015
Josephine was a fabulous guide- knowledgable, funny, and friendly. This was an outstanding itinerary. The tour is an absolute must for anyone visiting Taiwan for more than a couple of days. It is justly included as one of the Seven Wonders of Asia! The landscape of jungle-covered high canyon walls studded with beautiful small temples and waterfalls looks too beautiful to be real- but luckily it is. By all means take this tour, and don't take it with anyone but Josephine!
June 2015
"Taroko Gorge", natural is amazing, much efforts on the park construction and maintenance, 5 star hotel lunch is unbelievable in mountain, Josephine makes the trip perfect, thank you very much!!
June 2015
Tour guid Josephine is a tiger lady, was the best in the town . Orginised, careing and talkative. Because of her my day feels unforgetable!!!! Thank you Josephine.
June 2015
Would have been better had it been longer, but with limited time in Taiwan it was great. Josephine was the best guide - knew everything about everything and was very entertaining she made it the 5 for 5 stars
johnny
United States of America
June 2015
Great tour! Our guide was friendly, knowledgeable, witty and helpful. Highly recommended
June 2015
Our tourguide was excellent, and the tour showed us many parts of the gorge we wouldn't have been able to get to without a car. Of course, in ideal situation, we would have been able to spend as much time as we wanted at each location, but with a tour, that's just not possible, and as someone who was only in the country for a week, I appreciated being shown the highlights and getting to spend some time at each location. Great tour!!
Advertisement
Advertisement