Pack in a full day of Taipei sightseeing at multiple must-see attractions in the capital, accompanied by an informative local guide. You'll make stops at Chiang Kai-shek Memorial Hall, Longshan Temple and Taipei 101; tour exhibits at the National Palace Museum; drive through Yangmingshan National Park; visit the Beitou Hot Spring Museum; Finish at Shilin Night Market.
Highlights
Full-day Taipei sightseeing tour
View Taipei 101, with optional entry to the 89th-floor observatory
Visit Longshan Temple and explore 8,000 years of Chinese history at the National Palace Museum
Drive through Yangmingshan National Park and discover thermal springs at the Beitou Hot Spring Museum
Hotel pickup included with drop-off at Shilin Night Market
Small-group tour limited to 16 people ensures a more personalized experience
Visit the Lin An Tai Historical House, a Southern Fujianese-style house, and the Grand Hotel, a Chinese Palace-style architecture
Recent Photos of This Tour
Ultimate Taipei Sightseeing Tour
What You Can Expect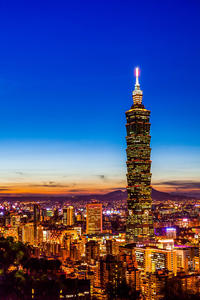 If you have just one day to spend in Taipei, this ultimate city sightseeing tour covers the highlights. Your full-day itinerary begins with hotel pickup and transport to the the ornately designed Longshan Temple.

Visiting the facade of the Presidential Office Building for a few photo ops. Next up is Chiang Kai-shek Memorial Hall, where you can walk up the 89 steps to the bronze statue commemorating the former President of the Republic of China. Followed by an hour of free time at Taipei 101, the world's second tallest skyscraper. If you wish, ride the elevator to the 89th floor observatory or purchase lunch (admission and meal are your own expense).
Visit the Lin An Tai Historical House, a Southern Fujianese-style house, and the Grand Hotel, a Chinese Palace-style architecture.

Continue on with a drive through Yangmingshan National Park and stop at a scenic overlook (weather depending) for views of Mt Qixing (Seven Star Mountain) and Taipei city below. Then spend about an hour exploring the Thermal Valley, including the Beitou Hot Spring Museum to learn about the region's bubbling springs.
Afterward, enjoy a 1- to 1.5-hour guided tour of the National Palace Museum, which includes painting, calligraphy, ceramics and bronzes along with Tang and Ming dynasty treasures on exhibit. Your guide points out the famous jadeite cabbage, meat-shaped stone (created from banded jasper) and the Cauldron of Duke
Mao
.

Finish up at the bustling Shilin Night Market with plentiful food and shopping options to satisfy any appetite. Stay as long as you like before making your own way back to your hotel or next sightseeing destination, with the Jiantan MRT Station conveniently located nearby.
June 2016
With only a limited amount of time in Taipei, I decided to book a day tour and I'm glad I did. Not only did I visit some interesting places, I met some nice people, and had a fantastic tour guide. Ting was awesome! You can tell that she genuinely enjoys what she does and is more than happy to share her knowledge and love of Taiwan. I appreciated the directions beginning/end train station, line, exit , ticket price, and marked street route on how to get to back to my hotel from the last tour stop. This was done for each group member. After the tour, she sent an email with a list of things to do in Taipei, as well as a link to the many pictures she'd taken that day. I highly recommend this tour and Ting!
June 2016
excellent.Kellie our guide was wonderful. She was extremely helpful and went beyond her duty to look after us. i highly recommend her1

June 2016
I don and #39;t usually believe in tours but, Ting and Billy have completely converted me. They were incredibly professional helpful (both offered to help out even after the tour, in case I have any questions), fun loving, and easy to talk to. I learned so much, and had fun doing so. Highly recommended!
June 2016
The company was very flexible to accommodate me. They went out of their way to fit me in. Special thanks to Ann at MyTaiwan. Scott was an amazing tour guide, knowledgeable and very helpful. Great experience and highly recommended.
AJ France
June 2016
Great way to see Taipei if you are pressed for time. I was in Taipei on a business trip and had only one day to see the highlights of the city. This tour covered all of the key sites in about 9 hours. The guide - Jett - was very friendly and very knowledgeable about Taiwan with great command of English. The group was a good size - just 6 people. The ride was very comfortable in a nicely equipped van. If you are the kind of person who likes to linger at a site, this tour may be too fast-paced for your taste, but if you want to quickly and efficiently get an appreciation for Taipei, you can't beat this.
June 2016
We were able to go to all of the places in record time. Our tour guide, Kelly, and driver, Mr. Sam, were knowledgeable and very thoughtful of my condition (Injured ankle). This tour is highly recommended for those who prefer a personalized tour (8 people) and those who cannot walk long distances.
Jennifer T USA
May 2016
I recommend this tour especially for first timers in taipei. Our tour guide kelly is not only accomodating but also very lively and knows the tour very well.
May 2016
This was my first tour on my four day trip in Taiwan and I'm so glad I booked it. The company that its through is actually very wonderful. They are prompt. They are polite and educated. The van is clean. They know how to drive. The tour guide takes her time and lets you see everything without rushing you. There are a number of spots on the tour and the guide is educated on every single one. Throughout the tour you get a history lesson on Taipei and nice music to listen. She even ordered our lunch for us. It was a small tour 4 ppl. Great time.
May 2016
The tour was great. Kelly, our tour guide is very friendly, lively and very informative... I learned a lot about Taiwan and the culture.
May 2016
Sandra was a wonderful tour guide. She was very knowledgeable, entertaining, answered all our questions, just overall a great tour guide. We found the tour a great way to see as much as possible with only one day in Taipei. Highly recommend this tour!
Advertisement
Advertisement