Pack in a full day of Taipei sightseeing at multiple must-see attractions in the capital, accompanied by an informative local guide. You'll make stops at Chiang Kai-shek Memorial Hall, Longshan Temple and Taipei 101; tour exhibits at the National Palace Museum; drive through Yangmingshan National Park; visit the Beitou Hot Spring Museum; Finish at Shilin Night Market.
Highlights
Full-day Taipei sightseeing tour
View Taipei 101, with optional entry to the 89th-floor observatory
Visit Longshan Temple and explore 8,000 years of Chinese history at the National Palace Museum
Drive through Yangmingshan National Park and discover thermal springs at the Beitou Hot Spring Museum
Hotel pickup included with drop-off at Shilin Night Market
Small-group tour limited to 16 people ensures a more personalized experience
Visit the Lin An Tai Historical House, a Southern Fujianese-style house, and the Grand Hotel, a Chinese Palace-style architecture
Recent Photos of This Tour
Ultimate Taipei Sightseeing Tour
What You Can Expect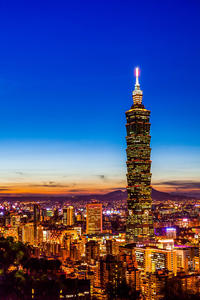 If you have just one day to spend in Taipei, this ultimate city sightseeing tour covers the highlights. Your full-day itinerary begins with hotel pickup and transport to the the ornately designed Longshan Temple.

Visiting the facade of the Presidential Office Building for a few photo ops. Next up is Chiang Kai-shek Memorial Hall, where you can walk up the 89 steps to the bronze statue commemorating the former President of the Republic of China. Followed by an hour of free time at Taipei 101, the world's second tallest skyscraper. If you wish, ride the elevator to the 89th floor observatory or purchase lunch (admission and meal are your own expense).
Visit the Lin An Tai Historical House, a Southern Fujianese-style house, and the Grand Hotel, a Chinese Palace-style architecture.

Continue on with a drive through Yangmingshan National Park and stop at a scenic overlook (weather depending) for views of Mt Qixing (Seven Star Mountain) and Taipei city below. Then spend about an hour exploring the Thermal Valley, including the Beitou Hot Spring Museum to learn about the region's bubbling springs.
Afterward, enjoy a 1- to 1.5-hour guided tour of the National Palace Museum, which includes painting, calligraphy, ceramics and bronzes along with Tang and Ming dynasty treasures on exhibit. Your guide points out the famous jadeite cabbage, meat-shaped stone (created from banded jasper) and the Cauldron of Duke
Mao
.

Finish up at the bustling Shilin Night Market with plentiful food and shopping options to satisfy any appetite. Stay as long as you like before making your own way back to your hotel or next sightseeing destination, with the Jiantan MRT Station conveniently located nearby.
Jennifer T USA
May 2016
I recommend this tour especially for first timers in taipei. Our tour guide kelly is not only accomodating but also very lively and knows the tour very well.
May 2016
This was my first tour on my four day trip in Taiwan and I'm so glad I booked it. The company that its through is actually very wonderful. They are prompt. They are polite and educated. The van is clean. They know how to drive. The tour guide takes her time and lets you see everything without rushing you. There are a number of spots on the tour and the guide is educated on every single one. Throughout the tour you get a history lesson on Taipei and nice music to listen. She even ordered our lunch for us. It was a small tour 4 ppl. Great time.
May 2016
The tour was great. Kelly, our tour guide is very friendly, lively and very informative... I learned a lot about Taiwan and the culture.
May 2016
Sandra was a wonderful tour guide. She was very knowledgeable, entertaining, answered all our questions, just overall a great tour guide. We found the tour a great way to see as much as possible with only one day in Taipei. Highly recommend this tour!
May 2016
We thoroughly enjoyed the tour. The itenirary and hotel accommodations are first rate. Our tour guide Alan Chou was fantastic.
April 2016
It was really a great tour. My husband and I really loved it! We had the whole sightseeing the whole of Taipei. Short it maybe but it was all worth it. Your tour guide Kathy was an excellent guide! Send our regards to her. We will definitely come back and book with you even in other places that we will be traveling in the future. Thank you it was a well spent day in Taipei with you guys!
April 2016
A very long day, but very thorough. Our guide was Aurore, who was extremely knowledgeable and helpful. The tour was exactly as described, and each activity was worthwhile and interesting.
March 2016
This tour, absolutely was a great way way to see the major landmarks and sights of Taipei. Our guide Eric is a very professional guide with a relaxed , casual demeanor whose experience, knowledge and language skills kept us well informed.
Covering the highlights of Taipei with this tour was far more relaxed, informative and inclusive than Shu Yan and I could have achieved by finding our own way around.
Excellent!!!
March 2016
Our tour guide Ms Ting-yao Lee was phenomenal. Even if it was a rainy day, Ting's sunny disposition and exceptional Taipei knowledge kept the tour lively and fun. I highly recommend this tour for those with only a day available to explore Taipei. You will see all the City's highlights, gain sufficient cultural exposure, sample culinary delights, and interact with the wonderful people of Taiwan. Save all your shopping until the very end. Thank you Ting for the unforgettable experience. ALOHA! - Matt
March 2016
This tour is a great way to see Taipei as it is in a small group of 4-6 people, easy to make small adjustments to spend more time in certain places.
Our bus driver was very helpful and literally went the extra mile.
The tour guide we had, Kelly, was full of energy and had great stories about the places we visited. Her historical knowledge and enthusiasm enriched the entire tour.
But be ready for this ultimate day tour as it is indeed a full day tour worth every second.
Advertisement
Advertisement