76 Reviews
Location:

Taipei, Taiwan

Duration:

8-10 hours
Pack in a full day of Taipei sightseeing at multiple must-see attractions in the capital, accompanied by an informative local guide. You'll make stops at Chiang Kai-shek Memorial Hall, Longshan Temple and Taipei 101; tour exhibits at the National Palace Museum; drive through Yangmingshan National Park; visit the Beitou Hot Spring Museum; stroll down Danshui Old Street and finish at Shilin Night Market.
Highlights
Full-day Taipei sightseeing tour
View Taipei 101, with optional entry to the 89th-floor observatory
Visit Longshan Temple and explore 8,000 years of Chinese history at the National Palace Museum
Drive through Yangmingshan National Park and discover thermal springs at the Beitou Hot Spring Museum
Stroll down the romantic streets of Old Danshui
Hotel pickup included with drop-off at Shilin Night Market
Small-group tour limited to 16 people ensures a more personalized experience
Recent Photos of This Tour
Ultimate Taipei Sightseeing Tour
What You Can Expect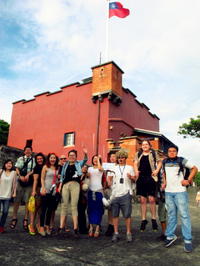 If you have just one day to spend in Taipei, this ultimate city sightseeing tour covers the highlights. Your full-day itinerary begins with hotel pickup and transport to the facade of the Presidential Office Building for a few photo ops. Next up is Chiang Kai-shek Memorial Hall, where you can walk up the 89 steps to the bronze statue commemorating the former President of the Republic of China.
Your guide takes you on a tour of the ornately designed Longshan Temple, followed by an hour of free time at Taipei 101, the world's second tallest skyscraper. If you wish, ride the elevator to the 89th floor observatory or purchase lunch (admission and meal are your own expense).
Afterward, enjoy a 1- to 1.5-hour guided tour of the National Palace Museum, which includes painting, calligraphy, ceramics and bronzes along with Tang and Ming dynasty treasures on exhibit. Your guide points out the famous jadeite cabbage, meat-shaped stone (created from banded jasper) and the Cauldron of Duke Mao.
Continue on with a drive through Yangmingshan National Park and stop at a scenic overlook (weather depending) for views of Mt Qixing (Seven Star Mountain) and Taipei city below. Then spend about an hour exploring the Thermal Valley, including the Beitou Hot Spring Museum to learn about the region's bubbling springs.
Arriving in Danshui, enjoy a stroll along the riverside and down Danshui Old Street, perhaps stopping for Taiwanese street fare (own expense) along the way.
Finish up at the bustling Shilin Night Market with plentiful food and shopping options to satisfy any appetite. Stay as long as you like before making your own way back to your hotel or next sightseeing destination, with the Jiantan MRT Station conveniently located nearby.
February 2016
Great tour,covered a lot of ground and saw just about everything in Taipei. Our tour guide Mr.Jett was a wealth of knowledge and shared the history of Taipei, local customs and a few local jokes! Took us to an amazing lunch which was the best food I had during my stay. Well worth the full day!
January 2016
I signed up for the group city tour, but not enough people had signed up for the date I wanted. Never fear, I was given the option of a private tour at a very reasonable cost. It was amazing. My pace, my preferences for places to visit, with great recommendations of the city. My tour friend as I called him, Scott, was very very good. He was on time, personable, knowledgable, and everything that you would expect from a top notch company. I will be back from Taiwan, and will be signing up for more great experiences with this group!
December 2015
My sweet, young tour guide was beyond fabulous on this tour. Unfortunately, a family of four from Malaysia made it incredibly difficult to keep us seven together as a group, as they simply kept going their own way and disappearing for long spells of time - never honoring our meeting times and places.
BUT, the young tour guide bless her heart navigated such expertly, politely, and appropriately early on in the day. She was great and super informed. I learned a lot and also enjoyed the company of the guide and another adult couple from Germany. An absolutely lovely, engaging, and informative tour. Thanks!!

December 2015
For my husband's first trip to Taiwan I was looking for a day tour of Taipei that would allow us to see most of the city's popular tourist sights before we headed to visit family in Taichung. I picked this tour based on positive reviews and was not disappointed. The tour was intimate - 7 guests, 1 tour guide, 1 driver - and our tour guide, Ting, knowledgeably described local folklore and relevant historic/technical detail for each of the places we visited in fluent English. The stops at Longshan Temple, CKS Memorial, and National Palace Museum were great! The Taipei 101 stop was fine for those who have never been. Some other reviewers expressed disappointment in not being able to go up to the observatory, which is not possible on such a short trip. We returned the next day and spent nearly half a day there! Unfortunately, much of the beauty of Yangminshan, Beitou, and Danshui were lost due to the early sunset during the fall/winter days. Ting provided us each with maps detailing how to return to our individual hotels on the way to Shilin Nigh Market our last stop, which were in English and easy to follow. During the day, she'd asked if we had any plans for the rest of our Taipei stay. When we said we did not, she offered a number of suggestions of what to see/eat/do. By the next morning, my inbox had her original suggestions and more - including detail of what MRT stops to use, what to do at each stop, and a quick map for places without addresses. All in all a great experience! Would recommend it to any first/short-time visitors.
November 2015
Salome, our tour guide, was great. She displayed ample knowledge of Taipei and kept the small group of travelers informed of Taipei and #39;s amazing history. She was very enthusiastic and I would definitely recommend this tour to travelers who want to see most of Taipei in a short period of time.
November 2015
So enjoyed my day in Taipei with Ting and our small tour group. I got such a flavor of Taiwan from seeing new Taipei 101 to older neighborhoods, from busy Freedom square to the hot springs areas in the mountains, from dining at famous Din Tai Fung for lunch to street food at the night market. Ting was a wealth of knowledge, also added value with her travelling iPad. She provided us the maximum for our 90 minutes in the museum. Great and very busy day.

November 2015
The tour guide Ting is really 1 good and best tour guide I ever met. She can explain everything on this tour and able to accommodate for us. Overall the trip is worth going.
October 2015
Excellent! I learned and enjoyed many things about Taipei and its history. Thank you.
October 2015
Wonderful guide Scott and internship assistant Hansem. Great tour members too

October 2015
very complete, exaustive and informing trip!
Advertisement
Advertisement