14 Reviews
Location:

Taipei, Taiwan

Duration:

4 hours

(approx.)
Wulai is a famous mountain village in northern Taiwan and is located in water reservation area. Residents are mostly aboriginal people (Tai Ya Tribe). See the famous Wulai Waterfall which is about 80 meters high. The highlight of the visit to this area is a singing and dancing show by aboriginal people.
Highlights
Visit the people of the Tai Ya Tribe on this tour from Taipei
See the famous Wulai waterfall
Aborigine Folk singing and dancing show
Scenic push-car ride
English-speaking guide
Hotel pickup and drop off
What You Can Expect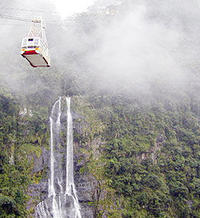 Tour Highlights
Scenic push-car ride
Wulai Waterfall
Aborigine Folk Dance
Pass by Swallow Lake
Chieftain Statue
Wulai, about 10 miles south of Pitan, is the most accessible area from Taipei to view the aboriginal tribesmen who once were the head hunters of Taiwan. See the famous Wulai Waterfall, falling from about 80 meters high and likened to magnificent white silk cloth coming down from the sky.

Drive along scenic mountain road following aborigine and ride in unique push-car to the top of a deep ravine. This is Wulai where aborigine girls will tell you of their lives in graceful song and dance.
June 2013
January 2013
A very interesting tour that gives a chance to see a show which explains aborigenese origins and traditions.
October 2012
Absolutely fantastic tour! The tour guide was so knowledgeavle and just an all around funny guy!
February 2013
We had a fast and bumpy ride up the village. The scenery was beautiful. The cultural show was equally good. We enjoyed our trip to the village very much. I would certainly recommend Viator to my friends.
June 2011
We lost some time due to break down of the mini-bus. It was sudden heavy down pour at the village and we appreciated that Mr Png (tour guide) made arrangement to have umbrellas for us. Thank-you.
August 2008
Very enjoyable show, however, lots of steps to climb on this tour which is hard on out-of shape tourists.
June 2015
This tour was a disappointment. We never even got to go down to the bridge shown in the advertisement. This tour is basically a ride to the Village, a fun little cart ride, a quick walk through part of the Village and a really commercialized show that is suppose to depict their history. I wouldn't recommend it.
August 2013
We were impressed with our tour guide who can speak in 3 kinds of language (English, Mandarin and Japanese). He was so nice, informative and helpfull.
July 2011
The aboriginal tour is just okay. The waterfall is nice, not spectacular and the aboriginal show is poorly preformed, you can not even take pictures during the show. I more enjoyed the drive to the village than the village its self. I would recommend to just go to Taroko Gorge because they have an aboriginal show too, and there's is much better and you are allowed to take pictures.
June 2010
The tour was ok but unfortunately it was raining.
Advertisement
Advertisement