31 Reviews
Location:

Taipei, Taiwan

Duration:

4 hours

(approx.)
Want to take a relaxing hot spring bath? Visit the Yangmingshan National Park and Beitou (Peitou) on this tour from Taipei. Visit the hot spring and fumaroles, the tranquil lakes and beautiful grass fields on this relaxing half-day tour from Taipei. The Beitou Hot Springs are said to relieve all ailments from muscle pain to nervous tension.
Highlights
Explore the stunning Yangmingshan National Park
Take a relaxing Beitou Hot Spring (Peitou) bath
Stop at a volcanic site
English-speaking guide
Hotel pickup and drop off
What You Can Expect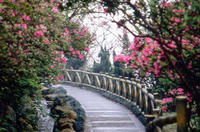 Tour Highlights
Yangmingshan National Park
Beitou Hot-Spring Bath
Yangmingshan National Park is located just to the north of Taipei, it's Taipei's closest national park. It is a volcanic terrain type park, rich with butterflies and birds. With crater lakes and sulfur fumaroles, hot springs, grassy plaines and blossoming cherry trees, the Yangminshan National Park is popular with locals and tourist alike.
After an hour's drive, stops will be made at the volcano site and Yangming Park.

Continue the drive downhill to Beitou area to experience one of the best hot spring bath in Taiwan. Bathing in the hot-spring water has a relaxing and refreshing effect. It helps to relieve muscle pains, nervous pains, digestive problems, arteriosclerosis and other ailments.
November 2015
This was a great tour with a great guide-especially enjoyed a quick dip in the hot springs! Highly recommend this!
November 2015
This was a great tour with a great guide-especially enjoyed a quick dip in the hot springs! Highly recommend this!
November 2015
This was a great tour! The guide, Jackie, was very informative and made for a great expereince. The volcanic landscapes and the tour climax at a traditional Hot Spring was very relaxing. A word of caution, we were taken to a traditional local hotspring ... dress code was mandatorily nude. A bit of a shock! But part of the cultural experience.
April 2014
Highly recommended. The guide was great with the whole group. He was very knowledgable about the area. Remember that you need to ask questions if you don't know anything about Taiwan. He will point out the main places on the way and if you see something else just ask.
October 2012
Absolutely fantastic tour! The tour guide was so knowledgeavle and just an all around funny guy!
April 2012
Great tour! Very helpful and accommodating. Our guide was great, a good mix of information and time to take in the different scenery. The easy pick-up and drop-off at hotels was especially convenient and helpful. One tip: wear clothes that you may not care about because the hot springs smell like sulfur and can make your clothes smell for days on end. Overall, it was a great tour and I would highly recommend it.
August 2008
Terrific!
March 2013
Bonus of this trip is we get to see Cherry Blossom! Although the park is smaller than we expected. The other bonus was that I didn't expect the tour to include the entry and usage of the hot spring. It was a nice experience!
January 2013
The National Park was lovely but as it was winter it would be more picturesque in spring. Particularly enjoyed the hot springs. This was a unique and enjoyable experience. The tour guide was good. The group was small so there was opportunity to ask questions.
November 2011
The weather was bad and I was the only one of the tour. The guide (who had not done all that well on a previous tour) was much better this time and gave enough information and answered questions. The hot spring visit was fine.
Advertisement
Advertisement