Explore the two neighboring towns of Yingge and Sansia on this tour from Taipei. Yingge is Taiwan's ceramic and potter capital, producing magnificent hand-painted works of art, from earthenware tea sets to delicate statues. Visit Sansia's Ching Shui Tsu Shih Temple, which is one of the world's finest examples of current Chinese temple art built in 1769.
Highlights
Visit one of Taipei's major temple, the Ching Shui Tsu Shih Temple
Walk through the old pottery street of Yingge and shop for unique ceramic and pottery pieces
Watch the artists at work at the Yingge pottery factory and showroom
Walk the old street of Sansia, lined with beautiful old buildings with bronze and stone sculptures
English-speaking guide
Hotel pickup and drop off
Recent Photos of This Tour
What You Can Expect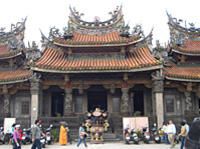 Tour Highlights
Sansia Ching Shui Tsu Shih Temple
Old Street in Sansia
Yingge's Pottery Factory and Showroom
Pottery Street in Yingge
This tour visits the neighboring towns of Yingge and Sansia. Yingge is Taiwan's pottery capital, a small town that produces hand-painted replicas of elegant Ming and Ching vases like those that once graced the places in Peking. The old Yingee pottery street is famous for it's ceramic and pottery stores. You'll have the opportunity to purchase some of these exquisite items. Every October the town holds a pottery street festival.

Visit a local Pottery factory where you can watch potters' working the clay and artists painting vases.

Tour continues to the traditional country town of Sansia, originally called Sanjiauyung. The main attraction in Sansia is the artistic Ching Shui Tsu Shih Temple, built in 1769 and destroyed in the 1833 earthquake, it was later rebuilt in 1867. The Ching Shui Tsu Shih Temple is famous for its camphor wood carvings. It is graded a a historic site and is one of Taipei's major temples.
Walk the beautiful old street of Sansia, lined with old western style buildings decorated with wood carvings as well as bronze and stone sculptures.
November 2014
The guide is very knowledgable and gives very detail description on the Temple in Sansia. The street of Sansia is very beautifully laid out.
The street in Yingge that sells ceramics offers a good choice of souvenirs. It would be better if we can visit the Ceramic Museum instead of the factory. To do this we may need more time.
It is a good introduction to Taiwan folk arts on the whole.
July 2010
The old street market and pottery factory were really neat.
Advertisement
Advertisement