Discover two cultural gems in Taiwan's crown on this half-day Yingge and Sansia folk arts tour from Taipei. Explore the town of Yingge with your guide and gain insight into Taiwan's pottery-making heritage. Admire hand-painted replicas of beautiful Ming vases and watch artisan potters at a local pottery factory. Visit the 19th-century Ching Shui Tsu Shih Temple in Sansia. Marvel at the impressive wood carvings you find and learn of the temple's checkered past. Then, follow your guide through Sansia's streets, where wood carvings and stone sculptures adorn the buildings.
Highlights
Visit one of Taipei's major temple, the Ching Shui Tsu Shih Temple
Walk through the old pottery street of Yingge and shop for unique ceramic and pottery pieces
Watch the artists at work at the Yingge pottery factory and showroom
Walk the old street of Sansia, lined with beautiful old buildings with bronze and stone sculptures
English-speaking guide
Hotel pickup and drop off
Recent Photos of This Tour
What You Can Expect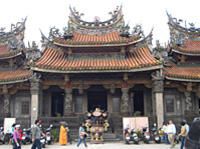 Tour Highlights
Sansia Ching Shui Tsu Shih Temple
Old Street in Sansia
Yingge's Pottery Factory and Showroom
Pottery Street in Yingge
This tour visits the neighboring towns of Yingge and Sansia. Yingge is Taiwan's pottery capital, a small town that produces hand-painted replicas of elegant Ming and Ching vases like those that once graced the places in Peking. The old Yingee pottery street is famous for it's ceramic and pottery stores. You'll have the opportunity to purchase some of these exquisite items. Every October the town holds a pottery street festival.

Visit a local Pottery factory where you can watch potters' working the clay and artists painting vases.

Tour continues to the traditional country town of Sansia, originally called Sanjiauyung. The main attraction in Sansia is the artistic Ching Shui Tsu Shih Temple, built in 1769 and destroyed in the 1833 earthquake, it was later rebuilt in 1867. The Ching Shui Tsu Shih Temple is famous for its camphor wood carvings. It is graded a a historic site and is one of Taipei's major temples.
Walk the beautiful old street of Sansia, lined with old western style buildings decorated with wood carvings as well as bronze and stone sculptures.
November 2014
The guide is very knowledgable and gives very detail description on the Temple in Sansia. The street of Sansia is very beautifully laid out.
The street in Yingge that sells ceramics offers a good choice of souvenirs. It would be better if we can visit the Ceramic Museum instead of the factory. To do this we may need more time.
It is a good introduction to Taiwan folk arts on the whole.
Diane C USA
July 2010
The old street market and pottery factory were really neat.
December 2013
Too much time at pottery factory so time at pottery street very limited.
May 2016
Our guide was a driver, not a guide. While he spoke excellent English he didn't have any prepared information for us and seemed to be totally unprepared for our outing.
The pottery factory was interesting and the employees did a good job with the tour.
July 2013
The tour was good, but the bus was not. It needed a new set of Shocks and tires. We bounced the entire tour. Our second day's tour was the same. Not sure if we were on a different bus or not. No difference in the ride.
September 2011
Didn't get to look at the Old Street of Sansia at all - just the temple. DEFINITELY not enough time. Rushed off to Yingge. Yingge was informative and would be interesting for people specifically interested in pottery. However, we weren't able to explore the Old Street there either, and we spent the majority of the time in show rooms with pieces that were insanely expensive. Not recommending this tour.
Marshall D Australia
December 2010
One of the most disappointing half-day tours my wife & I have ever taken. We went initially to Sansia & spent so long at a Taoist temple that we were only able to walk about 50 metres along Sansia Old Street before our guide told us it was time to go to Yingge. Instead of going to Pottery Street as expected or the ceramics museum as we'd hoped, we were taken to a single store, where prices were quite expensive. No-one wanted to purchase anything, whereupon the tour guide announced we had 20 minutes to spare & we would go back to the railway station so we could look in the shops opposite. Unfortunately, the quality of the pottery in those shops that were open was very poor & staff in several stores were clearly surprised at our wanting to look at their merchandise. One person made a single purchase before we were back at the tour van well before the 'spare 20 minutes' had expired. My wife & I were disconcerted by the absence of seat belts in the 9-seater van that was used for this tour & did not feel comfortable while travelling. While the tour guide was very personable & knowledgeable, I cannot recommend this tour to anyone interested in seeing Sansia or Yingge.
Advertisement
Advertisement