Get up close and personal with more than 100 exotic cats, including 15 different species of wild cats, on this guided walking tour of Big Cat Rescue, an educational sanctuary in Tampa. Listen and learn about the plight of the big cats in the wild and in captivity while walking through 45 acres of leopards, lions, tigers and other feline friends. Get within a few feet of these beautiful creatures and hear the story that brought them to the sanctuary. Choose from the 90-minute tour or a 1-hour kid's tour.
Highlights
Big Cat Rescue day tour

Meet 100+ exotic cats representing 15 species of wild cats
Explore 45 acres of the sanctuary and enjoy close-up views of leopards, lions, tigers and more
Peek into underground dens and notice glowing eyes peeking back at you
Choose from a 90-minute tour or a 1-hour kid's tour

The Tampa Big Cat Rescue is only a 15-minute drive from downtown Tampa.
Why Our Insiders Chose This Tour
Big Cat Rescue has the distinction of being the world's largest accredited sanctuary that's dedicated entirely to abused and abandoned exotic cats. Some of the sanctuary's celebrity supporters include Bo Derek, Harrison Ford and Leonardo DiCaprio, to name a few.
Recent Photos of This Tour
What You Can Expect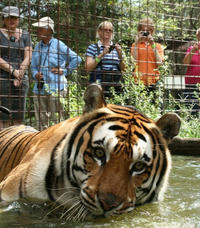 On this 90-minute wild cat rescue tour, see over 100 lions, tigers, leopards and other feline friends that have been saved from abuse and abandonment. The guide at Big Cat Rescue will share the animals' tales of hardship and triumph, like the serval that was rescued from a cold, dark basement.
The stories are plentiful. One cat was confiscated from a drug raid, another got too old for the circus, and yet another was simply neglected by its owner. These cats can't be returned to the wild, but the sanctuary does give them the most natural existence they could possibly have.
On the 1-hour kid's tour (for ages 10 and under), get a behind-the-scenes look at Big Cat Rescue's operation and learn more about the exotic cats and other animals that live here.
Keep in mind this is a sanctuary, not a zoo. People are not allowed to wander around by themselves. This tour is guided and provides an educational experience on the plight of big cats in the wild and in captivity and what can be done to save them.
Big Cat Rescue has a dozen species of cats, many of whom are threatened, endangered or extinct in the wild, including tigers, lions, leopards, cougars, bobcats, lynx, servals, ocelots, caracals, and some exotic hybrids. Some of the sanctuary's celebrity supporters include Bo Derek, Harrison Ford and Leonardo DiCaprio, to name a few.
April 2016
Very enjoyable 90 minute tour.
April 2016
It was great. Our tour guide was very knowledgeable and you could see she truly loved what she was doing. Would definitely go again and recommend it to anyone!!
March 2016
Very enjoyable and informative. A must for any animal lover.
March 2016
It was a great way to spend the morning. We loved seeing so many species of cats. My favorites were the numerous tigers and cougar. Hearing some of their stories was sad, but it's good knowing that they're being well taken care of at the rescue. I highly recommend this tour for all ages.
November 2015
We had a fantastic time seeing the beautiful cats and listening to thier stories. Our guide was great and answered all of our questions
November 2015
you gotta go !!! The felines are amazing and the sanctuary is a wonderful place for these animals to live a better life. Support the cats with a visit. Check out the great gift shop too for special items/gifts. Its all for the big and little cats
June 2015
So glad i could visit the kitties and with my ticket they eat n have a place to stay :
May 2015
Missed the tour, but any donation going to help any big kats was worth the lost.
May 2015
March 2015
Beautiful tour, beautiful facility. Cats are healthy and happy. A joy to see.
Advertisement
Advertisement