Get up close and personal with wild cats on this guided, 1-hour feeding tour at Big Cat Rescue, an educational sanctuary in the Citrus Park area of North Tampa. Watch big cat keepers feed tigers, leopards, cougars and more while observing from just a few feet away. Walk around the sanctuary with the feeders as they talk about the cats on their feeding route, including where they come from, what they eat and how they hunt in the wild.
Highlights
Feed the Big Cats
Watch the feeding of cats range in size from a 30lb bobcat to an 800lb tiger
Learn about a number of the big cats, where they come from, how they live in the wild
Walk through the sanctuary with an experienced guide who will tell you about the cats you are watching being fed
Recent Photos of This Tour
What You Can Expect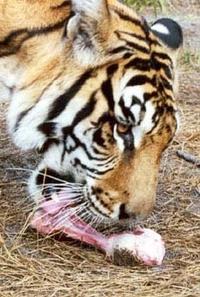 On this 1-hour wild cat feeding tour, watch big cat keepers feed tigers, leopards, cougars and other feline friends that have been saved from abuse and abandonment — everything from a 30-pound bobcat to an 800-pound tiger. The guide will share the animals' tales of hardship and triumph, and talk about where they came from, what they eat and how they hunt in the wild.
Big Cat Rescue has the distinction of being the world's largest accredited sanctuary that's dedicated entirely to abused and abandoned exotic cats. It is home to about 100 lions, tigers, bobcats, cougars and other species, most of whom have been abandoned, abused, orphaned, saved from being turned into fur coats or retired from performing acts. The sanctuary's dual mission is to provide the best home they can for the cats in their care and to educate the public about the plight of these majestic animals, both in captivity and in the wild — to put an end to abuse and to avoid extinction.
Big Cat Rescue has a dozen species of cats, many of whom are threatened, endangered or extinct in the wild, including tigers, lions, leopards, cougars, bobcats, lynx, servals, ocelots, caracals — even a Geoffroy's cat and some exotic hybrids. Some of the sanctuary's celebrity supporters include Bo Derek, Harrison Ford and Leonardo DiCaprio, to name a few.
Keep in mind this is a sanctuary, not a zoo. People are not allowed to wander around by themselves. This tour is guided and provides an educational experience that includes the plight of big cats in the wild and in captivity and what can be done to save them.
December 2015
It was a great experience to see the big cats up close, and to learn their personal stories. The tour guide and feeder were friendly and obviously committed to what they were doing. I learned a lot about the challenges these animals face in the world today, and how to help.
Dan H.
March 2015
It was a great time. To get so close to the big cats and be able to see them being well taken care of.

December 2014
Directions to Big Cat Rescue could have been a little better. Ended up getting there late and missing the departure of the tour. We were able to rebook for the following day. Staff were extremely accommodating and knowledgeable. Enjoyed the experience.
Advertisement
Advertisement