17 Reviews
Location:

St Petersburg, Florida

Duration:

2 hours

(approx.)
Experience the city of St Petersburg with ease and comfort on this historical Segway tour. Cruise along Tampa Bay, pass the St Petersburg Pier, and coast by Victorian-style houses as you hear about the city's interesting history from your knowledgeable guide. See the site where the world's first commercial flight took off and learn about the area's former Tocobagan Indians, whose princess became the basis of the Disney story of Pocahontas. This is a great tour for first-time visitors and locals alike!

Highlights
2-hour historical Segway tour of St Petersburg

Coast along Tampa Bay, pass the St Petersburg Pier, and cruise by Victorian homes
Visit numerous historic sites including where the world's first commercial plane took off from
Learn about the history of the area's former Tocobagan Indians, whose princess inspired the Disney story of Pocahontas
Choice of several departure times throughout the day
Small-group tour limited to seven people ensures a more personalized experience

What You Can Expect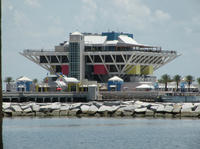 Meet at North Straub Park in St Petersburg at your chosen time for a safety orientation. Once you feel comfortable on your Segway, you're ready to start your historical tour of the city!

Coast along Tampa Bay, pass beautiful Victorian-style houses, and learn why the city was once called the 'City of Green Benches.'

As you glide through the downtown area behind your guide, learn about the culture and history of the Tocobaga Indians who once lived in the area. Hear how their mysterious spiritual burial mounds once covered the entire region, and discover a little-known fact about the tribe's princess, who's said to have inspired the Disney story of Pocahontas.

Visit the location where the world's first recorded commercial flight took off from and see pictures of the man who made history, as well as the plane he used for the groundbreaking flight. Continue down the beautiful St Petersburg Pier, where you'll learn about its history and importance to the development of the area, and get an up-close view of the once-endangered brown pelicans bathing in the sun.

You'll then return to North Straub Park to conclude your tour.
July 2015
Great trip! Doo was great tour guide. Thoroughly enjoyed the experience.
June 2015
We had an amazing time! It was very informative and loads of fun! It was so easy too! We were all over 60 years old and were concerned! Loved our guide! She was adorable! Very highly recommend this adventure! Young and old!
April 2015
Fun and informative guide. A beautiful route and we got to move along at a good pace.
September 2014
The St. Pete historical Segway tour was an outstanding tour. Our tour guide, Doo, was absolutely incredible and insightful. She was constantly offering little tidbits of historical information that was totally unknown to my Segway partner and I. This was a pleasant surprise since we have lived in the area for a number of years and had no idea of why some things were the way they were or how the names of certain structures, streets, avenues, etc. received their names.. She was very open and knowledgeable when answering any questions we may have offered up. I would certainly entertain going again in the very near future because it was just a fun and entertaining 2 hours. Doo always seem to know when a break was in order which was most appreciated because the day was quite hot and humid. For those that have some athletic ability and good foot/leg strength then I would recommend taking a Segway tour and I would most certainly recommend booking with Doo and her fellow tour guides either directly or through Viator. Using Viator was so simple and easy to do and the reviews they set forth on this particular historical tour were absolutely "spot on" so to speak. I thoroughly enjoyed my Segway ride and became quite comfortable with the use of a Segway due to the excellent "preliminary training" that Doo offered... Look forward to going again...
February 2014
The tour was great fun as well as informative. Doo does a great job and I highly recommend the tour. I wouldn't mind doing it again just to ride the Segway.
February 2014
This is a wonderful tour. This is, in fact, the second time I have taken it. The segways are a lot of fun and not difficult to ride. Just takes a few minutes to get the hang of it. The star of the tour is Doo, our guide. She is well versed in everything St Pete. Her delivery is excellent and she keeps on informing us and pointing out important and/or oddities along the whole route. She plays suitable music. I really enjoyed her presentation.
Now I know where I would like to return to see the individual sights. In fact, we returned to the market for lunch after the tour and it was really good. A big Bravo to this tour.
December 2013
A fantastic trip, Doo was a great guide as well as being a great instructor. She made it very easy to get used to the Segway and her fun and relaxed manner put you at your ease. There was only the two of us on this trip but that didn't reduce the tour and Doo still put everything into it. The tour was very informative and we also had the added bonus of seeing dolphins in the harbour. A great value, great fun tour which everyone should try.
July 2013
Excellent. What a fun method of seeing the historical sites.
July 2013
we had the best time on our tour saw all the best parts of the city and had some great dolphin watching!!
loved it!!!
June 2013
We had a fantastic time! The equipment ISegways) were in top shape, WE were given plenty of time to acclimate ourselves to their operation. And the routing and time taken during the tour were sufficient to really enjoy the ride... The tour itself was quite enjoyable in that there is a great deal of interesting history in downtown St. Petersburg, FL that is easily missed if not taken on foot or via this type of travel. Because of the ride, pace, and open air mode of transportation (plus we had perfect weather) it was an exceptional morning. At the end of the tour, we were given about 15-20 minutes to "play" with these machines in a nice open park area along the St. Pete waterfront. It was a good as it gets! Highly recommend this tour - certainly worth the reasonable fee for the entertainment value!!!
Advertisement
Advertisement