There's no need to be a certified SCUBA diver at the Swim with the Fishes adventure at the Florida Aquarium in Tampa Bay. This guided, 30-minute expedition replicates a coral reef in the Florida Keys.

You MUST provide the following information for each passenger at the time of booking: first name, last name, birth date, height, weight, shoe size, age, gender and any special needs.

Highlights
Swim with the Fishes
At the Florida Aquarium you'll have the opportunity to encounter one of the Florida Keys most beautiful coral reef dive sites
Experience the thrill of SCUBA diving from the surface, while enjoying all of the sights below
The Coral Reefs Gallery simulates a 60 foot dive modeled after an actual dive site in the Dry Tortugas near Key West
What You Can Expect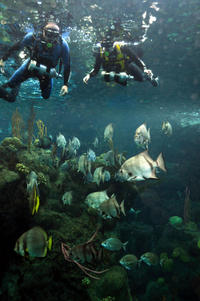 Swim with the Fishes is an introduction to SCUBA diving at the Florida Aquarium in Tampa. Visitors experience the thrill of underwater diving in a controlled environment from the surface of the sparkling, clear water. Just strap on a small SCUBA tank, a regulator and a floatation device (all provided) to stay on the surface while enjoying all the sights a coral reef has to offer.

The Coral Reef Gallery at the Florida Aquarium simulates an actual reef in Dry Tortugas National Park near Key West, Florida. This man-made reef is home to a wide variety of fish including moray eels, a prickly porcupine fish, colorful surgeon fish and many more. Get up close and personal while friends and family watch from the outside on the exhibit's pathway.

All Florida Aquarium dive team members are professionally trained to supervise recreational diving activities

Advance reservations are required; Swim with the Fishes is not available to book on the day of your visit.

Advertisement
Advertisement