Special Offer
Book and save 8% compared to the local supplier's prices!
Your visit to Tampa Bay isn't complete without exploring the one Bay Area attraction that opens a window to the side of Florida that few ever get to see. The Florida Aquarium offers a dramatic and unique look at all that swims, floats, preys,and crawls in and around Florida waters and beyond.
Highlights
The Florida Aquarium is located in downtown Tampa
See thousands of sea animals and plants
Hands-on experience with live sharks and rays in a 5,000 gallon touch pool
Enjoy live animal encounters, and a complete program schedule daily
What You Can Expect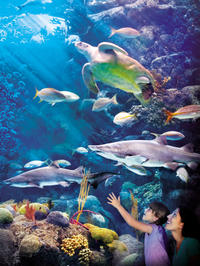 The Florida Aquarium features 200,000 square-feet featuring beautiful exhibits full of animals from Florida and beyond to enhance the experience of your visit. Home to more than 20,000 aquatic plants and marine animals from Florida and around the world tells the story of water's journey to the sea: from a single drop of rain to the deep waters where the ocean's top predators are found. Along the way, see river otters, alligators, stingrays, and sharks! You will experience our 500,000 gallon floor-to-ceiling Coral Reef tank and exit through Ocean Commotion. You can also meet a penguin up close or watch the children splash the day away in our outdoor water fun zone: Explore a Shore!
Itinerary
HIGHLIGHTS
"Explore A Shore"

Explore A Shore is 2.2 acre aquatic discovery zone for kids. Kids can climb on aquatic animal models, climb aboard a two-story pirate ship, slide down a waterslide, play in water jet sprays and watch live animal programs while socializing with family and friends. Best of all - it's free with regular admission!
Join the crew aboard the two story, 24-foot Pirate Ship and shoot water cannons at your friends across the plank. Climb across the cargo net to the ships main deck and look through the telescope for a manatee, dolphin, shark and a shipwreck. Take the helm and follow the map to the buried treasure.
Climb up the 10-foot Eel Reef Rock structure. Discover coral caves while playing on ladders, cargo nets and slide through tunnels while misters spray around a giant eel's head.
Crawl through an eight-foot by four-foot wave in the Surf's Up Wave Tunnel. Ride the dolphin model or surfboard.
Play in the jet sprays to the soothing sounds of tumbling water in the cascade fountains.
Climb into the crocodile's mouth, ride a sea turtle and devil ray at Shipwreck Shore for toddlers. Sit in a six-foot sea horse daddy's lap and walk on the moray balance beam.
The Tampa Tribune Caribbean Cantina provides an area for parents to enjoy refreshments, relax and watch their children play.
Penguin Promenade
Black Footed African Penguins have waddled their way to the Aquarium. The two siblings will appear in the lobby everyday at 10am and 3pm.
Journey to Madagascar
The country of Madagascar is known as a biodiversity hotspot; this gallery will take you through the wildlife and landscapes of the world's fourth largest island, where you will see ring-tailed lemurs, hissing cockroaches, chameleons and an Indian Ocean coral reef.

Wetlands Gallery
Your adventure begins under a spectacular glass dome, home to freshwater fish, free flying birds, playful river otters, Florida alligators, and a host of other inhabitants of Florida's wetlands. Climb a giant staircase to the towering mezzanine of the Wetlands Lookout for a bird's eye view of the entire gallery below.
Bays and Beaches Gallery
Maybe you've been to Florida's beaches, but do you ever wonder what's lurking below the surface? Take a walk under a bridge, stroll by the beach, and encounter seahorses, stingrays and spiny lobsters without ever getting wet. You'll see the life of Florida bays and shorelines upclose and in awe-inspiring detail.
Coral Reefs Gallery
Plunge into the awesome underwater world of a 60-foot dive for a one-of-a-kind look at a coral grotto. From clouds of colorful fish swimming in unison, to green moray eels hiding in dark crevices, it's a constantly moving parade of life.
Sea Hunt
Sea Hunt includes sharks, as well as seldom-seen hunters like the giant Pacific octopus, cuttlefish - whos colors change with their moods and some very bizarre hunters, like the frogfish and wolf eels. Also on display are the beautiful hunters - the lionfish and the butterflyfish. Armed with different strategies, all these hunters are equipped to seek and capture prey in one of the most demanding environments on earth, the ocean.
No BoneZone
This unique 1,200 square-foot presentation is the Aquarium's first focus on invertebrates (animals without backbones). No BoneZone is especially designed for the younger marine enthusiast, with low tanks and plenty of hands-on opportunities.
May 2015
Never seen such an amount of different animals in one complex ! Awesome Aquarium ! Clean and perfect tour round everything ! Highly recommended !!
January 2014
Our guest enjoyed the marine exhibits and the day was very enjoyable. I know from previous visits with grandchildren that the aquarium is a very good day of learning and enjoyment.
November 2008
Sea world has a great underwater aquarium and this is a little far if you're staying in Orlando. But it's nice and cheap if you're after a day out.
October 2008
The Aquarium was wonderful, clean and not overcrowded.
September 2015
Not as small as SeaLife Hannover/Germany but worth a trip to do. Don't forget to looks around the harbour area where the Aquarium has been built in. A good example for the new usage of old industrial waste land.
August 2014
I loved the aquarium, especially the water park. ..I wish there were more activities than the waste spots though. Maybe a slide upgrade.
Special Offer
$23.95 Save $1.96
Advertisement
Advertisement