See the stunning Aeolian Archipelago on this day trip to the islands of Vulcano and Lipari from Taormina. Take a motorboat across the turquoise waters to the UNESCO-listed chain of volcanic islands. Soak up free time to explore spot, kicking back with a mud bath in Vulcano, cooling off with a swim in the Tyrrhenian Sea or checking out the Lipari Archaeological Museum for a bit of island history. Your day will conclude with transportation back to Taormina.
Highlights
Day trip to the UNESCO-listed Aeolian Archipelago from Taormina
Travel between Sicily and the Aeolian Islands by motorboat
Sightsee independently on Lipari, the largest of the archipelago's islands
Explore Lipari Old Town or visit Lipari Archeological Museum, if you wish
Relax at leisure on Vulcano, either visiting the mud baths or sunbathing on a beach
Why Our Insiders Chose This Tour
Shop in Lipari's flower-filled streets, and then escape the heat by visiting a bar to try a granita (cone of crushed, flavored ice) and a slice of local brioche. Whatever you do, don't forget your bathing suit; the deep-blue sea around Vulcano is one of my all-time favorite places to swim.
What You Can Expect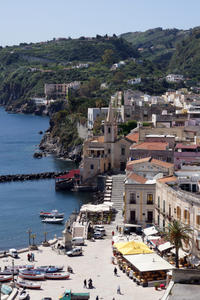 Begin your day trip in Taormina, where you'll meet up with your guide and hop aboard your coach. Head north for roughly an hour before switching to a motorboat at the Port of Milazzo. Set out on the water toward Lipari, learning about the volcanic island's history and pumice production as you go.

Enjoy some free time to explore at your own speed when you arrive. Take a walk around the Old Town, or stop by the Lipari Archeological Museum (own expense), brimming with in-depth displays on the local marine life and volcanoes, as well as the history of the Aeolian Archipelago.

Pause to purchase lunch before journeying to the island of Vulcano by boat. Aside from the three steaming volcanoes you'll find there, Vulcano's main attraction is its mud baths. Consider paying a relaxing visit to one of them, or use the time to spread out on the beach and swim in the Tyrrhenian's warm waters.

On the return boat ride to Sicily, take a spin around the island's coastline, passing the Faraglioni Rocks and the Grotta del Cavallo (horse cave).

Your day trip will conclude with a coach ride back to your original departure point in Taormina.

Itinerary
Please note: The listed price does not include a 1.50 euro eco tax, payable on leaving the Port of Milazzo. The fee is required by the port and is not within our control.
September 2015
Lipari is a beautiful island and where we stopped was very picturesque with lovely streets and lots of shops, bars etc We then went on to Vulcano where we wandered and had lunch didn't try the mud baths though they looked like fun. Franco our guide was very informative throughout the trip and readily made himself available to answer the groups questions. Would definetly recommend.
June 2015
August 2014
What can you say other than WOW about this trip? Volcano's, black sand beaches, sulfur baths, and of course Italian food along with a boat ride. It was delightful. We loved Taormina anyway, it was almost our favorite place, (sorry Florence is still top of the list). There is no place like Taormina though and the views are incredible. We could see lava flowing from Mt. Etna from our patio. WOW!
August 2014
This tour is worth the money. The information provided was insightful and the restaurant chosen for lunch was nice.
May 2014
We had a great time on both islands it was worth the money we spend the tour leader was very helpful and he speaks good English and he gave us enough information of both islands too.
November 2015
We really enjoyed this tour! When visiting Lipari the taxi tour around the island is essential. The tour costs 10 Euros and lasts about 75 minutes! It had incredible views as the taxi had photo stops along the way. The only downside was on our stop at Vulcano. There simply was not enough time if someone wanted to hike up to the crater. We were told the hike was 50 minutes to the top. After a brief introduction by the guide to the island, we had 1hour and 40 minutes to hike up, take in the views and pictures, and then hike back down. The risk was not worth missing the boat so we reluctantly never tackled it as it was too rushed.
Elizabeth M S Australia
November 2015
My hotel was about 100 metres from the Taormina bus station so it was very convenient to be able to catch the bus to and from the boat as an inclusion to the days outing. It was a most enjoyable day.
September 2015
A very pleasant day. The trip around Lipari was worthwhile but this meant we could not see around Lipari town which would also have been worthwhile. We would have preferred more time on Lipari and less time on Vulcano though the latter was enjoyed too.

July 2015
Great tour. The circle additional cost tour was great a necessity really but not enough time to do that and have a little look around the city itself as we were on the bus. The vulcano trip was great with free time to do as we liked. Just a note that if you want to go into the mud baths DONT wear your best swimmers or your jewellery as they will get damaged.
June 2015
Nice trip, well coordinated. Not sure I would advise visiting Lipari, there is not too much to see on this island, and you need a form of transport to visit. Vulcano was great! Climbing the volcano, doing a mud bath, and going to the beach are all in walking distance, wish there was more time here!
Advertisement
Advertisement