54 Reviews
Location:

Taormina, Italy

Duration:

8 hours

(approx.)
Visit Sicily's famously fiery volcano, the magnificent Mount Etna, on a day trip from Taormina. Listed as a UNESCO World Heritage Site, Mount Etna is Europe's tallest active volcano, and views from it over Parco dell Etna (the national park) are breathtaking. Explore the foothills around the base station on a 3-hour independent hike, or upgrade to include transport to Mount Etna's summit and a walking tour of the craters at the top.
Highlights
Day trip to Mount Etna from Taormina
Travel to Etna's base station at Rifugio Sapienza
Enjoy three hours at leisure to trek around the foothills of Mount Etna
See the famous Monti Silvestri Craters near Rifugio Sapienza
Upgrade to visit Mount Etna's summit with a guide and walk around bubbling craters
Why Our Insiders Chose This Tour
Admire sweeping Sicilian views from Europe's most active volcano; it's an experience you'll never forget! As you walk, look out for loose bits of black magma stone that you can take home as a free souvenir of your trip.
What You Can Expect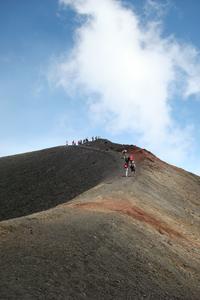 Start your day trip by boarding your air-conditioned coach in central Taormina, and then relax on the 1-hour journey inland to Mount Etna, the island's brooding – and spectacular – nemesis. Set in the middle of a national park, Europe's highest active volcano dominates the Sicilian landscape around it.

Hop out of your coach at the base station Rifugio Sapienza, and then enjoy roughly three hours at leisure to trek independently around the foothills of Mount Etna. The area is covered with hiking trails that zigzag in all directions, and your host will happily point you in the right direction for the Monti Silvestri Craters – two small, yet impressive, craters near the base station.

If you want lunch before or after your hike, visit Rifugio Sapienza's restaurant. Food and drinks are at your own expense, but the restaurant offers a good selection of hot and cold snacks.

Eager to visit Mount Etna's summit? Upgrade to skip the three hours of independent time and head straight up to the top with your alpine guide, instead. Ride by cable car to a height of 8,202 feet (2,500 meters), and then travel the remaining distance by 4x4 jeep, stopping at a dizzying 9,843 feet (3,000 meters). Follow your alpine guide carefully around the craters at Mount Etna's summit, peering into hornitos (small openings that release lava), and learning about volcanic activity in Sicily. At the end of your walk, return to the base station via jeep and cable car to meet the rest of your group.

Then, return to Taormina in the comfort of your air-conditioned coach. Your day trip finishes with a drop-off at the start point.
August 2015
A fabulous day. Everything was great. Our coach guide Elizabeth I think was very friendly and spoke really good English. She organised everything and came up with us to the start of the walking tour at the top to make sure everything was organised properly. Our walking guide was great fun and spoke perfect English.
Only problem and nothing to do with Viator was the state of the toilets at the coach stop. Too few and dirty.
Completely recommend this tour to anyone.
July 2015
Excellent trip to the top of Etna. Tour consists of approx. 75 mins on a bus, followed by a short cable car ride and then about 15 mins in a jeep to the top. Keep in mind the temperature difference between the town and the summit: When we were there in early June, the temperature was 30 C in Taormina town, yet we experienced thunderstorms, hail and torrential rain at the top! But even despite the poor visibility on that particular day, the scenery on Mount Etna itself was still beautiful - the landscape appears almost 'lunar'.
We particularly liked the fact that after the tour of the summit, you are free to choose whether to spend the remaining time at the summit or at the first or second stations. Only very minor quibble is that the bus left Etna relatively early and we were back at Taormina bus station a good half an hour before the advertised finishing time. But overall, highly recommended.
July 2015
Very good in every single way!
July 2015
Fabulous, like nothing on earth. We had a clear day which helped so the views were incredible. Other people at our hotel had cloudy days and were cold and a bit disappointed. It was like a moonscape at the summit. Guides didnt speak much english but were helpful. Not many toilets !!
June 2015
This is an excellent trip! We pre booked and paid 66 each, this included the air conditioned double decker coach from Taormina bus station with a guide speaking in English, Italian and German, he was interesting and helpful explaining the arrangements of the trip. We had warm weather and clear sky, when we arrived at the base of Etna we had a half hour break for snacks at a cafe and toilet break then we collected our tour pass from our guide which gave us access to the cable car ride, 4x4 minibus and guide round the lip of a crater. There were queues for the cable car but with our pass we walked past these and got straight on, the views were brilliant. At the top of the cable car ride we climbed into one of the 4x4 mini buses and were bounced around as it zig zagged up the side of Etna. We were then met by a guide and followed him up to and around the lip of a crater which he informed us was last active in 2002 and we were shown small areas of steam where the ground was increadibly hot. The tour was slow paced with plenty of time and space for some dramatic photographs of Etna, the crators and the views. One member of the group was on crutches and another with a damaged knee and both made it round fine. Our guide wasn't particularly informative other than this but showed us the way to walk and allowed everyone to take their time. We then got back on one of the waiting 4x4 minibuses and had about 30 minutes to buy food from one of the cafes and look in the souvenir shops before we were due back on pur coach. We took warm clothes, waterproof jacket, hat and scarf but due to the weather we only wore jeans, tee shirt and trainers. This was a fantastic, dramatic and relaxing trip.
June 2015
Excellent trip, very knowledgeable guide. I would recommend taking some very warm cloths if you intend to go to the top of Etna, which I would recommend as it is fascinating to see.
June 2015
Was quite disappointed as the local guide who took us around the crater couldn't speak good english.
But with such awesome views it was hard to stay disppointed for long. Really worth the money for such a spectacular trip.
June 2015
Excellent trip - excellent guide - exceptional driver - well worth the extra money to go to the top.
June 2015
Informative guides both on the bus and on the walk around the crater. Would have loved more time but thats usually always the case. Would definitely recommend the upgrade.
June 2015
NOTE: everything below applies to the technical part of our journey on Saturday May 30th:
An absolute must-see attraction that will live long in the memory. We pre-booked through Viator and the tour was delivered by a buss company. Just to note, the price in Taormina to the summit and you really must go to the summit! was 88. If you're lucky with exchange rates then it works out just about cheaper than pre booking for 65, but that is a big if. In any case, those who left it to the day to upgrade their tour to the summit had to pay a hefty 60 increase on top of their original ticket!
The bus terminal is located on Via Pirandello on the right a few minutes after the cable car station, heading downhill. The clearly identified coach was large and comfortable. It arrived 15 minutes before departure and left on time. I wasn't asked to show my ID but your experience may be different. The journey up with accompanying tour guide was very scenic and provided amazing views along the way.
Elizabeth was our guide up to the bus station and she provided competent frequent tour guide speeches in English, Italian and German. We had phenomenal weather and were warned that at short notice things could change which would impact our excursion. Luckily they didn't for us but the next day the summit looked very cloudy and I'm sure would have impacted many visitors that went up on that day. So please check the weather in advance as best you can, because we just got lucky.
At the summit, you will change from the coach to a cable car for the last leg of the journey. After this is where you can rent clothes and gear: 3 boots /6 jacket rental about 50-70 to buy jackets. Hiking sticks were available too. Do you need to hire stuff? Well, we chose to take a chance and only wore our regular running trainers, jeans, and fairly thick jackets. I only put on my jacket halfway through our time at the summit when the wind picked up.
Phenomenal experience!
Advertisement
Advertisement