Explore Europe's largest active volcano this day trip to Mt Etna from Taormina. Relax with transportation to the base station of Rifugio Sapienza and then take off through the foothills for three hours of hiking at your leisure. Upgrade your ticket for a trip up to the summit and guided walking tour through the volcanic craters. Soak up scenic views from the UNESCO-listed spot before concluding with transportation back to Taormina.
Highlights
Day trip to Mount Etna from Taormina
Travel to Etna's base station at Rifugio Sapienza
Enjoy three hours at leisure to trek around the foothills of Mount Etna
See the famous Monti Silvestri Craters near Rifugio Sapienza
Upgrade to visit Mount Etna's summit with a guide
Why Our Insiders Chose This Tour
Admire sweeping Sicilian views from Europe's most active volcano; it's an experience you'll never forget! As you walk, look out for loose bits of black magma stone that you can take home as a free souvenir of your trip.
Recent Photos of This Tour
What You Can Expect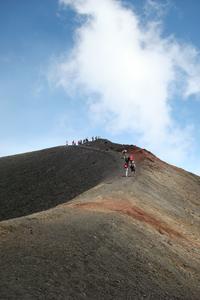 Hop aboard your coach in central Taormina and travel one hour inland to Mount Etna. Set in the middle of a national park, the notoriously active volcano dominates the surrounding landscape.

Step out at Rifugio Sapienza, the volcano's base station. Your host will point you in the direction of the impressive Monti Silvestri Craters before you take off exploring the foothills at your own speed. Discover the myriad hiking trails along the way and soak up incredible views from all over the national park. When you've worked up an appetite, head to Rifugio Sapienza's restaurant (own expense), located conveniently nearby.

Alternatively, upgrade your experience with a guided trip to the volcano's top. Travel up by cable car and then by jeep to the crater zones at roughly 9,800 feet (3,000 meters). Led by licensed guides from the Italian Alpine Club, admire the summit's craters and take in panoramic views from the top.

Your tour will conclude with transportation back to Taormina.
June 2016
June 2016
Excellent tour guide and driver! Mt Etna tour was amazing. Make sure to dress warm as it is cold near top.
June 2016
Brilliant experience. Well worth the money to do the cable car and 4 x 4 minibus. Our guide was very informative and took us round a crater explaining the formation etc. A very well organised trip - picked up and dropped off right outside our hotel.
June 2016
Thoroughly enjoyed the trip. The guide was excellent.

May 2016
GOod. On time and very clear!
Jess T United Kingdom
May 2016
My top tip for this tour is be prepared for temperature changes and have a warm coat. When we left Taormina it was 19C, 3000m up Mt Etna not only was it windy.... hello snow blizzard. We upgraded our tour to include transport to the top, it's worth it for the views and craters. My mum is on crutches, whilst it wasn't the easiest terrain for her we were aware it wouldn't be she did what she could and it was manageable.

May 2016
Unique experience!
We visited on April 2016. The weather is highly windy such that the cablecar had to occationally pause the operation, and swinging travellers mid-air. There's no need to fear, it's just that it took us more time up and down than usual.

April 2016
This is an incredible tour! I met the bus at the Recanati bus station no problem and it was only an hour to the 2000m station where there are a number of shops and restaurants. People who don't upgrade stay here were they can walk to two dead craters. However, the price of the upgrade is worth every red cent. We took a cable car and then a 4x4 minibus to the 3000m level and got a guided walk around one of the four active craters at the summit. The highest and largest crater is off limits and given the amount of smoke pouring out of it, a visit there would be out of the question. On the walking tour, the guide dug down a foot and offered us a chance touch the bottom if we wanted. It was almost too hot to touch! That crater had erupted in 2002. When we were done with the walk, we could choose when we took a bus and cable car down. Once I got down, I even had time to visit one of the dead craters at the 2000m level. In total, we had 3 hours on the mountain and I never felt rushed. Please note that one cannot walk from the 2000 to the 3000m level in that time frame as one couple on our bus wanted to do. Hats off to our guide Lisabeth for a great day.
December 2015
Linda USA
November 2015
This tour was one of the highlights of my 22 day trip to Rome, southern Italy, and Sicily. Stopped to take photos and taste honey on the way to Mount Etna. I would definitely recommend to go to the near summit of Mount Etna and not to spend your three hours solely on the lower level. We had enough time to go on a cable car, then on a jeep, and take a 40 minute tour with a guide around the craters, return to the lower level and walk around the shops and Silvestra Crater. There are restaurants to get a sandwich. I would not recommend buying lava jewelry at Mount Etna. You can get it so much cheaper in Taormina.
Advertisement
Advertisement