11 Reviews
Location:

Taormina, Italy

Duration:

13 hours

(approx.)
Visit Palermo and Cefalù on a day trip from Taormina, and discover stately Arab-Norman architecture, impressive churches and piazzas with Sicilian charm! With an expert local guide, enjoy walking tours of the cities to see highlights such as Palermo's Il Capo market, La Martorana church and Cefalù Cathedral. An optional visit to the neighborhood of Monreale – a famous producer of olive oil, oranges and almonds – can also be arranged (own expense).
Highlights
Day trip to the Sicilian towns of Palermo and Cefalù from Taormina
Enjoy a Palermo walking tour and learn about the city's Arab-Norman architecture
Stroll through Piazza Bellini to see the La Martorana church and Palermo Cathedral
Visit the Il Capo market and browse the colorful collection of food
Explore the town of Cefalù with a guide and discover the grandeur of Cefalù Cathedral
Why Our Insiders Chose This Tour
The Il Capo market is one of my favorite places in Palermo; it's a hive of activity, where traders shout to attract customers. Look out for stalls selling refreshing granita (crushed ice with Sicilian lemon) or cannoli, a local delicacy of sweet ricotta encased in a crisp pastry roll!
What You Can Expect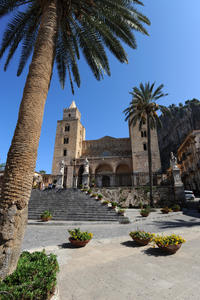 Meet your guide at the Bus Terminal of Taormina and board your air-conditioned coach for your journey west across the island to Palermo, Sicily's main town. Relax and admire the scenery as you travel, arriving in Palermo after roughly three hours on the road.

Stretch your legs on a walking tour of the city center – an area teeming with impressive art and ruins. Hear the history of the Arab-Norman monuments scattered through town, and how Palermo was Sicily's capital under both sets of rulers. When the Normans seized power from the Arabs in the 11th century, they were so fascinated by their predecessor's architectural legacy that they continued to include elements of Arabic style in their building designs.

Visit Piazza Bellini to see the La Martorana church – famed for its spectacular mosaics – and then stop for photos outside Palermo Cathedral with its elegant Arabic arches and blue-gray dome. Amble through the Baroque square of Quattro Canti (Piazza Vigliena), and head into Piazza Pretoria to admire its 16th-century fountains and palazzi.

The city is popular for its colorful markets. Visit Il Capo to saunter around the labyrinth of alleyways, browsing heaving stalls of fresh food and Arabic handicrafts. Spend time at leisure after your market visit, and relax at a cafe of your choice for lunch (own expense). If you want to visit the nearby town of Monreale, your guide can arrange transport for you at an additional cost.

Both groups meet back at a prearranged point for the journey to Cefalù, roughly an hour away. One of the sweetest Sicilian seaside towns, Cefalù boasts a historical town center comprising a maze of narrow alleyways strung with washing hung out to dry. Its standout attraction is Cefalù Cathedral, famous for its Mosaic of Christ Pantocractor – a stunning Byzantine mosaic that's considered as one of the most important pieces of religious artwork in Sicily. Head inside to marvel at the feature with your guide.

After exploring the town with your guide and at leisure, return to your coach and travel back to Taormina. Your tour then finishes back at the start point.
April 2014
A thoroughly enjoyable and informative day.I would encourage any visitor to Sicily to take this trip.
The road traffic accident delayed us but we did not feel that we missed anything at all.
October 2015
the trip is well organized, good guide, we had very little time for Palermo cathedral
August 2015
This is a MUST DO trip if you are staying at the eastern side of Sicily and do not have time to go to the Western part. Palermo is a beautiful city with a lot of history and in my opinion it would be a big loss if you come alI the way to Sicily and miss visiting Palermo. I would like to thank our tour guide Rosalia Tramuto for such an enjoyable and informative tour. Our only concerns about the tour was 1- We had to pay for the head phones which is not logical as I never had to pay for head phones in any guided tour I bought. 2- If I were a Siclian I would not want any tourist to see that market place anyway. It is a dirty and stinky place where they sell meat and fish in open air with flies all over them. 3- The tour drops you off and picks you up in front of a restaurant. It is a little expensive but I must admit that food is great. You may try some other place for a cheaper lunch. But no matter what, I strongly reccomend this tour to everyone. Worth it!
June 2015
Palermo should improve as the tourist attraction. Cefalu is charming. The tour itself is good. But you better find your own place for lunch.
April 2015
A long journey but the scenery crossing the central plain made it worth the effort.
May 2014
This was a great trip. Marco the guide and Nino the driver were very good. However, the local guide in Palermo would not wait for us to run back into the cathedral to retrieve a hat (it took us 2 minutes!). By the time we came out, she and the group had disappeared! Although we could hear her on our "Whisper", she gave no clue as to her location. Our instruction was to meet ultimately at a restaurant, which we eventually found. She said she had gone searching for us but she couldn't possibly have had time. We felt she was unprofessional not to wait , for tourists in an unfamiliar city, for no more than 2 minutes.
November 2015
This is a long tour which we were ready for. The disappointment is this. We had a 1hr 45 minute tour in Palermo which has a lot to see. We spent over an hour seeing two churches! One church was fine. You have to cater to all tourists on a tour so a mix is necessary. This is especially true when time is limited! Cefalu on the other hand was really good. We were allowed ample time to explore on your own. I would not recommend this tour if they plan on visiting more than one church in Palermo. It's too far to go only to have a limited experience.
December 2014
The trip was nice, but due to all the language accommodations I felt we had to rush through the tour and therefore, I cannot give it a stellar rating. Alfredo, our tour guide was very good, but again, I felt he was pressed because of the language situation. I was under the impression that this was English only tour when I booked it and wish that I was informed of the multiple languages that had to be addressed. it will not deter me from booking another tour with victor tours, however, I will be more mindful of the above situation.
November 2014
Palermo - I didn't liked; dirty, cramped, buildings that gives you the feeling that will break down if you step beside them; a "fish market" that ought to impress you but, after seeing Boqueria in Barcelona, ​​this one will seem a bad joke unfortunately ...
Cefalu is indeed very nice place and I would return here but together with Palermo was a very tiring trip , almost 500 km in 'shoddy bus' !
July 2015
Don't take this trip! Bus was half empty. They say you can either go to Palermo or Monreale (for extra money). Monreale is truly the jewel of Sicily. But there was no shuttle to Monreale. They tried to put me on a public bus.
Advertisement
Advertisement