Experience the volcanic majesty of Mount Etna at sunset on an enchanting evening tour from Taormina. With an expert guide, explore the volcano's explosive peak on a walking tour and then gaze at panoramic vistas from a height of 9,843 feet (3,000 meters) above sea level. Delight in the fiery orange glow of the setting sun before heading to a traditional restaurant at the foot of the volcano. Pleasure your palate with local Italian specialties (own expense) and enjoy the convenience of round-trip transportation from Taormina.
Highlights
Mount Etna sunset tour from Taormina, led by a local guide
Enjoy an evening walk around the summit of Mount Etna

Stand at the top of Mount Etna and watch the sun go down
Learn about famous volcanic eruptions in Sicily and see solidified lava rivers
Visit a restaurant in the foothill of Mount Etna for dinner (own expense)
Why Our Insiders Chose This Tour
If you have an evening free, then I'd recommend booking this Mount Etna tour. The volcanic scenery begs to be photographed, especially against the backdrop of a sunset!
Recent Photos of This Tour
What You Can Expect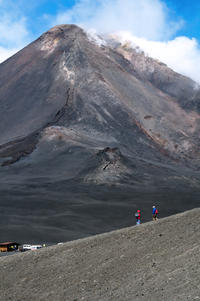 Greet your courteous host at a central Taormina location and climb aboard a comfortable, air-conditioned minivan destined for Mount Etna, the tallest active volcano in Europe. Admire breathtaking scenery as you begin to ascend the sloping side of the mighty volcano, listening to fascinating facts from your guide as you travel.
On arrival at an altitude of 5,906 feet (1,800 meters) above sea level, clamber into a powerful 4x4 jeep to continue your journey to Mount Etna's summit. Disembark at the volcano's vertiginous peak and delve into the fascinating history of the volcano as you behold petrified rivers of lava.
Capture photographs of dramatic craters and hear exhilarating tales of past eruptions while watching the sun's majestic descent. Absorb vistas of the Sicilian hills bathed in fiery orange light and then return to your jeep for the short journey to a restaurant at the foot of Mount Etna.
Pleasure your palate with meals from a traditional Sicilian menu (own expense) while chatting with your fellow explorers. Sated, return to the coach and relax during the journey back to Taormina, where the tour concludes.
December 2015
Fantastic, absolutely worth paying for, keep in mind it will get very cold at the top.
September 2015
It rained almost to the top of Etna and we were really not expecting to see the sunset and then all at once it cleared and the view was stupendous

August 2015
Very well organised tour. Amazing sunset and it was very exciting to visit the top of an active volcano.
Only thing of improvement would be that the alpine guide could have spoken a bit more loud and made sure he caught people's attention as many missed out on the great stories he had to tell.
John V United Kingdom
July 2015
A fantastic tour - beautiful scenery, Etna sunset was magical. Well managed with a stop off on the way back for the best pasta we had in Sicily.

margi Australia
May 2015
Very impressed with tour and guides!! Best night- Mt Etna had erupted few days before so wasnt sure what would happen but so special as we there- she erupted and put on an amaxing display!!! spectacular sight !!
July 2014
Very good tour and I recommend this one as opposed to the one that just takes you to the foothills. Knowledgeable and friendly host. We were fortunate enough to see some Stombolian explosions and the lava flow from near the top of Etna. The sunset was also spectacular. The meal on the way back was ok but not a great deal of choice.
One thing to note is that you will need a thick sweater and possibly jacket at the top of Etna. We made the mistake of ignoring the warnings as we had climbed Vesuvius last summer and thought the temperature would be similar. We were very wrong as it was freezing! We ended up having to rent jackets at 4 euros each. As extreme as it may sound it would be wise to pack a scarf, hat and gloves. Our fingers were so cold we could barely hold the camera. My 16 year old son packed a scarf and we all poked fun at him before we left but needless to say he had the last laugh. This trip is well worth the money - just go prepared.
June 2016
Great views..comedy ticketing for the trip up to the to
September 2015
The experience was fantastic! Our guide through the local tour company as not good at all. His command of English was weak and his knowledge of the area poorly executed. The excursion once we left him on Mt Etna was amazing. The guides who drove the land rovers were fantastic. Also the other tour groups guides were with them to add more information as well but we were left to fend for ourselves. I would definitely suggest this tour just make sue the operator is NOT THAT ONE.
October 2014
This was a great tour. Unfortunately for us the weather didn't co-operate and therefore there was not sunset at the top. The guide was excellent and the driver who took us to the top was really good. It got extremely dark at the top but he was confident with his driving and we all felt extremely safe. Walking around the top of the craters was a little scarey as it was quite windy and very loose ash underfoot but we all returned safe and sound. It is quite an experience and one I can recommend to anyone interested in the tour.
July 2014
Awesome afternoon and evening. Was amazing to go 2800 ft up the volcano and see the many craters, beautiful landscapes and wildlife. The sunset was incredible and one of those experiences you will remember for a lifetime.
I would advise you wear very sensible shoes (trainers or hiking boots) as you will be walking over the volcano and mountain and can be very unstable coming down! Also wrap up warm as although it was 30 degrees at the foothills, up 2800ft is very windy and wind chill probably brought temp down to 10 degrees.
The restaurant at the end of the tour was a charming mountain lodge with delicious (but small) a la carte menu with a choice of three starters and three mains. Service very good seeing as they were serving 40 guests all at the same time.
Only constructive feedback would be that our guide could have been a little more informative to the group when taking us up the Volcano (by foot and jeep). He was very friendly but would have been great to hear more facts and information about Mount Etna.
The sunset trip is definitely a must do.
Advertisement
Advertisement