See two of Italy's greatest archeological sites on this exciting guided tour of the Valley of the Temples and Villa Romana del Casale. Leave Taormina with a local guide and be prepared to get very acquainted with Ancient Greek statuary and architecture, as well as, as centuries-old monuments from the Roman Empire. See the amazing collection of mosaics and even an ancient hunting lodge.
Highlights
Day trip to the UNESCO-listed Valley of the Temples and Villa Romana del Casale
Leave Taormina and discover Sicily's finest ancient Greek and Roman ruins with a guide
See monuments like the Temple of Juno inside Agrigento's Valley of the Temples
Spend an afternoon at Villa Romana del Casale in Piazza Armerina
Admire one of the world's largest collection of Roman mosaics including the famous 'bikini girls' wall
Why Our Insiders Chose This Tour
Walking through the Valley of the Temples always makes me feel surrounded by history. The columns of the temples were originally decorated, and your guide will point out some of the carvings that have remained visible for centuries; it's a magical experience!
Recent Photos of This Tour
Valley of the Temples and Villa Romana del Casale Day Trip from Taormina
What You Can Expect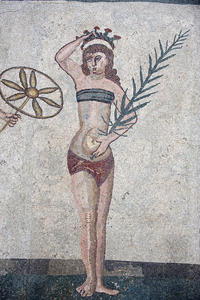 After meeting your guide in the center of Taormina, head off to Agrigento, located on Sicily's sunny south coast. Pull right up to the UNESCO World Heritage-listed Valley of the Temples, an incredible archeological spot on a hill that dates back to 430 BC. Pay the admission fees and then begin strolling around with your guide, navigating the labyrinth of relics and ruins.
Drink in the numerous sites, including the temple of Castor and Pollux and the Temple of Concord, an exemplary Classical monument. Then stop and marvel at the Temple of June, Temple of Jove, and the most ancient ruin on the site, the Temple of Hercules.
Take a break for lunch inside the Valley of the Temples (at own expense) and then hop back on the coach for the drive to Piazza Amerina to see the incredible Villa Romana del Casale, an old hunting lodge that is home to the planet's biggest collection of Roman mosaics. Take some time to study the mosaics, some of which depict every day scenes from centuries past.
Go inside the hunting lodge (at own expense) and wander around the rooms. Linger in the thermal baths for a while trying to imagine what daily life was like here over 2,000 years ago. Walk through the dining hall and courtyard. Gawk at the awesome mosaics, especially the 'bikini girls,' which your guide will offer an intriguing explanation about. Learn about the history of the lodge and how it was hidden thanks to a 12th-century landslide that buried it.
Stroll around the lodge, taking in the preserved art and architecture and then hop back on the coach for the journey back to Taormina.

Mario S Malta
March 2016
A long but very interesting trip to two great places in Central Sicily, showcasing fantastic remains from the Greek and Roman periods of Sicily's history. Tour guide Lisabeth was giving very detailed background information regarding the two locations, while at Agrigento we had a very professional tour guide who brought the ancient sites to life. The trip is also a good opportunity to view the fertile countryside of this region of Sicily. A trip not to be missed.
Linda USA
November 2015
This tour was a packed day but worth it to see the two site. I would recommend that you stay near the local guide at Agrigento to hear what she has to say and also stay near the Viator guide at Villa Romana to get the most out of your day. For our lunch break, the Al Porticciolo Restaurant was recommended by our guide. I would not recommend going there at all-poor service, mediocre food, and flies galore. It is rated 20/21 on tripadvisor for restaurants in this area and after you dine there, you can understand why it is rated so low.
September 2015
Worthwhile experience. A lot of walking between the temples on a very hot day. Bring lots of water with you. Enjoyed Villa Romana del Casale and the mosaic baths in the afternoon.
July 2015
excellent trip! It's a very long day, very hot and lots of walking. Bring plenty if water. Very informative, the guide was excellent!
June 2015
Solid tour with good value. Very informative.
June 2015
Long day but well worth the effort. The temples were great but do not do this on a very hot day. I have an arthritic ankle and use a walking stick but I was able to do this tour quite readily. There is a walk of about 2 miles or 5 km. Villa Romana del Casale was an absolute mind blowing experience and I would recommend it to anyone.

May 2015
I found this day trip absolutely fascinating. Our guides were totally professional and informative. The temples are an amazing window into the past. The Roman Villa and the 3500 sq meters of mosaic simply blew me away. It is a relaxing but incredibly interesting day trip.
May 2015
Kia Ora from Paihia New Zealand
thanks for your Review request on our Tour
We have already reviewd this and it was an amazing Tour specially our wonderful guide Alfreddo
Regards
Janine and Kevin Smith
October 2014
This is a LONG trip but it is well worth it. It was interesting to see the landscape in the centre of Sicily. I would never have expected to see these amazing temples outside of Greece. The villa was also described as having well preserved mosaics. This is an understatement! They were amazing as was the whole villa. You can really imagine how it was to live back in Roman times. We had a heavy thunderstorm on the return journey with fork lightning and huge rainbows!
Bernie W USA
July 2014
Very thorough and saw everything. I like the idea of eating on your own so you can decide if you want to spend more time eating or touring by yourself.
Advertisement
Advertisement