With a 2-day pass for Tasmania's Port Arthur Historic Site, you can explore this former convict colony, located on the Tasman Peninsula and part of the UNESCO World Heritage–listed Australian Convict Sites, with the flexibility and time to make the most of your visit. Included are a guided walking tour, access to the 30-plus ruins and historical buildings, a cruise on the harbor, and a visitor guide with a map. Follow the Convict Water Supply Trail, learn what life was like as a prisoner and see where officers lived.
Highlights
Port Arthur UNESCO World Heritage site 2-day pass

Tour one of Australia's best-preserved convict sites

See more than 30 historic buildings and ruins

Take a guided introductory walking tour and harbor cruise

Visit the Lottery of Life Convict Gallery, Museum and Convict Study Centre and Dockyards

What You Can Expect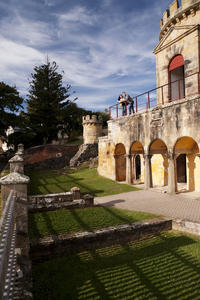 Spread across 100 acres (40 hectares) on the Tasman Peninsula, jutting out from Tasmania's southeast coast, the Port Arthur Historic Site is home to more than 30 historical structures and ruins that once made up a convict settlement. Your 2-day pass to this now World Heritage–listed site gives you access to explore as much as you want during your time here.

You may visit and participate in the included attractions and activities in whichever order you prefer, but it's suggested that you begin with the 40-minute introduction tour to orient yourself with the site and hear about the background of the penal colony and its prisoners. Then catch the MV Marana for a 20-minute harbor cruise, listening to onboard narration as you view the Dockyards, Point Puer Boys Prison, the Isle of the Dead Cemetery and Tasman National Park from the water.

In order to provide an educational yet entertaining way to explore the site, you'll be given a 'convict playing card' with your pass. Use it to follow the life story of one of Port Arthur's past prisoners, learning what he did to become incarcerated, his specific journey to the penal colony and what life was like for him and others in 1800s Australia and Britain.

Visit the Dockyards, where prisoners built high-quality ships in the 1830s, and listen to a 'soundscape' to hear sounds and voices from the active yard, making you feel like you've gone back to the 19th century. Then journey along the Convict Water Supply Trail, learning about the colony's flour-production operation, and visit the Museum and Convict Study Centre to find out if any of your ancestors are in the prisoner database. In the old Asylum building, learn more details about life as a convict, and then check out the Commandants House and Junior Medical Officers House to see how the other side lived.
May 2016
A very interesting two days, Port Arthur is a fascinating place! We also took a JetBoat tour which was also very entertaining...
October 2014
Had the most amazing time here,there is definitely a "feeling' ,we were really moved by all the different levels of history here not to mention the natural beauty.
February 2016
Walking tour very informative, had a great guide.
Cruise was ok but not necessary if you are short of time
May 2014
The Site itself is a must do experience and the initial walk through with the guide puts everything in place. The ferry ride takes about 20 minutes but we decided to take the optional tour of the Isle of the Dead. The tour guide was most informative and some of the stories he told were enough to put a chill up your spine. Also they estimate that 1100 to 1200 people are buried on the island but they are not quite sure where they are all buried so it is most likely the path you take walks over some of the bodies that are buried there. I was waiting for a hand to come out of the ground and grab an ankle. It will take a couple of days to see all the out buildings, worth the effort. advertisements is under
June 2013
We enjoyed our visit to Port Arthur Historic Site, which included a guided short walk and a short cruise. You could see most of what's on offer in one full day or break it up over two days as we did. The Bronze ticket price (which is the cheapest available and what we bought through Viator) is available as a two day pass only. We had a lovely time there.
Advertisement
Advertisement