Choose among three Taupo adventure combos for a multi-thrill experience of the North Island, taking your action-packed challenge to the water or the sky. You'll have the time of your life with each adrenaline-charged experience: hover in a helicopter above the Warakei Geothermal Fields; spin out to Huka Falls on a Waikato River jet-boat ride; take a scenic Lake Taupo cruise by catamaran; or go whitewater rafting on the Tongariro River. With professional guides and all equipment provided, you'll see all angles of Taupo's great outdoors.
Highlights
North Island adventure combo in Taupo
Choose from four exciting activities in three different combinations
Speed down the Waikato River on a 30-minute, action-packed, jet-boat ride

Soar over the Wairakei Geothermal Fields on a 12-minute helicopter ride
Feel your heart race on a 2-hour whitewater rafting tour on the Tongariro River
Take a 1.5-hour Lake Taupo catamaran cruise to secluded bays and see ancient Maori rock carvings
What You Can Expect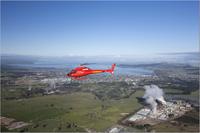 No matter which combo you select for your multi-thrill adventure tour in Taupo, you're in good hands with informative expert guides who help you discover the North Island's natural spoils.
Combo 1: Helicopter flight and jet-boat ride
Begin your Taupo adventure with a 12-minute scenic helicopter flight over the Wairakei Geothermal Fields. Get an aerial panorama of the Craters of the Moon, see Maori rock carvings and hover above Huka Falls. Then zoom close to thundering waterfalls from the water during a 30-minute jet-boat ride, speeding 50 mph (80 kph) and taking 360-degree spins on the Waikato River.
Combo 2: Scenic cruise, helicopter flight and jet-boat ride
Starting at Taupo Marina, a 1.5-hour catamaran cruise glides you over the pristine waters of Lake Taupo, tucked into the volcanic peaks of Tongariro National Park. Snap photos of the landscape, including Maori rock carvings, while you sip morning coffee provided on board.
Then amp up the adventure factor with a helicopter flight, described in Combo 1, above. Afterward, it's back to the water for a jet-boat ride, with all the same thrills and spins detailed above.
Combo 3: Jet-boat ride and whitewater rafting
Brave the waters with two different types of adrenaline-pumping fun: first, a Waikato River jet-boat ride, followed by two hours of whitewater rafting on the Tongariro River. Ride over 60 heart-pumping rapids and be rewarded by slow-moving stretches where you can soak up the gorgeous scenery passing by.
March 2016
Fantastic experience, skilled boat driver and very funny comentary.
Mary B Australia
January 2016
Highly recommend this activity. Don't go if you want to stay dry, go if you want a fun time and an exhilarating ride. Jeremy was a great captain we loved the boat trip.
The White Water Rafting was the highlight of our time in NZ. The staff were rpfantastic, professional and fun. Everything was supplied we were safe and had an exciting trip. Then something to eat just topped it off. We will do this trip again when we return to NZ.
June 2015
Amazing experience, would definitely recommend to anyone.
We did the rafting at the end of May, and even though it was cold we were fine. We had wet suits and thermals and I didn't jump into the water so I was dry. Plus the exercise itself keeps you warm. They also provided us with hot chocolate midway through the trip - so lovely to drift along the river and sip hot chocolate. We were also taken to a hot pool afterwards and were provided with soup when we returned to base. So don't get put off by cold weather - the river itself apparently doesn't vary much in temperature throughout the year! Great for beginners and kids, and even my partner whose done rafting before had a great time!
May 2015
This was a fantastic way to spend an afternoon in Taupo. The jet boat was a lot of fun. We did get soaking wet but that was the best bit. In fact we loved it so much we went a second time! I would recommend going in Summer rather than Winter as the water is icy cold.
March 2015
A great way to get your action kicks in the adventure capital of Taupo! We did the Jet Boat Whitewater Rafting combo and both were so much fun by themselves and even better together! Be prepared to get wet!
January 2015
Just amazing! We went on the jet boat ride in the morning and took to the waves at top speed - a real blast! The highlight for my wife and me, though, was the rafting in the afternoon. The team were just faultless... friendly, informative, safety-conscious and funny. We enjoyed amazing weather, lively rapids and loads of laughs, and the team were fantastic. This combo is a great way to experience the best of the Lake Taupo region's thrills and spills, and I'd recommend it to anyone.

November 2014
Absolutely the best my wife and I really enjoyed the Jet Boat and Helicopter Flight a must do if you go to lake Taupo it was a first for both of us and we are in our 60's
February 2014
The tour was great, however by booking this combo through Viator, you are not booked into all activities!! We were disappointed when we arrived at our whitewater rafting to discover they did not have a booking for us! The Tongariro River Rafting staff were absolutely amazing!! We had a great time!
January 2013
We had an amazing time, heaps of fun and the guides were great :)
June 2015
Our trip was amazing, the people were very friendly, Taupo is so beautiful we were very disappointed we couldn't hire a tinny to go fishing we had to hire a charter boat that cost us $150 per hour, lots of places to eat although most were extremly expencive, the jet boat an rafting wa incredibl
Advertisement
Advertisement